Ariana Grande has a message for the world: "Spread the f--king light."
And in order to do that, she wants everyone to step out of their comfort zone on social media and confront those with different political views, even if it's their family members and friends.
"Everyone has to have uncomfortable conversations with their relatives. Instead of unfriending people on Facebook who share different political views, comment," she told Elle in a new interview published Wednesday. "Have a conversation! Try to spread the f--king light."
The pop star was quick to make her stance on Donald Trump clear. The day after he was elected in November 2016, she took to Instagram to urge her millions of followers to make "each other feel accepted and loved for our differences" so they can "get through what could possibly be a very dark few years." She's also spoken out in favor of gun reform and supports the Black Lives Matter movement.
Meanwhile, many other of her top 40 contempoaries -- like Taylor Swift -- remain silent or vague in their politics, most likely so they don't alienate any potential fans.
"That's wild to me," Grande said in the new interview, saying "of course" she faces backlash for speaking out about issues she's passionate about.
"There's a lot of noise when you say anything about anything. But if I'm not going to say it, what's the f--king point of being here?" she asked. "Not everyone is going to agree with you, but that doesn't mean I'm just going to shut up and sing my songs. I'm also going to be a human being who cares about other human beings; to be an ally and use my privilege to help educate people."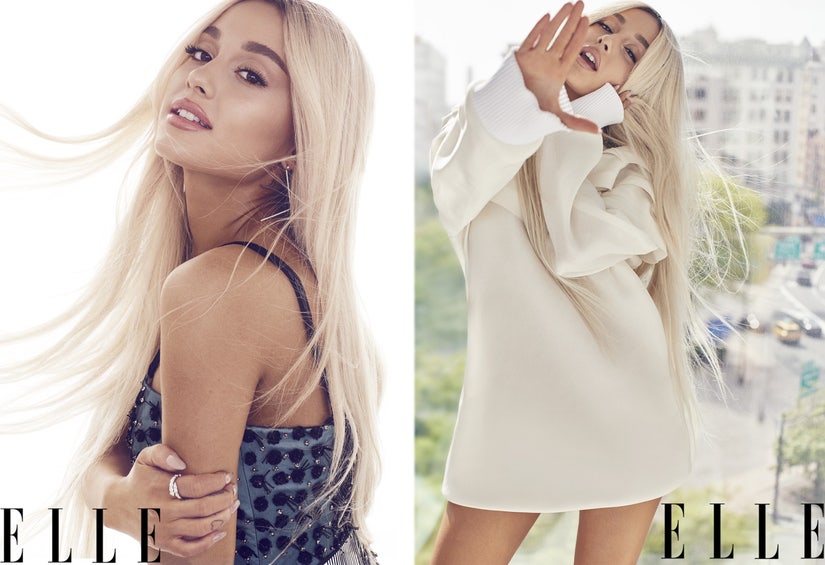 Elle/Alexi Lubomirski
She described her role as an artist in our society as one that will "not only help people and comfort them, but also push people to think differently, raise questions, and push their boundaries mentally."
And comfort her fans is what she did after the bombing at her Manchester concert killed 22 people last year. After taking a brief break from the tour to digest the trauma, she returned to Manchester just two weeks later -- with a bunch of famous friends -- to perform at a benefit concert, One Love Manchester, which raised over $13 million for the We Love Manchester Emergency Fund.
The mention of the subject, the Elle writer noted, sent a tear rolling down Grande's cheek.
"You hear about these things. You see it on the news, you tweet the hashtag. It's happened before, and it'll happen again. It makes you sad, you think about it for a little, and then people move on," she said. "But experiencing something like that firsthand, you think of everything differently ... Everything is different."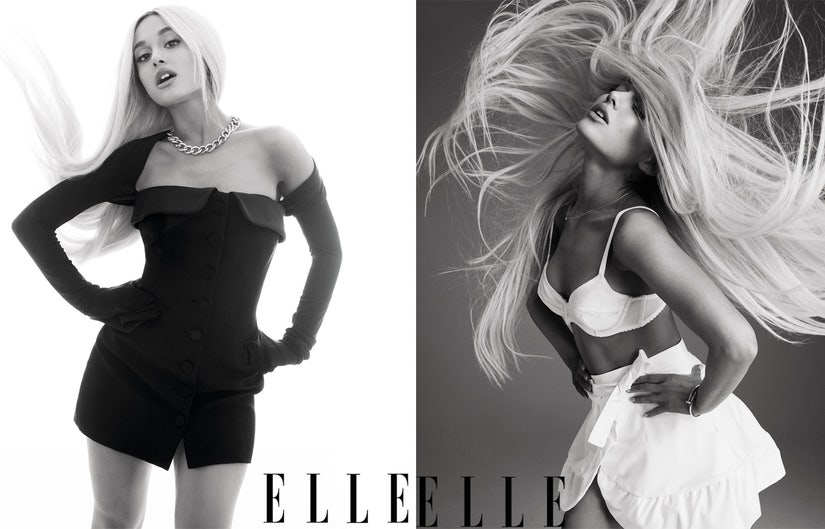 Elle/Alexi Lubomirski
She described getting back on stage as "terrifying," and described how the trauma effected her after she finished the tour she was on during that time period.
"When I got home from tour, I had really wild dizzy spells, this feeling like I couldn't breathe," she said. "I would be in a good mood, fine and happy, and they would hit me out of nowhere. I've always had anxiety, but it had never been physical before. There were a couple of months straight where I felt so upside down."
But according to Elle, the tears really started flowing when Grande thought about her fans.
"It's the most inspiring thing in the world that these kids pack the venue. They're smiling, holding signs saying, 'Hate will never win,'" she said. "Why would I second-guess getting on a f--king stage and being there for them? That city, and their response? That changed my life."