Iggy Azalea set the record straight this week about her relationship with Tyga.
The Australian rapper denied that she is dating the fellow rapper during an appearance on E!'s "Daily Pop" Tuesday after host Justin Slyvester said they looked like they were "hugged up" at Coachella in April.
"I really wasn't hugged up," Azalea said. "There are no pictures of me and him hugged up, but when you're at a music festival and everyone's packed in like sardines, of course we're next to each other. When you hang out with your friends and you're the only two famous people out of 10, then you're getting married and having children."
Although the duo recently collaborated on Azalea's new single, "Kream," she laughed about the rumors about Tyga -- whom she's been friends with since was 19. She's now 28.
She said she usually doesn't read articles about herself, but read one reporting she and Tyga were having a baby."Who asked if I want a baby? Honey, I'm twerking," she joked.
Although she said she would like a child "eventually," she did clarify that she is "extremely" single and looking for a "cute, funny" man, who is not a rapper.
"I'm so alone!" she shared. "I'd like to find a person [whose] not in the music industry."
Elsewhere on her promotional tour for her Aug. 3 release "Survive the Summer," Azalea appeared on ET Live and discussed her pal Demi Lovato's sobriety struggles. The stars have been close friends for years, so the "Fancy" singer knew about her relapse before Lovato made it public with the song "Sober" last month.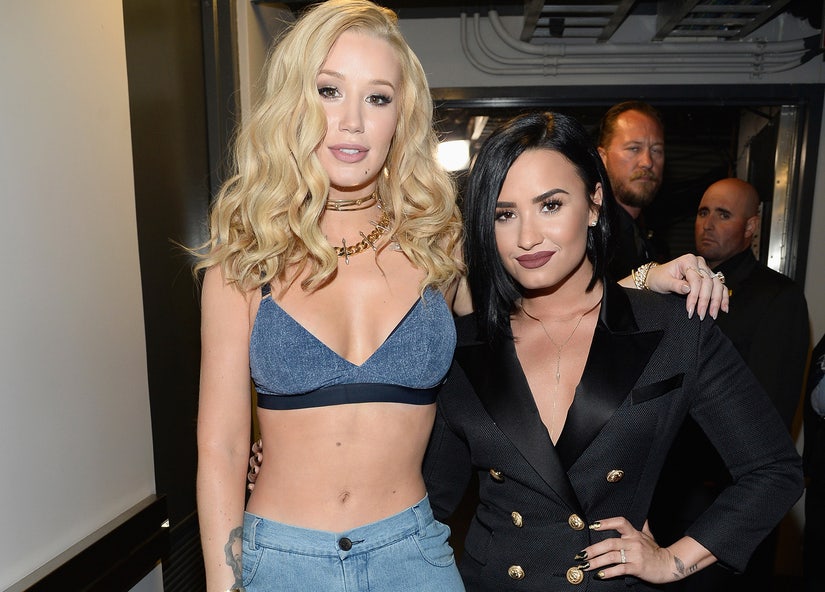 Getty
"I had known about it, as a close friend," Azalea said. "So I had really wanted for her to be the one to tell people that. And I worried a lot, as her friend, that something was going to leak or somebody would somehow take that and use it negatively against her, or to make her seem like she's got a secret."
"It's not my business to say to my friend, 'You need to fess up,'" she continued. "But as a friend, you worry and you're like, 'Oh, my God, my friend, she has this thing that people can use against her and I really want her to own it.' And she did!"
However, Azalea wasn't aware that Lovato was recording the ballad, but said how "proud" she was for her friend being "honest" with herself.
"I didn't know that she was recording that song, she didn't tell me that," Azalea said. "I was just really proud of her that she was honest, because it's really hard to be honest with yourself. So, to be honest with the whole world, [to share] something that you struggled with very publicly, it's something that is very admirable. I was very proud of her to see her write that song and put it out."