She won an Oscar over 20 years ago for "Mighty Aphrodite."
In a talk with the Hollywood Foreign Press Association's podcast, "The HFPA In Conversation," the actress, who is the daughter of Paul Sorvino, talked about her experiences with sexual harassment, Woody Allen, and the migrant crisis in America.
In the wake of the #MeToo and Time's Up movements, Sorvino discussed her evolving friendship with Woody Allen's adoptive daughter Dylan Farrow and how that has shaped her perception of the director 23 years after he cast her in a star-making role in his comedy film.
In 1992 Allen was accused by Dylan Farrow, who was then seven years old, of having sexually abused her in the Connecticut home of her adoptive mother Mia Farrow. Allen denied the allegation at the time. Both the Connecticut State Attorney and the New York Department of Social Services investigated the allegation but did not press charges, while the NY DSS found "no credible evidence" to support the claim.
However, Dylan and her mother Mia have stood by the allegations to this day.
Sorvino filmed "Mighty Aphrodite" just a few years later and won the Oscar for Best Supporting Actress in 1996.
Listen to full podcast below.
Speaking of Farrow, Sorvino said on the HFPA podcast: "I have since gotten to know Dylan and I believe her. She's a wonderful person and I think she's been maligned for a long time."
Sorvino reflected on why she worked with Allen at the time, describing him as her "hero" back in the '90s.
"We can't just wish away with cognitive dissonance the fact that our heroes are capable of doing something heinous," she said of the director, "and he was my hero."
The actress also discussed her own brushes with sexual harassment in Hollywood.
"Directors pressuring you to have relationships with them, people casting you saying if you have a sexual relationship with them they'll give you the part. That has happened to me several times," Sorvino revealed.
"I've had friends who were told 'you're going to absolutely have to have sex with all kinds of people to advance your career.'"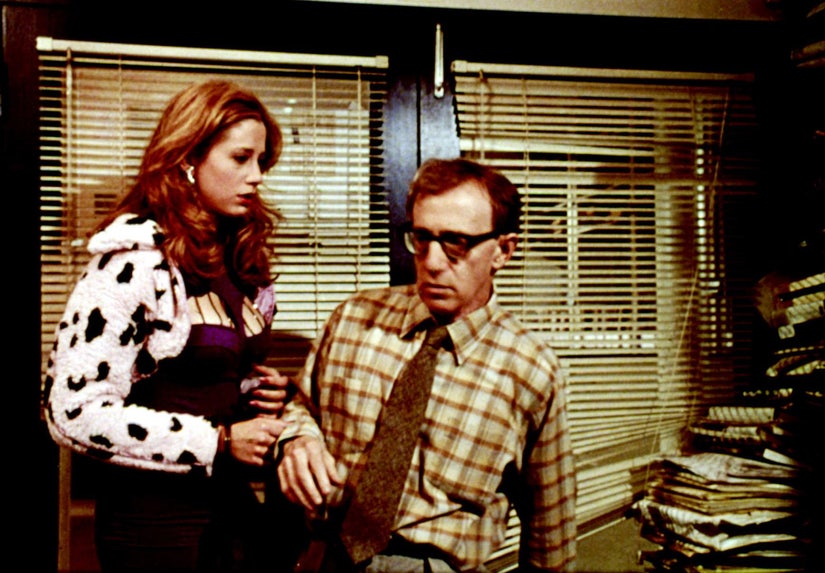 "Mighty Aphrodite", 1995 (Everett Collection)
She went on to recall how she even lost a role due to refusing a prominent Hollywood director's sexual advances.
"One big director, who has got Oscars and [is] known for his social justice profile in some of these movies, literally said to me at a very end stage audition meeting 'you know, as I look at you my mind can't help but [keep] traveling from the artistic possibilities to the sexual,'" Sorvino said. "I think my mouth just opened and my silence was deafening."
On another note, the actress opened up about her experience traveling to the U.S. and Mexico border to advocate for migrant rights.
After noting how "shameful" the conditions were at detention centers for children, she said: "I know people don't like it when you make equivalencies between things that happened in the Third Reich but there are certain parallels that can't be denied -- our constitutional democracy is eroding."