UPDATE 10:10AM 7/12/2018: Columbus City Attorney Zach Klein has dismissed charges against Stormy Daniels (real name Stephanie A. Gregory Clifford).
City prosecutor's statement:
"My office has reviewed the charges filed by the Columbus Division of Police, and I've determined that these crimes were not committed, based on the fact that Ms. Clifford has not made regular appearances at this establishment as required under the law. We'll do the same inquiry for the other defendants involved, as well. My office was not involved in this sting operation, so any additional questions about it must be directed to the Columbus Division of Police. The charges have been dismissed."
Read original story below:
Stormy Daniels was arrested Wednesday night in Ohio during a stage performance at a strip club for allegedly illegally touching a patron of the club, and she's been riding high on Twitter ever since.
Her attorney, Michael Avenatti, took to Twitter immediately to rail against the whole thing, calling the arrest a "setup" and saying it was "politically motivated." According to the police report, Avenatti claims there were three undercover officers at the venue where Daniels, whose real name is Stephanie Clifford, was performing and that as soon as Daniels was touched by a customer they immediately got up to arrest her.
TooFab (via TMZ) obtained a copy of the arresting documents, which indicate that at least one female officer was posing as a patron at the club. The document alleges that Daniels "did put both hands on officer's buttocks, both hands on officer's breast, then put her breast in officer's face."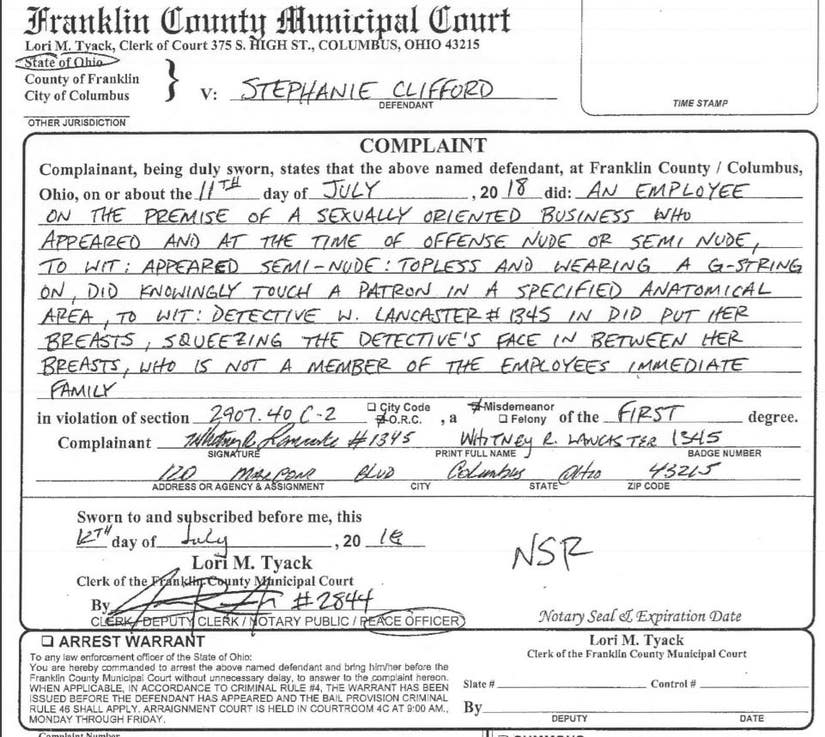 Franklin County Sheriff's Office
According to a probable cause affidavit obtained by TMZ, detectives reported witnessing Daniels' pushing patron's faces into her exposed chest. When they subsequently approached her, she allegedly did the same to two of the detectives, while reportedly touching the third officer as detailed above.
In Avenatti's tweets, he says Daniels was arrested for "allegedly allowing a customer to touch her while on stage in a non sexual manner." He then asked why law enforcement resources are being used for "sting operations" like this. "There has to be higher priorities," he wrote.
Just rcvd word that my client @StormyDaniels was arrested in Columbus Ohio whole performing the same act she has performed across the nation at nearly a hundred strip clubs. This was a setup & politically motivated. It reeks of desperation. We will fight all bogus charges. #Basta

@MichaelAvenatti
She was arrested for allegedly allowing a customer to touch her while on stage in a non sexual manner! Are you kidding me? They are devoting law enforcement resources to sting operations for this? There has to be higher priorities!!! #SetUp #Basta

@MichaelAvenatti
Daniels has been slapped with three misdemeanor charges of illegally touching a patron. She was released on $6,054 bail and will be arraigned Friday morning. Avenatti tweeted she will enter a plea of "not guilty" on all charges, saying the whole situation "reeks of desperation."
Daniels first came into the national spotlight when she claimed to have had an affair with President Donald Trump and was paid $130,000 by his then-attorney Michael Cohen shortly before the election to allegedly keep quiet about it. Cohen has confirmed the payment.