Kylie Jenner and Travis Scott welcomed GQ into their private world for the magazine's August cover story, opening up about their one of a kind courtship and posing together for the first time.
While they've hit a couple red carpets and events together, the shoot is their first one for a magazine together, with Kylie rocking a sexy bodysuit on the cover while her man sports a pinstriped suit.
In the accompanying interview, we learn the two met at Coachella, which was one of the stops on the rapper's tour in 2017. They immediately hit it off. "So he said, 'I'm going back on tour — what do we want to do about this?' Because we obviously liked each other," Kylie explained.
The solution: she joined him on the road. "I really jumped on the bus. And then we rode off into the sunset. I did the whole tour with him," she said.
"We had a lot of downtime. It was organic. And we would just go to these random cities. We got to not be who we really were," Scott said of the experience. "Like, if we were in L.A., I feel like it would've been way different. Everything happened for a reason. We weren't going out as 'Kylie and Trav.' We would just be in Cleveland, walking the street for hours. We would go on walks, and no one would bother us."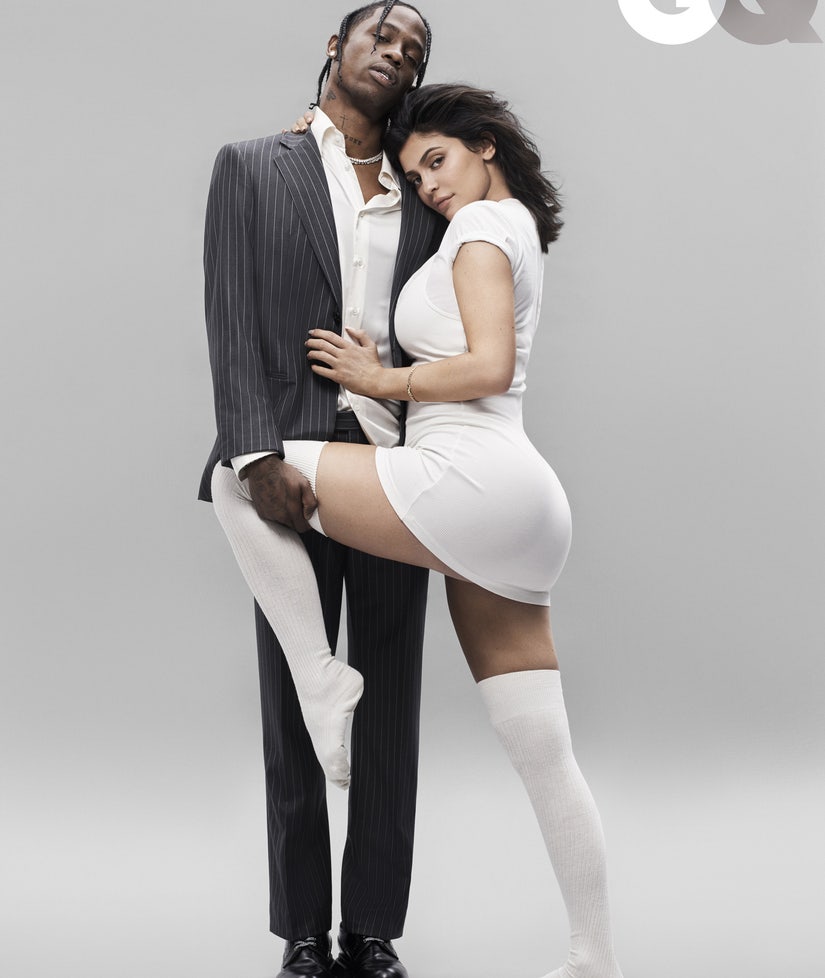 Paola Kudacki
A lot of scrutiny comes with dating (and especially having a child with) one of the Kardashian-Jenner clan, something Scott Disick dubbed the "Kardashian Kurse." Trav, however, doesn't seem too concerned about being its latest victim.
"I don't even be looking at motherf--kers. I don't be looking at s--t. Kylie actually likes me for me. Man, hell nah. Nervous for what? I'm on my own island," he told the mag. "So hey, come over there to Astroworld. I'm not into all the other s--t. I don't get involved. I'm over here. Kylie is different."
Jenner admitted that Scott "gets more angry" about some of the attention and news headlines that come with the territory, but he's not alone in it. "I know these stories aren't going to matter, so don't even let them affect you, you know?" she said. "But it's not just men - it's friends, it's people who come and just don't know how to handle it. It's the negative. There's a lot of people who love us, but there's also a huge handful of people who don't like us."
And since her mere presence attracts more fans and paparazzi than usual, Jenner won't show on purpose, to let him "do this own thing." She adds, "I don't want it to be Kylie and Trav. If people don't ever see us together, that's okay with me."
Near the end of the article, they were both asked to reveal the last time they cried. For Travis, it was when Stormi was born, "as soon as I heard her crying." He noted that he was there for the whole birth, adding, "it was crazy."
Kylie said she shed a few tears after a recent "little fight" with her man, mainly because she was "just overwhelmed." They made up after she flew out to Houston to see her, where he gave her a chain with Stormi's name on it.
"When we fight, it's usually just because we've been away from each other for too long and we didn't see each other for like two weeks," she explained. "And we have Stormi now, and I can't travel with her. She's too young. So it's harder to see each other, but I was like, I just need to go and fix this and go back."
She also revealed the most romantic thing he's ever done for her: waking her up at sunrise on her birthday at his home, which he had filled with flowers and violin players.
Jenner also challenged Scott to see how well he really knows her -- see how he did in the video below: