Ariana Grande and Pete Davidson are all over each other's social media accounts, but given the nature of their stardom and the harshness of the internet, that can sometimes come with a price.
Sunday marked the four-year anniversary of Ariana's grandfather's death, which she commemorated on both Twitter and Instagram. On Instagram, she posted a black-and-white image of her looking lovingly at her grandfather, who was lying in what looked like a hospital bed. She captioned the sweet shot, "Miss n love you forever my best friend," accompanied by the hashtag #4years.
Soon after she posted the photo, Pete commented, "omg what a cutie," which fans assumed was a remark aimed at the pop star. They subsequently "attacked" him, saying things like, "wrong timing wtf," "put a cap on it," "stop sticking your nose in everything" and "unnecessary af."
The "Saturday Night Live" star shot back, replying to one fan in particular, "Are you guys all insane? I was talking about how cute her grandpa is. What's wrong with that? You guys will really look for anything to attack people. It's sad."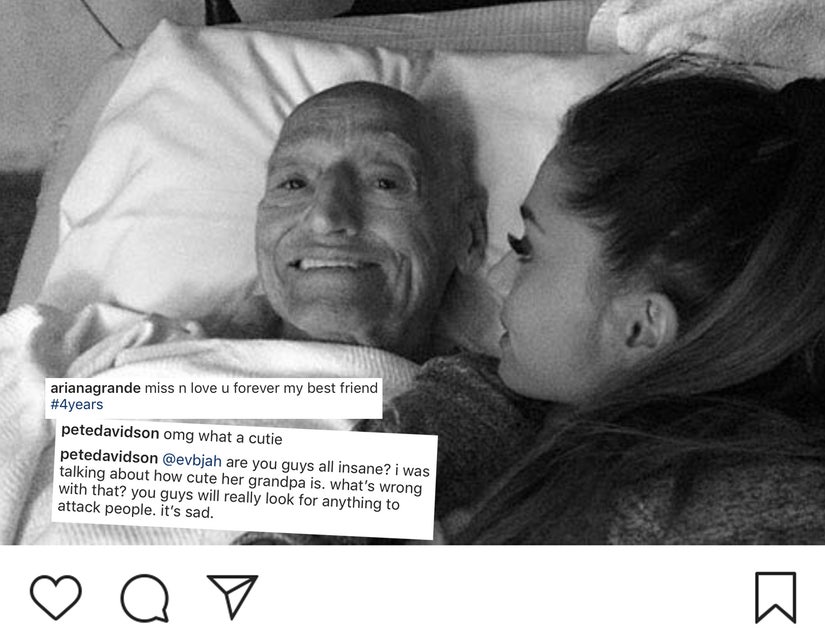 Instagram