Pete Davidson has deleted every photo he's ever posted to Instagram, including pics that show him doting on pop star fiancée Ariana Grande.
But the "Saturday Night Live" star has assured his fans there is no trouble in paradise; he's simply tired of the internet being, well, the internet.
"No, there's nothing wrong. No, nothing happened. No, there's nothing cryptic about anything," Davidson posted to his Instagram Story Monday afternoon. "I just don't wanna be on social media anymore -- or any social platform. The internet is an evil place, and it doesn't make me feel good. Why should I spend any time on negative energy when my real life is f--king lit? The fact that I even have to say this proves my point. I love you all, and I'm sure I'll be back at some point."
Davidson even signed the message, "Your neighborhood goon, Pete."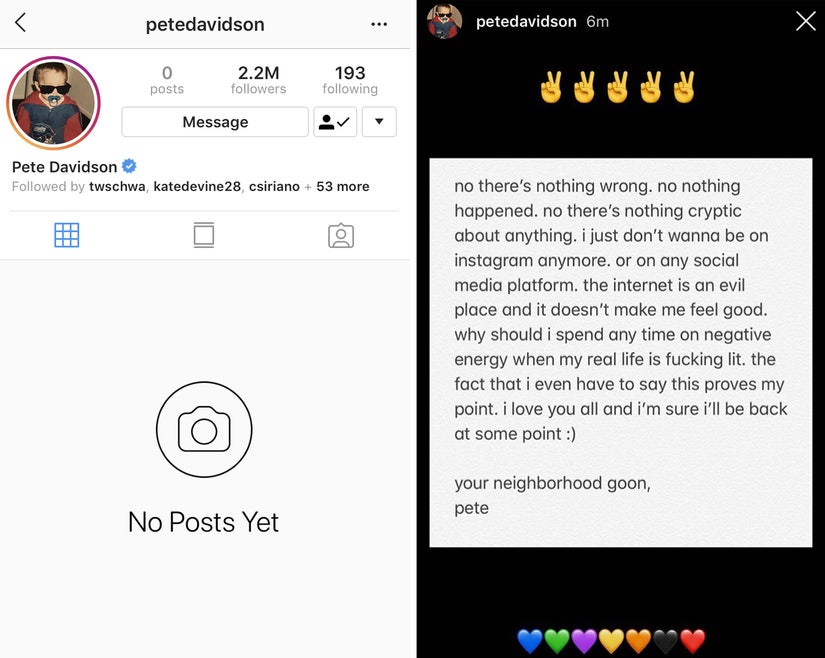 Instagram
The final straw for the "SNL" funnyman might just have been the backlash he received Sunday night for a comment he left on one of Grande's Instagram photos.
Sunday marked the four-year anniversary of her grandfather's death, which she commemorated with a black-and-white image of her looking lovingly at her grandfather, who was lying in what looked like a hospital bed. She captioned the sweet shot, "Miss n love you forever my best friend," accompanied by the hashtag #4years.
Soon after Grande posted the photo, Davidson commented, "omg what a cutie," which fans assumed was a remark aimed at the pop star. They subsequently hurled comments at him like, "wrong timing wtf," "put a cap on it," "stop sticking your nose in everything" and "unnecessary af."
Davidson shot back at one fan in particular by replying, "Are you guys all insane? I was talking about how cute her grandpa is. What's wrong with that? You guys will really look for anything to attack people. It's sad."
Grande posted the following message on Twitter after her fiance's Instagram announcement: "The energy you put out is exactly what you get back. Please create a beautiful life for yourselves."
the energy u put out is exactly what u get back,
please create a beautiful life for yourselves

@ArianaGrande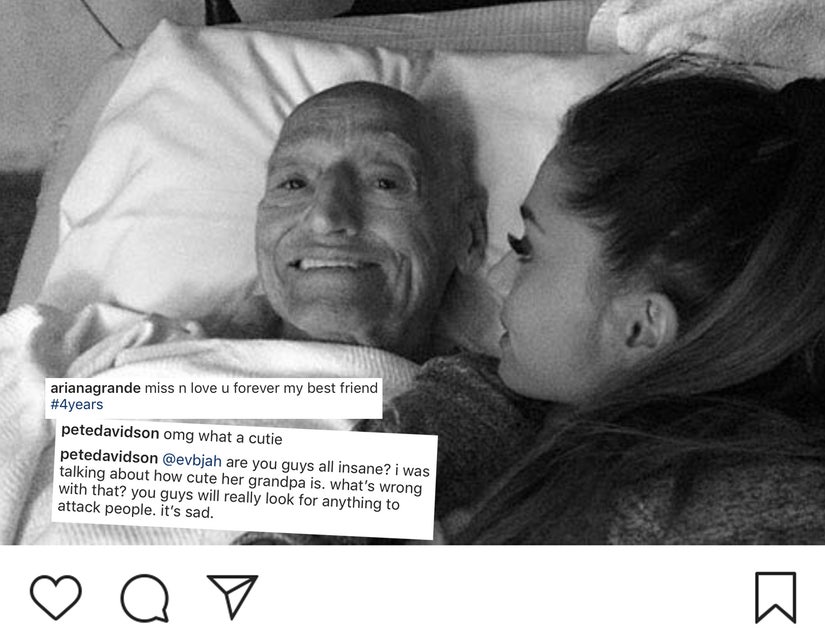 Instagram