Comic-Con 2018 went down this past weekend in San Diego, where thousands of fans gathered for the annual celebration of all things sci-fi, horror, fantasy and superhero-inspired.
With sneak peeks at upcoming films and television shows, impressive cosplay from quite a few celebrities, a few memorable and emotional interactions between stars and their biggest fans and a controversy or two thrown in for good measure, the event was trending on Twitter all weekend long.
While Marvel and HBO both sat the event out and usual Hall H host Chris Hardwick was axed from the event following harassment allegations from Chloe Dykstra, attendees were in for a different kind of Con than usual. But with Yvette Nicole Brown and Aisha Tyler stepping up as moderators and studios like Warner Bros. and Universal taking the spotlight, there were certainly more surprises than letdowns this year.
Keep reading for the breakdown of all the can't-miss news, videos and more from this year's epic event.
The Biggest Movie Trailers
Each year, the movie studios take over Hall H to debut footage from their upcoming films and this year was no exception. While "Wonder Woman 1984" and "Halloween" showed clips that didn't wind up online -- read a breakdown of the "WW" video here -- full trailers for "Aquaman," "Godzilla: King of the Monsters," "Glass," "Shazam!" and "Fantastic Beasts: The Crimes of Grindelwald" all hit shortly after their SDCC premieres.
Johnny Depp's Appearance Stirs Controversy
Johnny Depp surprised fans in Hall H during the "Fantastic Beasts" portion of Warner Bros. presentation, popping up in costume midway through the panel to deliver a creepy speech to the crowd. While most of the attendees ate it up as Grindelwald himself spoke, Twitter had a different reaction.
His casting in the film has been hotly debated, as the filmmakers decided to keep him in the film after abuse allegations from ex-wife Amber Heard. Depp has fiercely denied the allegations and they settled the divorce for $7 million.
Making the situation all the more controversial, however, was Warner Bros. also having Heard on hand to promote "Aquaman,"popping up onstage herself about an hour after her ex. While "Fantastic Beasts" opened the two-hour panel, "Aquaman" ended it, so there was likely enough time for them to avoid each other altogether.
Jamie Lee Curtis' Emotional Fan Moment
During Universal's presentation for the new "Halloween," a man addressed star Jamie Lee Curtis from the audience, saying her character in the original film helped him to escape a scary situation in his real life.
"I'm just grateful for the movie 'Halloween' because 34 years ago it saved my life," he said from the audience. "I was in a situation where someone had cut phone wires and a guy was going around with a knife."
"I was scared out of my mind and out of nowhere this thought inside of me went, 'What would Jamie Lee Curtis do?'" he continued, as the crowd erupted in cheers. "Our dog, Duchess, bit up these knitting needles and I grabbed them out of the trash," he said, his actions mirroring those of Laurie Strode in the John Carpenter film.
"I saw the guy with the knife on one side of the house, I ran out, ran down to the neighbors and started screaming like you did in the movie," he told her, getting emotional as he spoke. "To make a long story short, I'm here today because of the way you portrayed Laurie Strode. I'm a victor today instead of a victim."
"You're the only reason I came to Comic-Con this year," he said, before breaking down in tears. The man was then asked to come to the side of the stage, where Curtis met him, hugging him and speaking to him in private before the two took photos together.
Rick Says Goodbye to "The Walking Dead"
After premiering the explosive new trailer for the upcoming season of "The Walking Dead," Andrew Lincoln addressed the "elephant in the room" and confirmed that he's exiting the show during Season 9.
"I love this show. It means everything to me. I love the people who make this show," he continued. "I promise not to cry, I've done enough crying on screen. I'm particularly fond of the people who watch this show and this has been the most extraordinary, amazing and beautiful experience of my career, made largely because of you guys. I want to thank you."
"My relationship with Rick Grimes is far from over," Lincoln stressed. "A large part of me will always be a machete-wielding, Stetson-wearing, zombie slayer from London, England. I'm really really excited about this season. It will continue to be an ensemble and no one is bigger than the story and the story this year is unbelievable."
As for the trailer itself, it showed a time jump after the events of the season finale, with all the different communities working together towards the greater good. There are still clearly some tensions between Rick, Maggie and Daryl, who disagreed on how to handle Negan. Negan, for what it's worth, appears to still be locked up.
The sneak peek also introduced the Whisperers, a new group of bad guys, plus comic book characters Yumiko and Magda. It was also announced that Samantha Morton has been cast as Alpha.
This moment was a quick one, but during the "Fantastic Beasts" panel, the cast was asked how they'd use their powers for good if they had them in real life.
Without hesitation, Kravitz answered "Impeach Trump."
While the attendees never disappoint when it comes to their costumes every year, we also love it when celebrities get in on the action as well.
Showing some creativity this year was "Fantastic Beasts" and "Justice League" star Ezra Miller, who dressed as a Sexy Toadette by sporting fishnets, lingerie and a giant mushroom head.
Teri Hatcher also had us gagging with her choice: Lois Lane. The now 53-year-old revived her "Lois & Clark: The New Adventures of Superman" costume 25 years after the show's premiere to walk around the convention hall.
Paris Jackson also crushed it as "Mortal Kombat" character Sonya Blade, while Aaron Paul dressed his daughter as the cutest little meth cooker ever for a "Breaking Bad" panel. See all their looks in the gallery above!
And then there's Mark Hamill, who claims to have dressed as Darth Trump ... though we can't be sure whether he's joking or not. (Update: He was)
The network brought all its "Arrowverse" shows to Ballroom 20 for a lineup of panels on "Arrow," "The Flash," "Supergirl," and "Legends of Tomorrow," dropping new trailers and casting updates.
Most noteworthy was the casting of trans actress Nicole Maines as the first transgender superhero, Dreamer, on the upcoming fourth season of "Supergirl." April Parker Jones and David Ajala will also join the show. Other CW casting announcements: Chris Klein will join "The Flash" as bad guy Cicada, while Holly Elissa, Michael Jonsson and Miranda Edwards will play The Longbow Hunters on "Arrow."
Check out the trailers for those four shows below:
Outside the Convention Center
Waiting for your permission to load the Instagram Media.
Off-site, there were also a pair of experiences that really impressed.
First, Taco Bell celebrated the 25th anniversary of "Demolition Man" by bringing the upscale version of the establishment from the movie to life. In the film, the chain won the "Franchise Wars," becoming the only fast food restaurant left. At the pop-up, attendees were treated to a futuristic food experience unlike any other with fancy-looking entrees replicated from the 1993 film, which is set in 2032.
Equally impressive was the Warner Bros. experience for the home video release of "Ready Player One." For this one, participants entered the futuristic world of that film as well for two '80s trivia escape rooms. The experience also recreated the famous bathroom from Room 237 in "The Shining" -- which plays a major role in the movie -- for fun and freaky photo ops. Most excellent, however, was the prize given out to anyone who successfully completed the escape rooms before time ran out: VHS copies of the movie, signed by Ernest Cline, the author of the book on which it's based. FYI: "Ready Player One" hits home video Tuesday, July 24.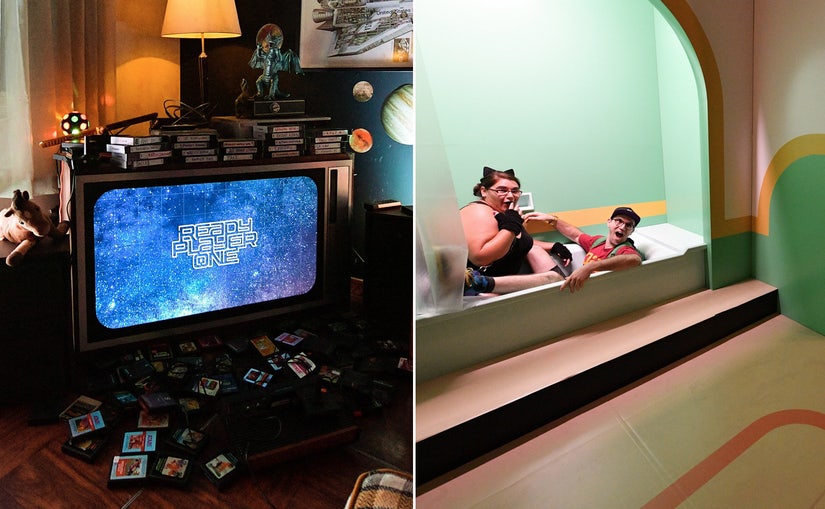 Getty