The actress revealed to Vanity Fair that she and Mount Erie's Phil Elverum got married this month at a private ceremony in the Adirondacks, attended by a few friends and their daughters.
Calling the relationship "very sacred and very special," she noted that she's "never once in my life talked about a relationship," but there's something different about Elverum.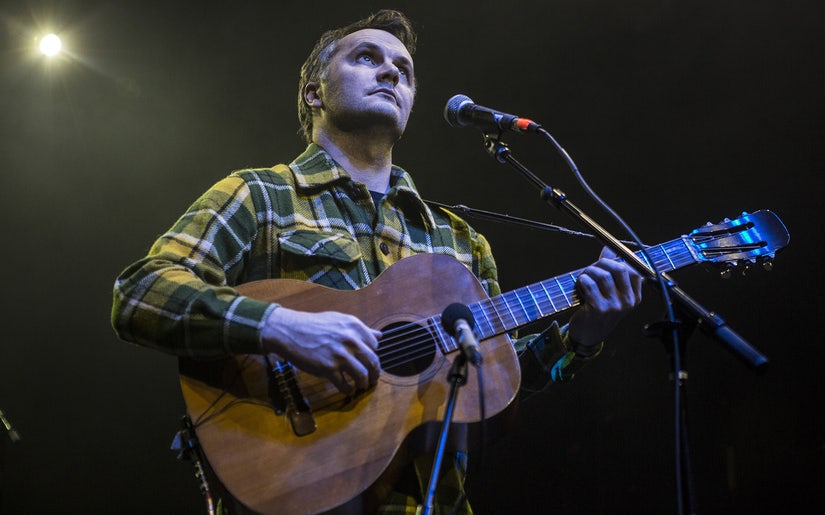 Phil Elverum In 2017/Getty
"But Phil isn't anyone else. And that's worth something. Ultimately the way he loves me is the way I want to live my life on the whole," she told the publication. "I work to be free inside of the moment. I parent to let Matilda feel free to be herself, and I am finally loved by someone who makes me feel free."
Like Williams, whose former partner Heath Ledger died of an accidental overdose at the age of 28, Elverum also has also experienced loss. His late wife, Geneviève Castrée, passed away in 2016 after a battle with inoperable stage-4 pancreatic cancer, leaving behind an 18-month-old daughter. Elverum and his daughter have since relocated to the Brooklyn, where they live with Williams and daughter Matilda.
"I never gave up on love," she said. "I always say to Matilda, 'Your dad loved me before anybody thought I was talented, or pretty, or had nice clothes,'" she added, knowing she's found that again.
Elsewhere in the interview, Williams said she and Matilda were followed by the paparazzi incessantly after Legder's death in 2008
"It was unmanageable to be stalked like that, every moment of the day," she said, before sharing an especially scary anecdote. "I'll never forget going to the post office and seeing a sign hung on the wall for anyone with information about myself and my daughter, to please call this number. Um, so I took that down."
"When you're a single parent, and that element of provider and protection is missing, it's scary," she also recalled.
Another topic tackled in the interview was William's highly publicized battle with the pay gap in Hollywood. While she only collected around $1,000 total for reshoots for "All the Money In the Wold" to replace Kevin Spacey with Christopher Plummer, her costar, Mark Wahlberg, pulled in $1.5 million.
"You feel totally de-valued," she said of her initial reaction to learning about the disparity. "But that also chimes in with pretty much every other experience you've had in your workplace, so you just learn to swallow it."
Though she noted not much happened when the story first broke, Jessica Chastain texted her privately asking if she was okay with her tweeting about it. Chastain did, and the story blew up.
"I was one woman by myself," said Williams, "and I couldn't do anything about it. But in the wolf pack -- the phrase Abby Wambach uses -- things are possible. And that's really what it took: somebody who was at the head of the pack, Jessica Chastain, pulling me up with her, and then all these other women surrounding me, teaching me."
She went on to say that "a private humiliation became a public turning point." Wahlberg eventually donated his fee to the Time's Up Legal Defense Fund, something Williams said the two never spoke about.
Though she doesn't really like talking about either her personal life or income, she noted that she hoped speaking about both now could help someone in the future.
"What if somebody who has always journeyed in this way, who has struggled as much as I struggled, and looked as much as I looked, finds something that helps them?" she noted, before sharing what she's learned about love. "Don't settle. Don't settle for something that feels like a prison, or is hard, or hurts you. If it doesn't feel like love, it's not love."
The September issue of Vanity Fair hits newsstands Tuesday, August 7.