Corden accepted his first spy-worthy assignment in a video he shared on Thursday's episode of "The Late Late Show" where he agreed to jump out of an airplane with the mega star.
It all started the day before when the late night host made a terrible mistake by putting into question Cruise's 106 skydiving jumps for "Mission: Impossible – Fallout." The action hero then challenged Corden to go skydiving with him.
On his show Thursday night, Corden proved that it wasn't all in jest as he showed an 11-minute segment in which Cruise, the skydiving pro, convinced the "terrified" late-night host to take the 15,000 foot plunge.
Corden and the actor met in Perris Valley, California for the skydiving mission. Cruise explained how "impressed" he was that Corden didn't cancel.
"I'm just so impressed that James is going skydiving," Cruise said. "Between you and me, I was half expecting him to text me and tell me he was cancelling."
The "Top Gun" star wasn't wrong, as Corden then admitted that he was trying to get ahold of Cruise to cancel, but had the wrong number.
"I've actually been trying to get ahold of Tom for the last few days to cancel, but apparently I had his number saved wrong in my phone," Corden said. "So, I'd also like to take this time to apologize to Tom Hiddleston for all the messages I sent him about my case of food poisoning."
"It's 110 degrees and today I'm about to jump out of an airplane with Tom Cruise," he said to the camera. "I can't quite believe I'm doing this."
Cruise arrived and embraced Corden.
"I'll be honest, I'm terrified," Corden told Cruise. "This feels like a mistake."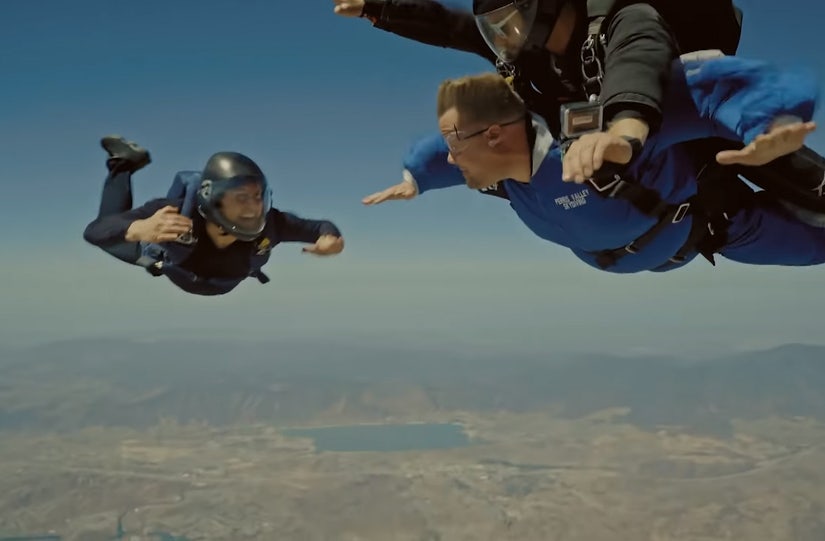 CBS
Although Corden was extremely nervous, he was motivated to overcome his fear, as he didn't want to "close the door" on the possibility of becoming an action star one day.
"I'm thinking of this as an audition to be part of Team Cruise," Corden said. "I just want to know the door isn't closed and I've got a part in a big action movie, to which Cruise replied, "It's not closed."
After some training, preparation, and one slow-mo "Top Gun"-esque walk, it was time to continue their mission. The men then got in the plane and were strapped in their gear. While ascending, Corden expressed his building anxiety and concern.
"The worst part if we die, I will get zero press," he said. "I will be a footnote. The story will be, 'Tom Cruise Dies -- Also That Guy Who Occasionally Drives Around With a Guy.'"
"You're going to be OK," Cruise resassured him. "Chances are, we're going to make it."
While Cruise, the stunt veteran, was to be skydiving alone, Corden was going to be attached to a tandem instructor. However, he was still scared as hell.
"Oh, s--t! Oh, f--k! Oh, s--t!" Corden yelled, as they were about to jump.
As the men jumped of the plane, Corden's fears seemed to slightly disappear as he couldn't stop smiling and laughing. Cruise looked casual and calm as ever, as if this were his job or something.
When they both safely reached the ground, Corden expressed how much he enjoyed the experience.
"That was amazing!" he said. "That was incredible!"