Raine told TooFab she bonded with SI model Kate Upton over both of them having "big boobs."
UPDATE on January 30, 2019: Raine Michaels has moved on to the next round and is now a Top 6 finalist in this year's Sports Illustrated Swim Search. "So beyond grateful to everyone that has believed in me since the beginning of this journey and to everyone who is just joining me I love you all too!!" she posted on Instagram, celebrating. "It has been my dream to be a Sports Illustrated Swimsuit model since I was 13 years old and it now coming true.. xoxo."
Her father added, "So proud of my daughter. Stay humble, kind and always rock on!"
Waiting for your permission to load the Instagram Media.
Bret Michaels' oldest daughter is in the running to become a Sports Illustrated Swimsuit model, and her famous dad had nothing to do with it.
Raine Michaels has beaten out thousands of model hopefuls to land in the top 16 finalists in this year's Sports Illustrated Swim Search. "Even [Sports Illustrated Swim editor] MJ had told me, 'I just want you to know we picked you before we saw who your dad was,'" Raine told TooFab.
Her dad is of course famous for being the frontman of popular '80s rock band Poison before becoming a reality TV star as the face of VH1's "Rock of Love." He told TooFab he's "beyond excited" for his daughter, crediting her "personality and character" for making an impression on the judges before she walked the SI Swimsuit x Paraiso runway in South Beach last month.
"I'm very happy and proud for Raine in all her recent Sports Illustrated modeling and runway work because she remained both thankfully humble yet excited, and showed a confident inner beauty as well," he said. "And as a dad, I'm happy because she is happy! ... Raine is having fun but still staying focused on her college education and that's awesome."
Raine told TooFab she recording a whopping 79 videos before posting her submission on Instagram (below), with her phone down to just 1 percent battery life before she hit record on the cut that has already changed her life.
Waiting for your permission to load the Instagram Media.
"I look 79 videos because the 78 videos, I was outside and there were bees all around me and they were flying at me every time I would try to take it," she said. "Then I kept messing up my words because I was so nervous about saying the right things."
The tedious process paid off, though. She even got to meet and chat with one of her modeling idols, Kate Upton, who interviewed the girls in the running for the coveted job. Raine was overwhelmed with excitement, but thinks she still managed to find some sort of connection with the supermodel.
"She was the interviewer, so she wasn't really giving advice. She asked, 'What do you like about Sports Illustrated?' I was like 'Well, I like how they're breaking beauty standards,'" Raine said. "I have big boobs, so not all models have big boobs. I'm different than all of them, and she was like 'Me too girl.'"
Read our Q&A with Raine about her experience below.
So you walked the runway, you made it to the final 16, so what's next? What're you looking forward to?
I mean, they have not really told us because I think they want us to really soak in the top 16 thing right now ... I think there's a top six after this. They get to go places and shoot, and then they choose the winner from those shoots and stuff. They don't do all of this until September. So, we're going to have to wait for a while but I mean, being Top 16 is insane ... Sports Illustrated has literally been my goal since I was probably 13 or 12 years old ... I'm going to start my own brand, either skin care or makeup or both and the proceeds [will] go to different animal organizations like charities.
When did you decide that you wanted to break into the modeling world and how did you do it?
So, I actually got signed when I was 16. I went into an agency and I got signed, but I didn't do much because I was kind of young. 16 is pretty young. I kind of want to do more swim and lingerie because that's kind of what my body type allows me because I'm only 5'8". So, I can't do runway, really, other than swim runway. So they were like, "We don't really want to put you in lingerie and swim when you're 16 years old." ... I used to do fake runway shows all the time with my friends in feather boas and all this stuff, walking around. I used to dress up in my mom's heels that were huge on me at the time. So I would fall over all the time, but I used to do fake runway shows and all this stuff and my mom actually used to model.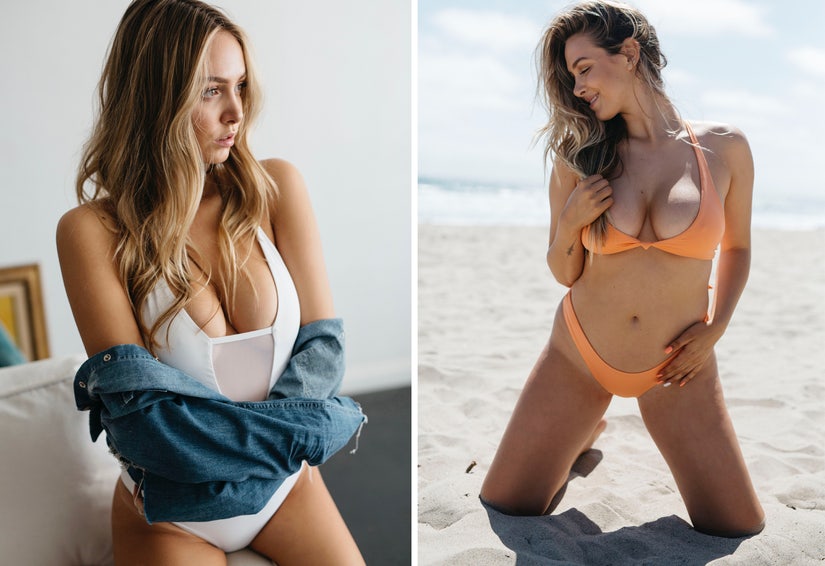 Mikel Roberts
It was your first time walking on the runway, what was that experience like? How excited were you?
I was so excited and I was so nervous. My first question was, "Are we wearing heels?" And everyone was like, "No we're barefoot." I was like, "Ah, thank God," because I can't even walk in heels that well.
You spoke before about how Sports Illustrated breaks norms and boundaries in the modeling world. What do you hope to accomplish from this?
I think, obviously, I said not all girls come in one shape and size. I think that should be celebrated instead of shamed. Because little girls growing up, that's why there's eating disorders and all this because they see just this one version of beautiful. I think that's so wrong to show people ... If I were to become a Sports Illustrated model I would want to be a role model for younger girls and be like, "Be who you are. It's important to stick to yourself and I think every different body shape is beautiful." That's what Sports Illustrated really is all about because they've been doing that for quite a while ... that's one of the main reasons I want to be a part of this.
Mikel Roberts
My dad was in the fifth one. He was on the front of a bus and was killing sharks coming out of a tornado with his guitar and he got eaten. For the sixth one, the casting director had called my dad and said, "We need a girl for one of the scenes ... does your daughter want to do it?" I've never done acting before, so I was like, "Sure like why not?" Like, I don't care, It's not like I have to do anything. I just kind of stand there.
What is your role and what fun stories do you have to tell us about being on set?
I was supposed to be this yellow polka dot bikini girl. The costume lady had emailed me and asked for my sizes. I told her, "I have really big boobs. Just letting you know." Because I'll say, "I'm a double-D," and I'll get there and they'll have a B-cup bra. I get there and it's probably the tiniest little swimsuit that I've ever seen ... They're already yelling, "Where is polka dot bikini girl?" on the radio. I'm trying to fit this bikini on me ... It's spilling out of every area and it looks so bad, and I'm like, "I can't wear that." So they literally put me in this kind of romper thing that was huge on me because it was the only thing that fit ... If they don't cut the scene, it will be on [TV]August 19th on SYFY.
You were so young when you appeared on your dad's reality TV show. Do you have any memories that stand out or is there something that you'll never forget?
It was almost 10 years ago now. But I remember they gave us a shopping spree and I was like, "I can buy whatever I want?" At this point I was getting huge frilly tutus and all this stuff, and I thought that was like the coolest thing in the world. I just remember I liked it a lot. I liked being in front of the camera.