Kylie Jenner can now add video vixen to her growing list of occupations -- the makeup mogul and reality star makes not one but two cameos in Travis Scott's bizarre new music video for "Stop Trying to Be God."
Released Monday night, the four-and-a-half-minute video -- loaded with special effects and biblical references -- shows the rapper herding sheep, baptizing fans and acting as God in Heaven all while the world beneath him goes up in flames. At one point, Travis is seen riding a fire-breathing dragon through a graffiti-ridden neighborhood.
In the midst of the flames sits a hologram version of Kylie, gently cradling Travis as she strokes his head. Her angelic hologram appears once more at the very end of the video. Dressed in a sparkly gold gown, Kylie sits elegantly in what looks like a stable, holding a lamb in her arms.
It's unclear exactly what Kylie signifies in the video, but based on the religious imagery and the symbolism of the lamb, one can't help but think of Mother Mary. It's all a bit confusing, but it's clear Travis is deifying his baby mama, which seems to indicate he sees their real-life child -- Stormi Webster -- as divine. Of course, the song's title only muddies the water even more.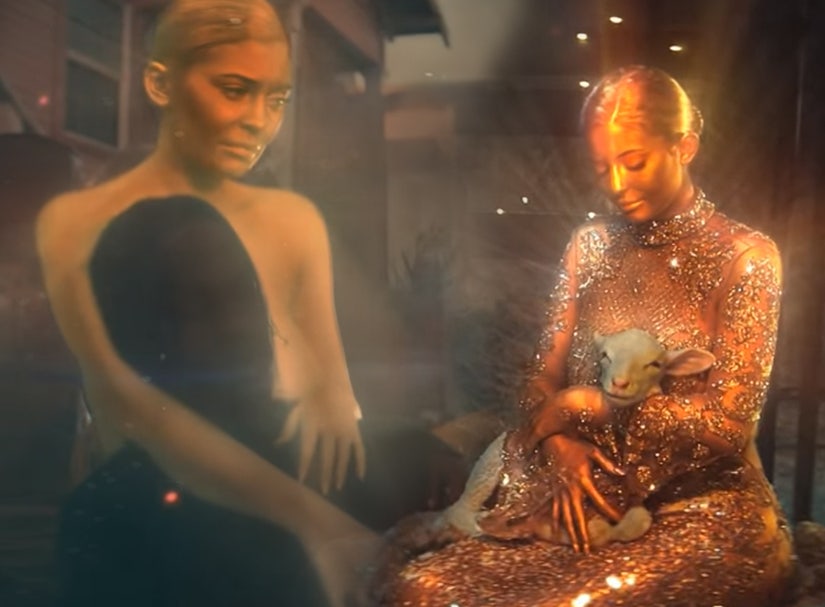 YouTube
This is Kylie's first appearance in any Travis Scott production.
Musician James Blake also makes an appearance in the video. And although not pictured, Kid Cudi can be heard humming in the background as Stevie Wonder plays the harmonica.
Hours after dropping the music video, the proud papa shared a sweet photo of the couple's 6-month-old daughter wearing an "Astroworld" onesie.
Waiting for your permission to load the Instagram Media.