Kortni Gilson learned that having sex in the shower doesn't do "good things" for your vagina.
During Monday night's episode of "Floribama Shore" appropriately titled "Sex, Lies, and Caution Tape," Kortni was so sick that she took herself to the hospital. From the episode, she seemed to have some sort of nasty cold, however, she told TooFab that she had a kidney infection and bronchitis -- all in result of being "stressed out" and shower sex with her boyfriend Logan.
"I was stressed out," she said. "I had gotten bronchitis, having sex in the shower doesn't do good things for your vagina. So I got a kidney infection, along with bronchitis. So I was sick with that too."
This isn't the first time Kortni has been incapacitated, as earlier this season she punched a wall after an explosive altercation in the house. Kortni did tell us that she does keeps herself "together" the rest of the season and said that no more "bodily harm" of any kind will be inflicted.
When Kortni left for the hospital, Gus, Jeremiah, and Codi put on hazmat suits and masks to disinfect the house from all the germs. While they were deep cleaning, the boys ended up coming face-to-face with the grossest thing we have seen on this show so far: a cup full of loogies. We're not kidding.
Fortunately, after some time at the doctor, Kortni was better and came home feeling like a new woman. However, when she returned, Kortni was faced with even more bad news. She learned from her best friend Raina, who was also Logan's roommate, that he had been lying to Kortni, Raina, and Kortni's mom. Kortni discovered that Logan had been deceiving her about having a job. In the episode, Kortni said in a confessional that she doesn't want to "be with a liar" or "somebody that lies to you," however, she still couldn't accept that he was lying to her.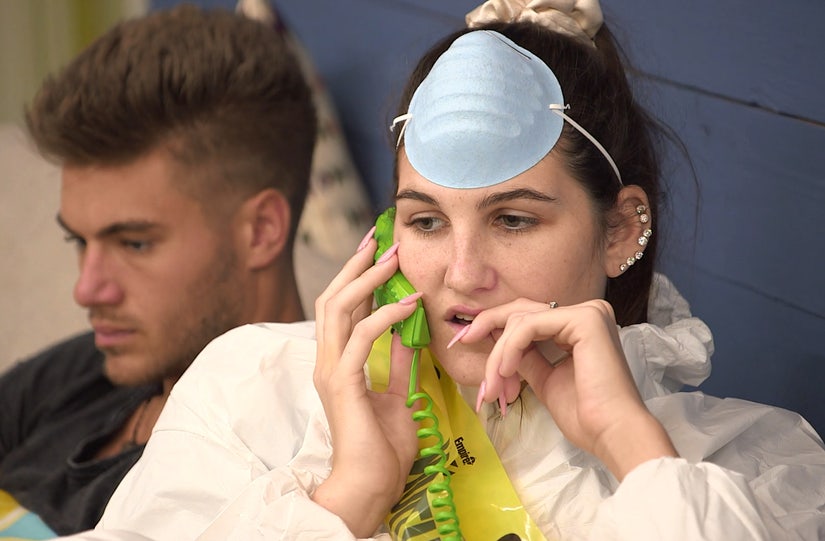 MTV
Kortni's mom and Raina staged an intervention -- and Kortni's mom even had a list of all of the things that were wrong with Logan. Apparently pooping in the family home doesn't fly with Mama Gilson. Despite all of all the reasons her loved ones gave her, Kortni chose to look past the "red flags" and go with her "gut."
"I like Logan a lot," she said. "I didn't want to believe the things that he was being accused of or the things that my mom and Reina were saying that he had done or had been saying to them. And so I just put it in my head, I'm just going to look past these red flags and I'm just gonna go with my gut."
"Because I like him so much," she continued. "I'm just wanting to give him the benefit of the doubt and see what he has to say about the things that my mom and Reina had to say. It was just very confusing. There was a lot of red flags and I just chose to look past them."
"Floribama Shore" airs Monday night at 10 p.m. EST on MTV.