The "Red Sparrow" star was asked to interview her best friend for Elle's September Issue cover story, where their quirky chemistry was off the charts as they tackled everything from motherhood to unprofessionalism on sets.
There were moments where the conversation went completely off the rails, making it a delight to read.
Here are the 4 most enjoyable gems from the piece, which you can read over in full at Elle's website.
After Lawrence complimented her friend by saying she'd be a fantastic mother someday, she asked whether Stone wanted children.
"My perspective about kids has changed as I've gotten older. I never babysat or anything. As a teenager, I was like, I'm never getting married, I'm never having kids," replied Stone. "And then I got older and I was like, I really want to get married, I really want to have kids."
"When I was a teenager, every boyfriend I had I was like, I guess this is the one! I was that girl," Lawrence added, before asking her friend, "Wouldn't it be great if we could have a baby?"
"Aw, a whole village," Emma said in agreement.
"Science," Lawrence replied, adding, "I can tell you're fertile just by looking at you. I can see it in your f--king face."
Stone was flattered, calling that statement "the sweetest thing you've ever said to me."
Both actresses have spent their 20s working on film sets with some big names, and they've no doubt run into their fair share of egos. It's something they commiserated over, sadly without spilling any names.
"I think about my parents, and how I grew up in a working-class family. That's why I hate working with people who don't come out of their trailers or are late," said Lawrence. "It's a job!"
"Me too," Stone agreed. "That drives me nuts. Lack of professionalism makes me really insane."
When asked what else "gets your goat," Stone said there's nothing "special" about what they do and their jobs are "nothing to complain about."
"My job is fun and it's wonderful and it can be hard, but it's also like, but how hard can it be?" she added.
Why Emma's Not on Social Media
The two then talked about what it's like to make mistakes and learn lessons on a public forum, because of their celebrity status. In Stone's mind, however, almost everyone is doing that now thanks to "the way the world is wired," referring to social media.
"I think it wouldn't be a positive thing for me," said Stone, who isn't on any social network. "If people can handle that sort of output and input in the social media sphere, power to them."
She added that now she can let things like what she wears and how she looks roll of her back, but that used to be something that "would bother me much more" when she started out.
Lawrence really put Stone on the spot when she asked, "Who's your favorite friend?" Her answer: Pippi, Jennifer's dog. She later added she "loves" the pooch's mom too.
"I think friendship is pretty much everything," she continued. "Here's another turning-30 thing I've realized: You pick your family. You realize that your friendships, the people who go with you into these next phases of your life — you're choosing your family."
Stone added that loyalty is an "enormous" trait she looks for in a BFF, calling Lawrence "one of my most loyal friends for years."
"And I think knowing that you can laugh together and that not everything has to be such a big deal," she added.
The September issue hits newsstands August 28th.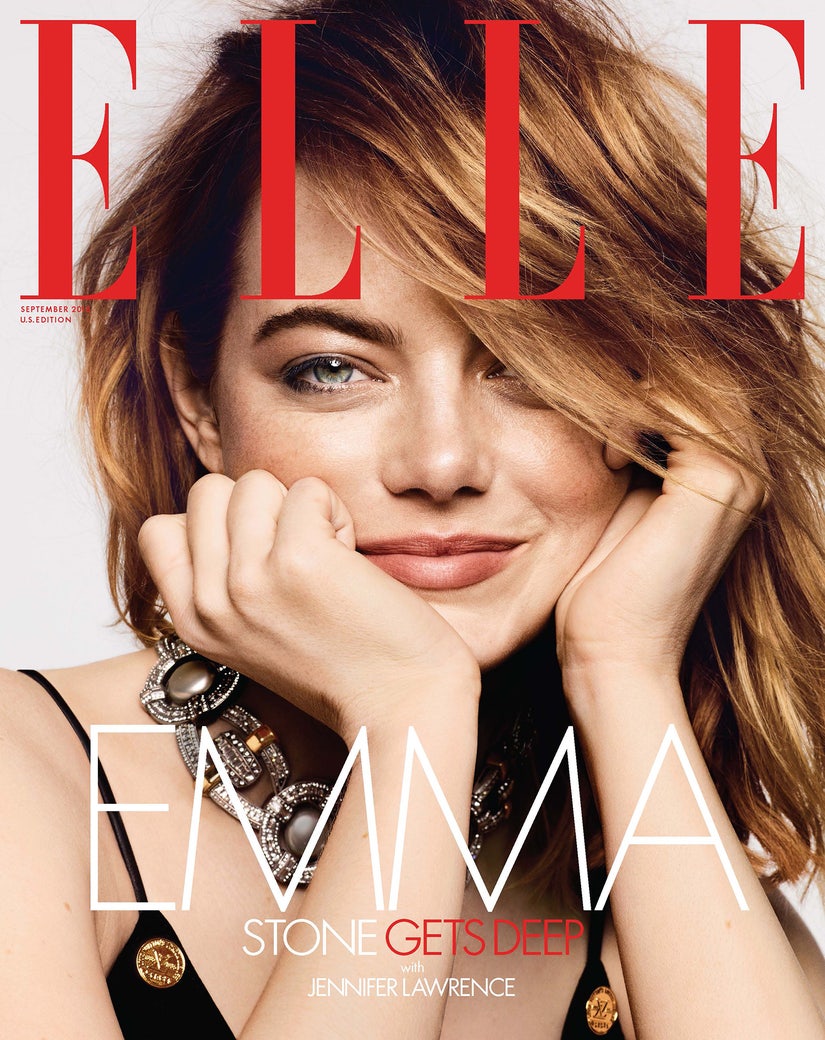 Ben Hassett