Kylie Jenner is the latest member of the Kardashian family to grace the cover of Vogue, as she takes over the September Issue of Vogue Australia.
Sporting a more toned down, natural look for the shoot, the 21-year old was interviewed by sister Kendall for the accompanying article, which touches on her new life as a mom, her relationship with Travis Scott and the joys money can't buy.
Speaking about how motherhood has changed her since Stormi's birth, she said she finds herself planning for the future more than she ever had before. "I used to live each day as it came, and now I look at the future more," she explained. "I actually feel like I love myself more after I had Stormi. And I'm trying to be … I mean, I'm already a positive person, but just having fun, being positive."
Kendall chimed in saying she's certainly "a lot nicer to me, now that you have a kid."
Jenner also spoke about how Travis is as a father, telling her sister that "He's so good with her and she's really obsessed with him." She added that she loves "learning together and just watching him with her," as they both experience being parents for the first time.
She then made it clear that they are doing everything together. "I'm actually scrolling through Instagram right now, and it says that me and Travis don't live together, and so I just want to say that we never miss a night with each other, we go back and forth from my Calabasas house and the city home that we actually got together," she said, defiantly. "So just if you wanted to add that in."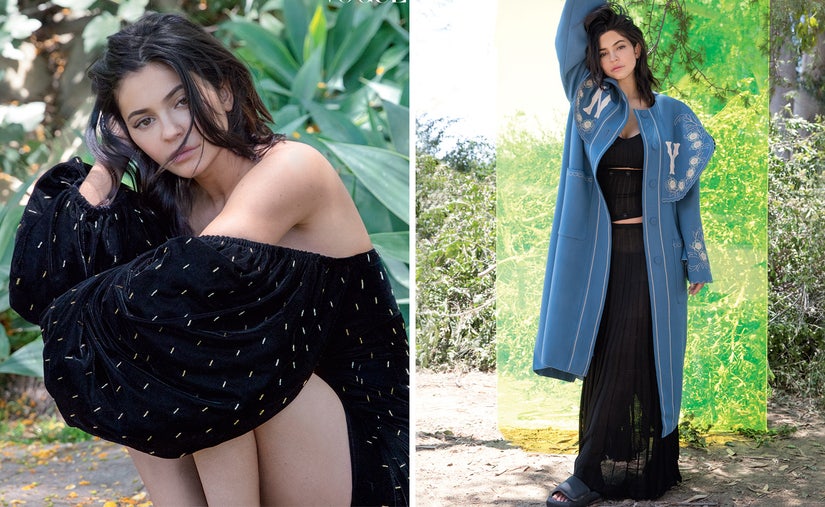 Jackie Nickerson
While Kylie has always been open about how she feels about her lips -- which she famously got plumped up on TV -- she went on to say that being a mom has helped her get over other insecurities about her appearance.
"I feel like having a daughter, and thinking about beauty in the future, has definitely changed me, and I feel like it has made me love myself more and accept everything about me," she told Kendall. "Even my ears, I always felt like they stuck out too far, and she [Stormi] has the same ears as me and so now I love my ears. It's just having a different outlook on life so I can pass that on to her. I want to be an example for her. What kind of example would I be if she said she didn't like her ears, and then I didn't like them either? I just want to teach her that. I'm trying to love myself more."
While trying to love herself more, she's also trying to love material things less.
"I bought myself my dream car, the LaFerrari, and the excitement and the happiness lasted not that long. I have my dream house and the car I want, and I just realized early that those aren't the things that make me happy," said Kylie. "It's a different kind of happiness. I just feel like some people get lost, and strive their whole life for materialistic things and then you realize that it's not everything. I want to appreciate and be comfortable in the place that I am, and just find happiness in my friends and my family."