They can't all be winners and even Chris Hemsworth has to admit this one Marvel movie wasn't exactly the MCU's finest outing.
In GQ's new cover story, Thor himself expressed his ambivalence over one of his character's films, while revealing why the third film, "Ragnarok" invigorated everything when it came to playing the Norse god.
"The first one is good, the second one is meh," Hemsworth told the publication. "What masculinity was, the classic archetype -- it just all starts to feel very familiar. I was so aware that we were right on the edge."
The actor noted that it was odd for those who knew him before "Thor" fame to see him locked into that role too. "It was quite jarring for my family and friends when I was on-screen doing a straight, heroic, sort of overly masculine kind of thing," he explained. Of course, "Ragnarok" shook up the entire franchise, taking the stoic hero in a quirkier direction.
Hemsworth's had more than one identity crisis through his career, however, telling the magazine that he tried to play the part of "bad boy" when he was first coming up in the industry.
"I remember trying to be Colin Farrell. Thinking, 'People love the bad boy.' Going out and being sort of reckless. But no one cared," he said. "There wasn't the presence of paparazzi, nor the presence of social media, nor the immediacy of all these platforms." For him, being bad only meant, "just, like, being drunk."
Another part of his past he doesn't necessarily look back on fondly was one of his first TV appearances, on a show called "The Saddle Club," back in 2003.
"I came in as the young vet, and I remember I was so nervous. And you can see, if you look it up on the internet, my voice is so high, so tight. I'm, like, pink, red, flushed face, having a proper panic attack on-screen," he explained.
Don't worry, we pulled a scene for your enjoyment below:
"I remember being close to tears, talking to my mum about it and being like, 'The show gets shown in Canada, so they're gonna see it, and Canada is close to America, so Hollywood is gonna see it, and I'm never gonna work again,'" he remembered worrying at the time. "That was my second job -- no one gives a shit."
He'd follow that up with a gig on Australian soap opera, "Home and Away," before Thor came knocking on his door in 2011. With the MCU comes massive fame, something that took a bit of an adjustment, especially when it comes to the paparazzi.
While he couldn't pay anyone to take his picture back in the day, now they're everywhere, even in his home of Byron Bay, Australia. He told the magazine that he usually ignores the photographers, but when some continued shooting as one of his kids was taking off his bathing suit on the beach, he sprung into action.
"He's naked, and I look over, and they're still shooting," Hemsworth recalled. "I ran over, and they knew. I just very pointedly and definitely said, 'Don't you dare.' I was close to destroying the camera."
The September issue of GQ hits newsstands August 21.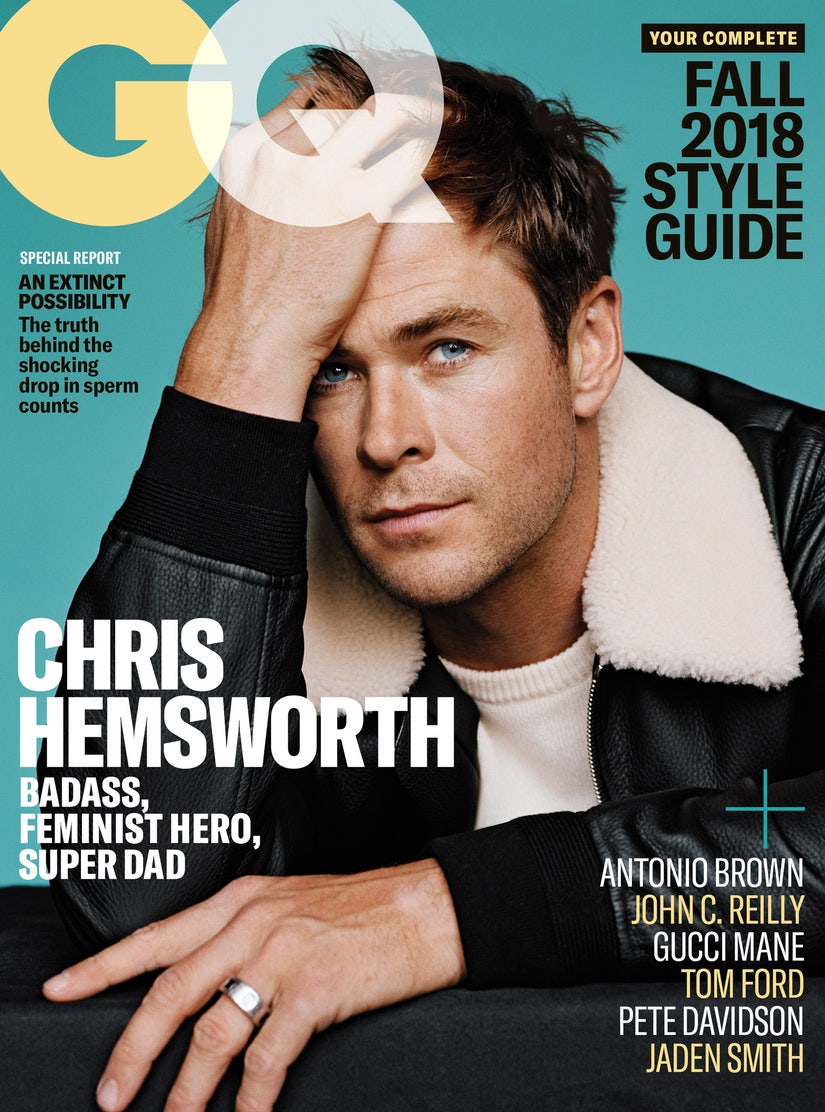 Alasdair McLellan