Amber Rose managed to capture the attention of everyone on the 2018 MTV Video Music Awards red carpet with a red, latex, devil-inspired ensemble.
The VMAs have become the place for artists to really express themselves in wild and unique ways through their fashion choices, and Rose is no stranger to turning heads for her outlandish and wild choices. This time, she must have listened to the devil on her shoulder, and then stolen her ensemble.
While the devil was in the details of her wild dominatrix attire, it was the Queen of Pop who was to blame for her conical bustier. Rose revealed on the red carpet: "Madonna inspired my boobs."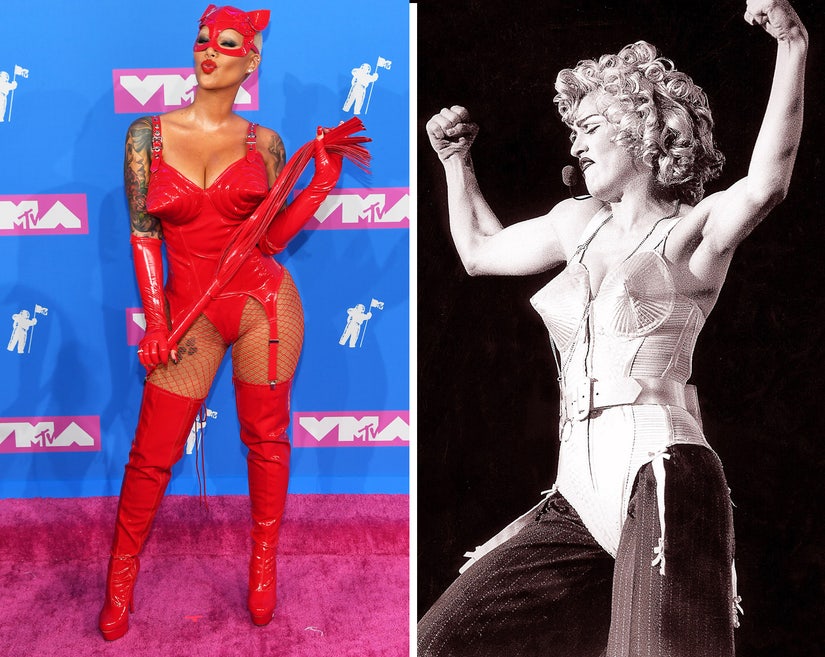 Getty
However, we're pretty certain that top would make even the "Material Girl" blush. Those cones should be registered as lethal weapons.
In addition, the Slut Walk founder admitted she was not there to see any of the artists, saying unabashedly: "I don't know who's performing."
Rose certainly looked like a dominatrix fresh from a session, complete with a flogger and thigh-high boots.
Everything about this outfit screams "look at me!" and nothing about it shouts, "I can sit comfortably for two-and-a-half hours and watch a live awards show."
We'd say Rose wore the accompanying mask to add some mystery to who might be beneath those devil horns on the red carpet, but the outfit was skimpy enough there was no doubt whose envy-inducing curves were poured into that latex mold.
We're not quite ready to declare it the outfit of the night, or even really say that it was successful or looked good on her, but it's definitely going to be one of the most remembered ensembles.