For Wu-Tang Clan fans, the name Gano Grills may ring a bell. The former graffiti artist and "Oz" actor's name was immortalized in one verse by the hip-hop group's founder RZA, who once rapped, "Have Wu-Tang tagged up on your tombstone by Gano."
But if you Google him today, your search results will be flooded with Youtube videos advertising a dizzying array of arcane spiritual services at a high premium, all under the banner Galighticus. He's the figurehead of the growing movement, even telling his students he's the human incarnation of a god with the power to perform divine miracles.
Grills also racked up dozens of acting credits in his lifetime before becoming the enlightened guru he markets himself as today. From offering magic money that will burn up all of your bad financial karma to chakra cleansings and package deals on "karmic emancipation," Gano has targeted nearly every demographic in the new age marketplace. He's even got his own app.
What you are about to read is the story of a hip-hop graffiti artist and character actor who has successfully reinvented himself as a spiritual leader, with hundreds of people literally buying it.
But the saga of the artist now known as SRI Master Gano Grills and his spiritual awakening has an unlikely beginning. This former street artist did not study at the feet of an enlightened sage or at an ashram hidden somewhere in Asia. In fact, the mystical transformation began on stage during a theatrical performance.
TooFab spoke with the self-proclaimed mouthpiece of the gods at length, as well as a dedicated student who swears by his fantastical story, and this is what we learned.
'Have Wu-Tang Tagged Up on Your Tombstone by Gano'
Grills' reputation as a graffiti artist was immortalized in one line by RZA on his 1998 album "Bobby Digital in Stereo," but he's quick to correct a "myth" that he is responsible for creating the iconic Wu-Tang logo. "Mathematics actually did that," Grills told TooFab, and explained he created the Wu-Wear logo and did a lot of artwork for the clothing brand, as well as the legendary hip-hop group's music videos.
He also took credit for designing the logo for Method Man —- another member of the Wu-Tang Clan. The rapper, who currently stars on HBO series "The Deuce," declined to be interviewed for this article.
Grills connected with RZA through the rapper's older brother, King, who went to school with Grills in the Staten Island, New York area. He told TooFab he was once a rapper himself and a member of RZA's short-lived group The Five Deadly Venoms, a 1989 prototype of sorts for what would become Wu-Tang.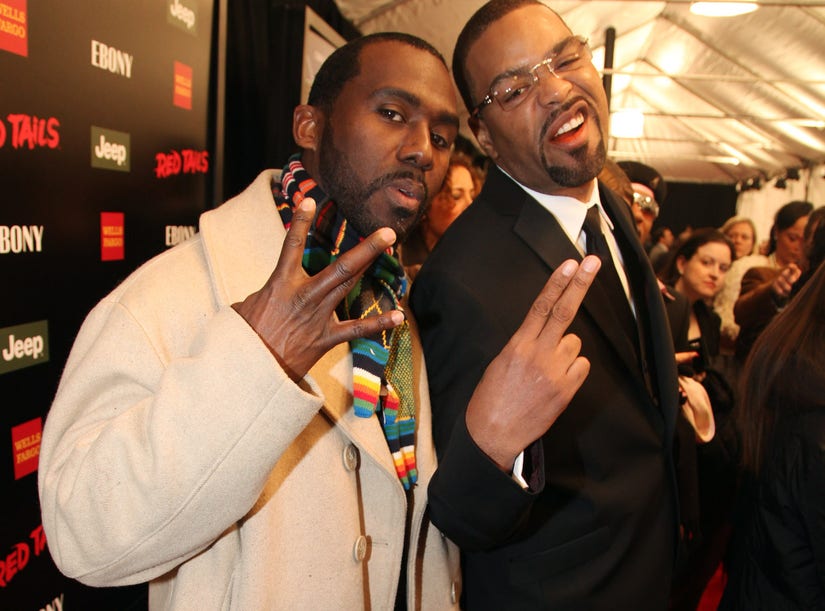 Gano Grills with Method Man n 2012 at NYC premiere of "Red Tails" (Getty)
"He basically got a brand new cast of characters," Grills said. "Had I been rapping at the time, I'm sure I probably would have been part of that group, but at the time I did not have the desire to pursue being a rapper anymore, because I was on my spiritual path, even back then."
Instead of Galighticus, Grills was studying Islam and described himself as a practicing Muslim at that time, busy walking between neighborhoods to "talk to people for hours about the Bible and the Quran."
But it wasn't music or graphic design that set Grills on the path toward the enlightenment he claims to have achieved today. It was acting.
"Every artist -- whether you're a rap artist, a singer or writer -- whatever your creativity is, you're expressing your creativity from the soul." - Gano Grills
Grills got his first big break in 1995 with a part in a "New York Undercover" episode which also featured Terrence Howard ("Empire") and Giancarlo Esposito ("Breaking Bad").
He went on to nab parts in memorable movies, too, including "Ghost Dog: The Way of the Samurai," "In Too Deep," "Shaft," "Hannibal" and Spike Lee joint "Bamboozled." (If you're curious, click here to watch Samuel L. Jackson tell Grills to "shut the f--k up.")
In the year 2000, he played Raymond 'Mondo' Browne in four episodes of HBO's critically acclaimed prison drama "Oz," and was also cast in a "Sopranos" episode. You can watch his TV reel in the video above.
"Being an actor allows you to access creative elements that are in your consciousness," Grills told TooFab when asked what the connection between acting and spirituality is. "It also allows you to circumvent some of your past life energetic streams, in that you're able to dial in and get in contact with some of your past lives."
A central belief of Galighticus is reincarnation. Grills believes most humans have lived "at least over 100 past lives." His current life took a sharp turn in 2004 while portraying two gods -- African deity Shango and Greek titan Prometheus -- in two different stage plays.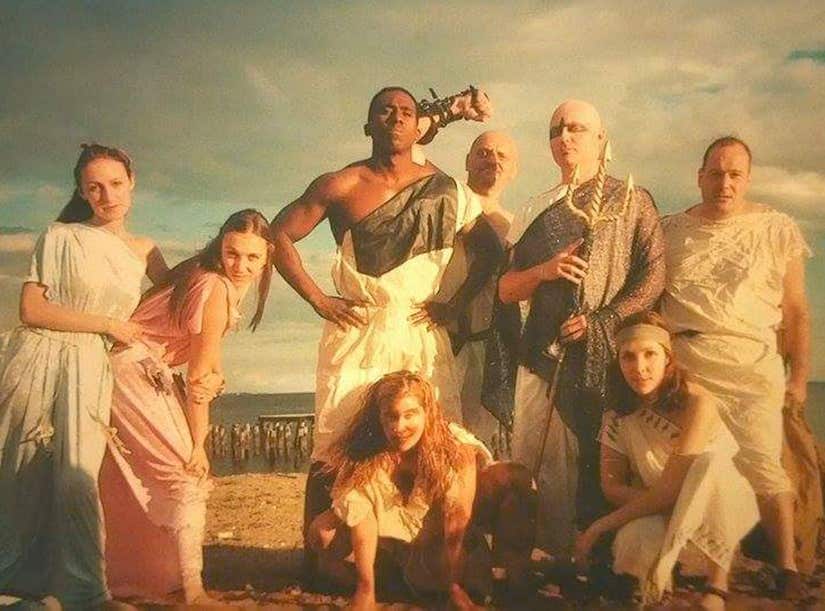 Grills in a stage play in 2004
"For some reason these gods actually asked me to play them in different roles. I did this within the same year, and it was preparing me for what I'm doing now in a very, very interesting way," Grills said.
"I was not really aware of how prominent the gods are in the universe until I played Prometheus and Shango," he continued. "It really opened up a doorway in my consciousness where I could grow on a quantum level. Because when you understand the reality of the gods, it does change your intelligence in regards to the Creator because they have a very different set of mechanics than our laws of reality here."
He described the spiritual awakening as "the highest degree of illumination," but he still had a lot of work ahead of him before he found "enlightenment" -- a word he does not use lightly.
"That's when the training began," he told TooFab.
7 Long, Hard Years of 'Training'
Grills believes he was "tested by the gods themselves" in a series of "karmic battles" over the course of this period in his life as he worked toward becoming "a full-grown, responsible spiritual being." Challenges included learning how to withhold his judgement of others, overcoming "personal challenges with money and family," and learning how to take the high road instead of getting bogged down in conflict.
The latter led to homelessness, of sorts, when Grills had a dispute with a landlord and voluntarily left the residence instead of fighting for his right to stay. Between 2004 and 2009 Grills did not have a permanent residence, but he stressed he wasn't living on the streets, he was simply displaced.
He was still scoring small acting roles in that time period, though, on shows including "Law & Order," "Human Giant" and "30 Rock," plus a small part in Chess Records biopic "Cadillac Records," starring Beyonce as Etta James. Grills' last movie was a 2010 low-budget crime drama called "Code Blue."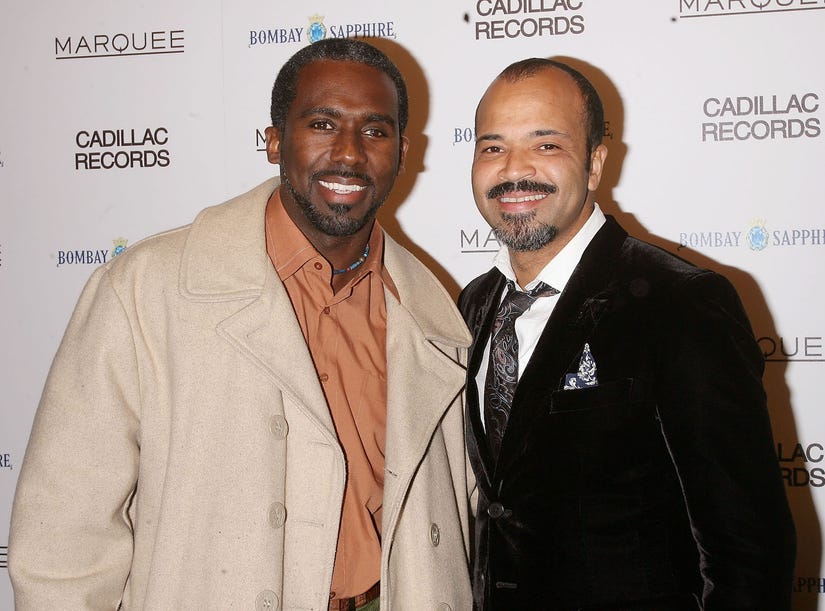 Grills posing with actor Jeffrey Wright in 2008 at "Cadillac Records" premiere party (Getty)
2012, however, was the year Grills said he locked down one of his biggest roles yet: "a card carrier of divine power."
"If you had the ability to call Donald Trump the way Kim Kardashian did and get someone's jail sentence commuted, that's having real power and clout. I have that same thing with beings that are not human," he said. "I can offer a prayer or a request to get something done that will produce a miraculous change -- that has happened many, many times."
Of those miracles, Grills said he was given the ability to activate a person's kundalini -- a Hindu Dharma concept that refers to a form of primal energy said to be located at the base of the spine. He also told TooFab the gods he's in communication with granted him the ability to "activate the third eyes of other people," and gave him an "off-world dagger," which he uses to free his followers from "agreements, pacts and bindings they're connected to." Galighticans believe their actions in this life and the lives before follow them in all reincarnations.
Among Grills' most powerful tools are phrases he calls "Words of Power."
"In order to use these words, you have to do something to make it a permanent part of your soul, which means you have to say the word of power 972 times a day for 12 days straight -- no drinking, cursing or smoking," he explained. "After you complete that phase, when you say the word of power, it actually becomes an event in someone's life or your own."
What is Galighticus, Anyway?
"If I could present a metaphor, I would say religions represent nursery school or kindergarten and Galighticus would represent a collegiate education," Grills told TooFab when asked to describe his spiritual movement.
"If you look at a piece of paper and you tear that piece of paper into a hundred pieces, one religion would represent one of those pieces of paper," he said. "Unfortunately, a lot of times different religions or belief systems think they represent the totality of the Creator, and they don't, and that's the problem."
For Racina B., a 40-year-old stay-at-home mom and a horticulturist by trade, Galighticus is about finding purpose.
"The mission of Galighticus is for a person to find their individual purpose, connect to the beings that are going to help them achieve that and achieve their spiritual freedom," she told TooFab. The beings she's referencing are the 22 "Gods of Light" that the budding spiritual movement recognizes.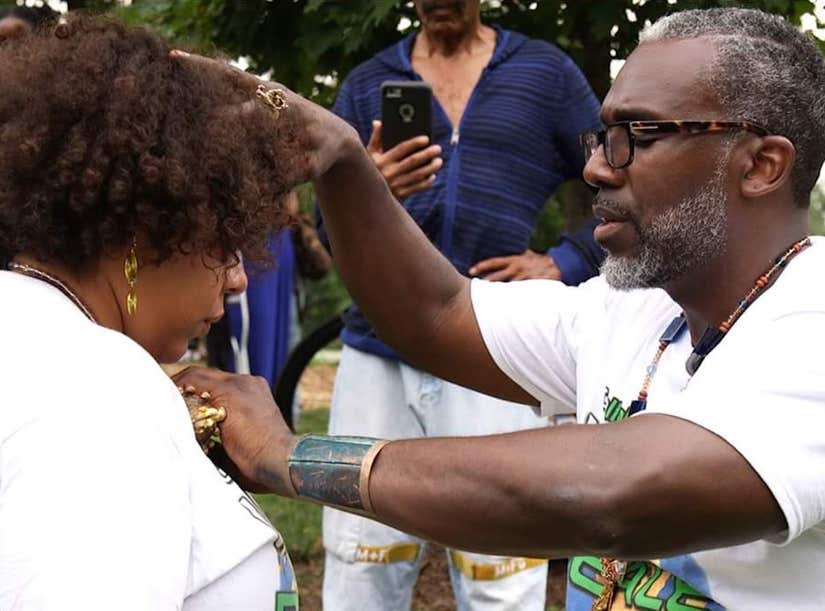 Gano Grills with a student
Although baptized as a Catholic, the Harlem resident has been exploring different religions and alternative spiritualities since she was a kid. She's dabbled in Islam, Buddhism, metaphysics and even Kemetic Science -- a reconstruction of Egyptian polytheism. But nothing ever completely clicked for her until she met SRI Master Grills in 2012 at a meditation event.
Now she volunteers her time to answer calls that come into the Galighticus hotline, has bought and used a variety of products Grills offers, swears by the power of his modalities, and has even traveled to Egypt with Grills to further her studies.
"It's about breaking the limitations that are set here on this third-dimensional reality called Earth," Racina continued. "It's more about living free and empowering yourself and all aspects of yourself, because there's more than just you here in this third-dimensional reality."
When asked about the origin of the name of the movement itself, Grills told TooFab that Galighticus came via "cosmic email."
"I was sitting on the back of the bus and this may sound nuts, but I actually saw it peripherally on my right-hand side, like a wavelength," he explained. "I saw the words floating into my head. And when it floated into my head, I looked at it like I was looking at something on the screen. I said, 'Ga-light-icus, that's interesting.'"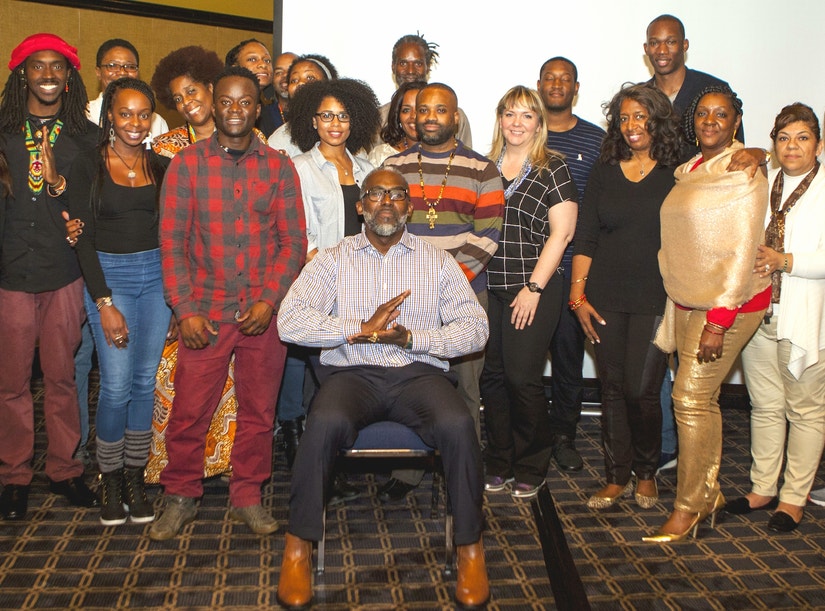 Grills with students at a seminar
But Grills' movement didn't start with a catchy name from the cosmos. In what he looks back on as "training" for his current activities, he spent two years beforehand holding meetings with like-minded individuals in his community to pray for the planet.
"It sounds very corny, but we got together every Friday at 12 o'clock," he said. "And we would create a hologram of Mother Earth and we would deliver prayers and energy and all sorts of good things for everyone on the planet that needed it most. And we did that for two years before Galighticus was given to me."
And now Grills has made it his primary mission to give Galighticus to other people. While he referenced other "teachers" during our conversation, he never named them. He made it clear, "Galighticus is something that did come through me." There are no books written on the subject from another human perspective. The only resource is Grills himself, through his videos, seminars and studentship program. He is, however, currently in the process of writing "a series of books."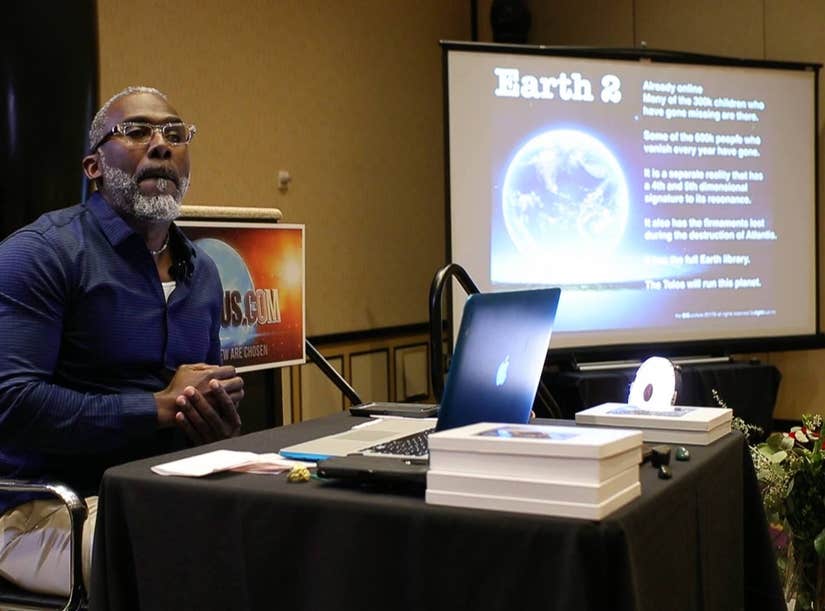 Gano Grills at one of his seminars
I am an awakener of the mentally dead. The testimonies from around the worlds, that is correct, WORLDS, prove this. Once one is enlightened to what reality truly is, life takes on a new imperative of ultimate purpose and magic. There will be only 144 members inducted into this programme before it closes forever.
Empowerment through Galighticus doesn't come cheap. The above text is taken from the description of his most expensive package, Baldr Kronos, available to "advanced" Galighticans for $12,000.
Tickets for his seminars held in various cities in the United States and abroad can cost up to $671, and that's just the tip of the iceberg of modalities, products and services up for sale, including an app.
Galighticus App Subscription $44.99
Lord Ganesh Spiritual Bath and Empowerment $50.00
Altar Start-Up Set $250
Ancestors Altar Set $400
Past Lifeology $400
Kundalini Reiki Attunement $400
Karmic Emancipation Package $700-$2,500
Ancestor Money $35-$250
Lord Ganesha Transducer Medallion $350-$625
Beyondus (a message from deceased loved ones) $1,500
Studentship Programme of Ascension $5,000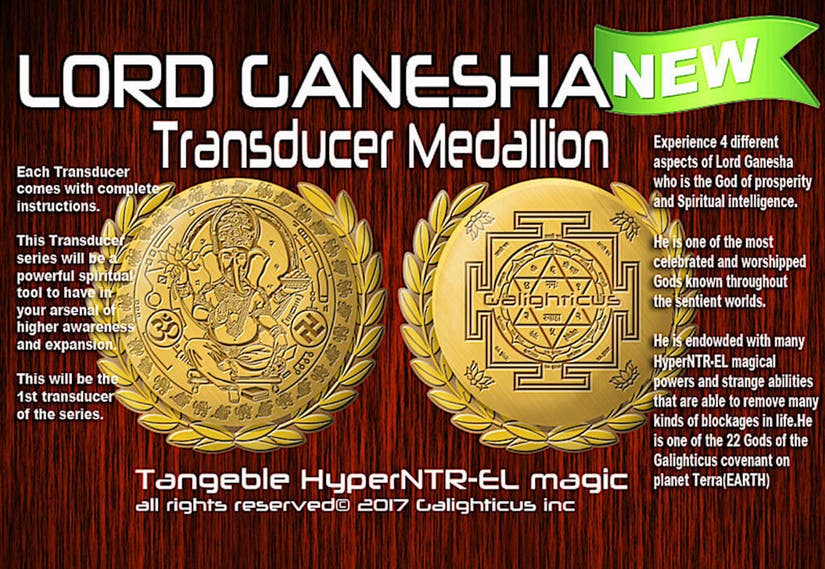 Galighticus.com
Grills described his movement as self-funded. Although he told TooFab he doesn't ask for donations, he isn't entirely opposed to accepting them, either.
"There have been quite a few people that have had a windfall based on the rituals that I taught them, and I have to say they have been generous about giving us a check," he said. "I've not asked for it, but one of my students, I bought them a very specific ritual and they got a check for $2.2 million. … This particular student was very adamant about gifting Galighticus with a portion. I turned the student down about three or four times. They insisted that I take it, and I did."
Racina doesn't mind the cost of the program she's been active in for the last five years. For her, spending hundreds of dollars on a seminar or modality she believes will lead to spiritual growth is a much more satisfying investment than, say, spending that money on a new pair of trendy shoes.
"I've had some very supernatural experiences occur using his modalities, so I know they work. There's not a doubt in my mind. As far as him charging, surprise, manual labor," she said. "There's a lot of time he puts into what he does, and what he does he's constantly putting back into Galighticus what he gets. It's not a get-rich-quick scheme by any means."
Spiritual Movement or Cult?
A typical cult has a charismatic, unaccountable leader, persuades by coercion and exploits its members, economically, sexually or in some other way. -- Leading Cult Expert Rick Ross
Grills has said his movement is seeking 144,000 souls to lead the evolution and emancipation of humanity, and even promised 144 will ascend to another dimension in this lifetime.
So far, he's got 3,347 people ready to evolve in the Galighticus Facebook group, plus just over 1,000 souls following him on Instagram and nearly 18,000 subscribers on YouTube. Racina estimated Grills has about 100 people active in his studentship program and has seen as many as 300 at one of his seminars.
Last month, Grills hosted two events in London -- a "Kundalini Reiki Activation" and a "Sequence of Power" seminar -— and is looking forward to the GOLDEN Chariot Light-Body seminar, a three-day gathering in Miami at the end of August.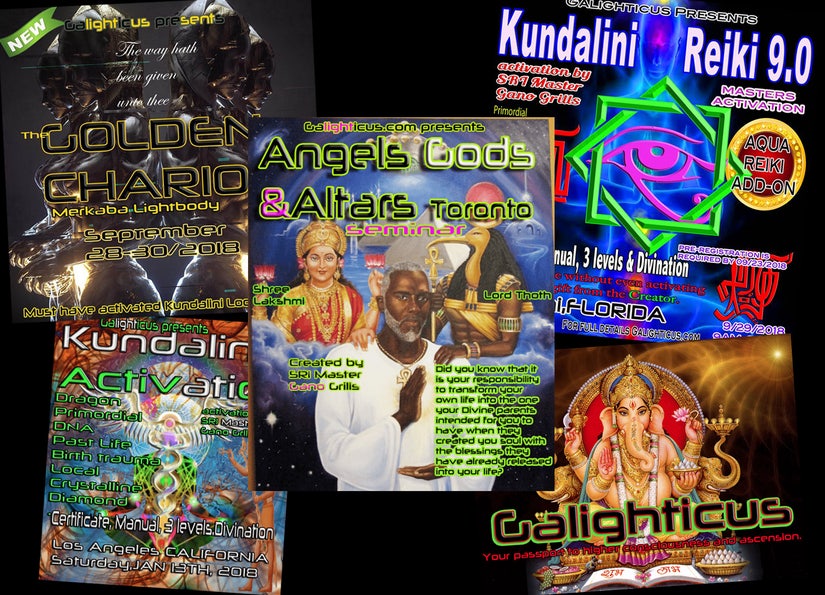 Galighticus.com
His movement is undeniably growing every day, and that concerned writer Be Scofield enough to publish a Medium article titled "OZ Actor Gano Grills Claims to Be God, Starts Cult Called Galighticus." Scofield did not include any comment from Grills in the article, but when TooFab asked Grills to respond to his work being labeled as a cult, he blamed ignorance.
"It's ignorance on their part. It's judging a book by its cover or judging a book by your own set of beliefs that are probably linear," he told TooFab. "And I do understand why people may think that, but people need to look up what cult means. Cult means ultimate control over the followers who are in a mind controlled state. We don't exhibit that."
But that is a simplified definition of a very complicated subject, which has once again been propelled to the forefront of pop culture thanks to several stories currently fascinating the public. The hit Netflix documentary series "Wild, Wild Country," for example, chronicles the rise and fall of Rajneeshporum -- an Indian spiritual guru's city-like commune built on a sprawling swath of Oregon ranch land in the mid 1980s. Then there was the arrest of "Smallville" star Allison Mack for allegedly recruiting "slaves" for Nxivm, a shady organization that has since been branded a "sex cult" masquerading as a women's empowerment movement.
"I actually encourage people to continue their education. If they're in a church, I don't ask people to come out of the church that they belong to," Grills told TooFab. "If we were a cult, we would ask people to give us their money and move into a compound and not have any other teacher, and we are totally not that."
Racina, who prefers the term "student" to "follower," affirmed Grills on this point: "Even when people ask a certain question, he's like, 'I'm not here to hold your hand. You have your own logic. You have to figure these things out yourself. And the fact that he encourages independence in people."
However, when TooFab spoke with leading cult authority Rick Ross, founder of The Cult Education Institute and a verified U.S. Federal Court expert, he did raise concerns about the structure of Galighticus as well as its leader's claims about his own divinity.
Ross evaluated Galighticus according to three core criteria he uses to establish whether or not a group can be properly designated a destructive cult. The criteria, first established in Harvard professor Robert Jay Lifton's seminal book "Thought Reform and Psychology of Totalism," is as follows:
A charismatic leader, who increasingly becomes an object of worship. The living leader has no meaningful accountability and is the defining element of the group and its source of power and authority.
Thought reform -- can be seen as coercive persuasion. Essentially, followers behave against their own best interest.
Pattern of complaints: Former members who have been hurt by their involvement in the group. (This final criteria is important in establishing how destructive a group might be.)
Of the three qualifiers, Ross said only one and two could apply to Galighticus, based on available information -- TooFab did not find any current or former members with negative experiences, in part due to Galighticus still being in its nascent stages. Grills can be considered a charismatic leader who -- at best or worst -- is convincing people to spend their money on his mix of tangible and intangible products and/or services that may not fulfill the metaphysical promises he's making.
That being said, Racina, who both donates her time as a volunteer and pays for services, did make it clear to TooFab she strongly believes she does get profound spiritual value from Grills' offerings.
Regarding Grills' belief that a cult needs a compound, Ross disagrees. "I have witnessed many groups like this recently," Ross said. "What you found with Gano Grills is becoming the new business model -- using Youtube."
"They may never meet the leader in-person," he added. "This is the new model. If you want to make money you don't even need to travel."
Ross said technology can also create a "bubble world," where the follower takes the cult mindset everywhere they go through podcasts, videos, and online interfacing. A cult does not need a physical compound, as the community can now live anywhere and everywhere you do.
TooFab has so far seen no indication that Galighticus is a destructive cult or overtly harmful for those involved in the movement.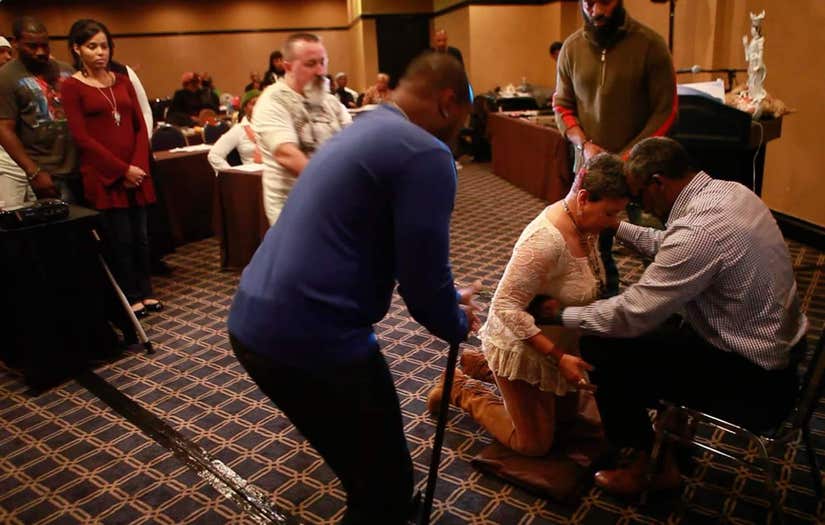 SRI Master Gano Grills at a Seminar
My children have seen their share of miraculous occurrences at a very early age, and they think that's normal. I think that they really won't realize how unusual that was until they get older. -- Gano Grills
Grills has five children, and told TooFab his family is "very proud" and "respectful" of Galighticus, even if "they don't fully understand it."
When asked for an example of a "divine occurrence," he shared an anecdote involving his youngest son, currently 15, coming home from school and realizing his iPhone was missing from his backpack. After failing to find it on their own, Grills said they turned to Archangel Michael, one of the dozens of deities Galighticus recognizes as a positive force in the universe.
"So what I did was I asked Archangel Michael to help us out and I said something called 'Words of Power,'" Grills explained. "My son went back into his bag and is iPhone was right there."
Grills even claimed he made a beard cream he saw advertised online appear out of thin air on his desk.
"I called this event something called 'auto creation.' Auto creation is something that is a derivative of enlightenment. When people are enlightened, this is a byproduct of something that happens by osmosis," Grills told TooFab. "If you think about something, it will automatically be taken from the fabric of the universe and present itself there. This is where healings come from, this is where transubstantiation of matter comes from."
"There are people on the planet that can make something literally out of nothing. It's a documented thing," he continued. "You might not see a lot of videos about it on YouTube, but what they are really doing is interfacing with the fabric of the universe and if you know how to do it consciously, it really is a miraculous feat."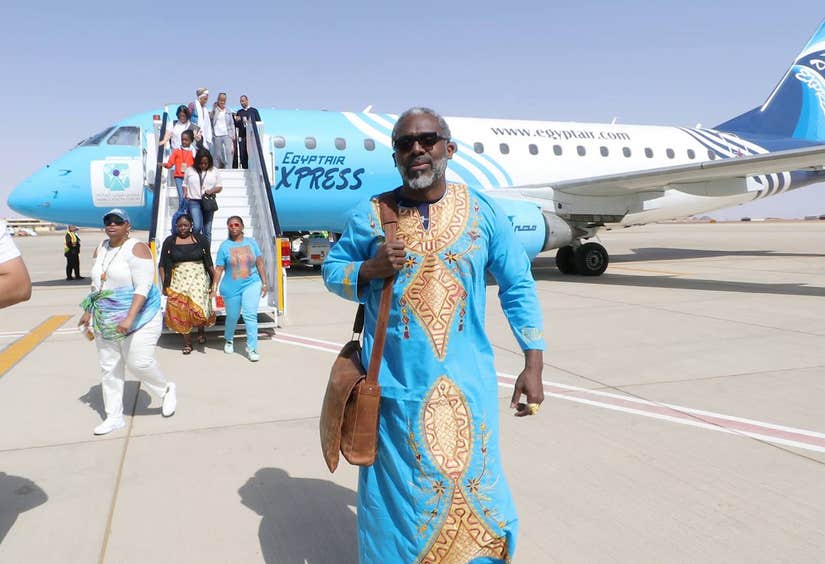 Gano Grills
Over the thousands of conversations with hundreds of people I've had about esoterica, I began to realize that some of what would come out of my mouth was not from my brain or human side. Slowly, like putting the pieces of a jigsaw puzzle together, I realized that I have a level of mediumship that takes over. - Gano Grills
Grills publicly claims to be the human avatar of Egyptian god Lord Thoth and Hindu god Lord Ganesha, meaning those gods speak through him. "It's not really me that's navigating these seminars. It's his consciousness that's answering all these questions," he told TooFab.
"I did not really realize I was enlightened until I was answering everyone's questions about things that I did not know about," Grills said of a phenomenon he claimed started happening around 2012 when he began speaking publicly. Grills described true enlightenment as "a continuum of an extension of literally pulling the divine part of who you are into your body."
He said it's common for him to appear to people as himself or as these gods in their dreams or for his students to see him transform into either Thoth or Ganesha in person.
"I can be looked at as a disguise for the god Lord Thoth, literally," Grills said. "I have found that my physical body has done things that I didn't really know consciously what I was doing, but later on I found out it was his consciousness that was behind the action that I have performed, somewhat like a marionette."
Racina told TooFab she personally witnessed the supernatural phenomenon for herself while attending a 2017 seminar in Atlanta, where she saw Grills' face turn into Lord Thoth. "I felt like I was peeking into another dimension," she said.
And Racina isn't alone. The Galighticus Facebook group is full of similar testimony from other members. Grills said he's not personally conscious of this phenomenon in the moment someone else is experiencing it, but he believes it wholeheartedly.
"That is the attribute of the gods. The gods have a level of omnipotence that allows them to interface with thousands of people at the same moment in a different way and it not affect what they're doing in themselves at that moment. And that's exactly what it is," Grills claimed. "So people tell me about it, I accept it, I believe it. Am I aware of it at the moment consciously? I don't have the time to be because I'm doing what I'm doing."
By our world's academic standards, Grills only has a high school diploma to his name. But by the standards of his own movement, Galighticus, he's a master, capable of channeling the power of the divine to perform miracles in the lives of other people.
"I'm validated by the gods. And academia and worldly establishments are one thing, but when you realize a large percent of what is divine is not recorded in academia or it was destroyed in the period of Alexandria, or it's in private collections in the Vatican … I have access to that knowledge," Grills told TooFab.
"At the end of the day, what's more valuable: Being validated by man or being validated by exalted beings who are not fettered with the linear construct of limited thinking?"