While Krasinski has successfully made the transition from affable Jim Halpert on "The Office" to Jack Ryan in his new Amazon Prime show, Colbert wasn't buying it. Not only that, he made it clear Harrison Ford was the only true "Jack Ryan" in his book. (The fictional CIA analyst has previously been played by Alec Baldwin, Ben Affleck, Chris Pine and of course Ford.)
Colbert complimented Krasinski as a "charming," "adorable," and "sweet" guy. However, the CBS host said that comedians aren't "meant to do action." He then joked that he was the runner-up to be the lead role in the vampire action flick "Blade," but lost out to Wesley Snipes.
"Point is, comedy is what you do," Colbert said to Krasinski. "You do it great."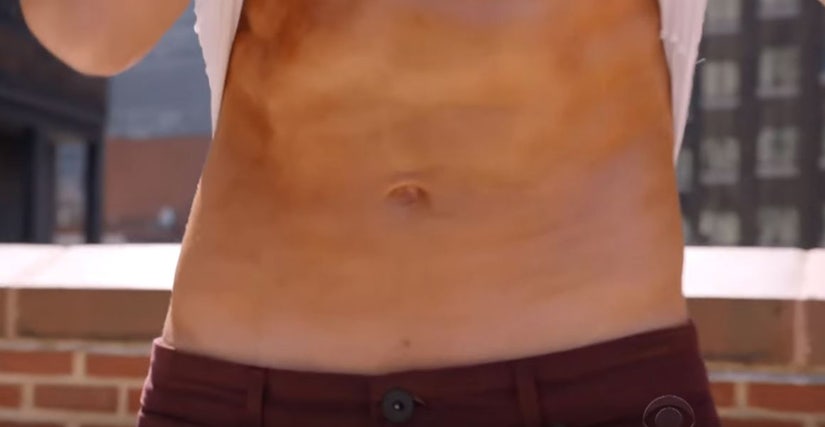 CBS
The late night comic then called the actor's film "13 hours" a "plastic surgery movie" because of Krasinski's (drool-worthy) torso. Colbert told the actor that in order to "prove" that his pecs were real, he had to do 10 push-ups.
Krasinski agreed, but then fell right into another one of Colbert's traps.
"A real action guy wouldn't do push-ups just because I told him to," Colbert said. "A real action guy would punch me in the face."
"I'm not punching you in the face," Krasinski replied.
"That's what I thought," Colbert said. "Classic John Krasinski. You know who would have decked me right now? Harrison Ford... The real Jack Ryan."
That's when Krasinski reached his breaking point and pretended to punch Colbert right in the face. The two men then participated in a heavily choreographed (and sloppily edited) backstage brawl complete with banana peels, stunt doubles, and a hilarious costume change by Colbert. The duo even met up with Krasinski's former "Office" co-star Ellie Kemper in an elevator.
The fight ended up in a final showdown on the roof, where Colbert told Krasinski, "Us comedy guys, we'll never be like them, We can't be heroes. We're not allowed to be sexy."
As Colbert sprayed the "Jack Ryan" star with a fire extinguisher, Krasinski pulled up his white t-shirt to reveal his washboard abs.
"Damn you Krasinski. You are sexy!" Colbert exclaimed, as Krasinski threw a blow up doll of Colbert off the ledge.
"You hear that?" Krasinski replied. "Action guy."