"This is humiliating," exclaimed Kris after being told to cuss out an assistant.
After tricking the momager into thinking she'd be critiquing art in a gallery, they revealed the truth: she's the featured artist and had to do whatever her kids told her. Save for a few giggles, Kris managed to keep her cool the entire time and followed every instruction from her daughters, no matter how ridiculous they were.
The first obstacle that Kris faced was getting a simple makeup touchup. Lacy, the makeup artist, had no idea that this was a prank. "Am I gorgeous or what?" Kris said to Lacy, following her daughters' instructions. "Have you ever seen a face like this? These lips and this bone structure?"
Kris then had to ask the makeup artist if she wanted to "touch up" her lips and that the "honor" was all hers. Kourtney instructed Kris to ask the makeup artist if she has any alcohol and to say that she's an alcoholic. "She hates me," Kris said after Lacy left.
"That's probably what people, how they think you would really act though so it's fine," Kim joked in reply.
Read on to see how the rest of the pranks went down.
Waiting for your permission to load the Facebook Video.
Kim explained to her sisters that Laura, who believed she was just assisting an artist at the gallery, was their "main mark" for the prank. Dave, the gallery manager, was in on the entire thing.
Kourtney instructed Dave to tell Laura to hold a large container of hand sanitizer on standby, in case the "artist" needed it at any moment. "If she asks for it, you're going to squirt some in her hand," Dave told her.
"I'm so happy to honor you guys with my presence," Kris said via Kourtney's instructions. "I"m literally going to pee my pants," Kim said backstage, watching.
As Laura took Kris around the gallery, her daughters ordered her to ask Laura to "sanitize" her on multiple occasions. Kourtney even made Kris say that a certain painting was "making [her] horny," because it was "so sexual."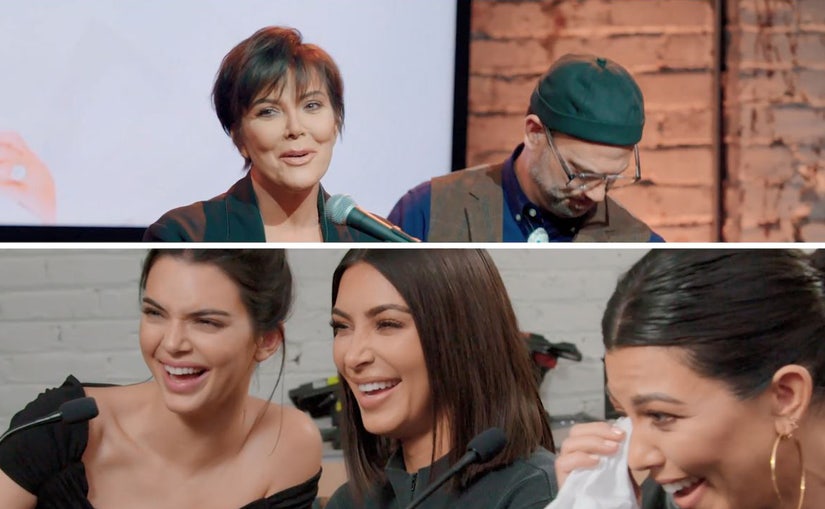 Facebook Watch
After the tour, Kris was then announced as the featured artist of the show, by the name of Kris Jenné. The mom of five was then tasked with heading up to the podium to give a speech that was prepared by her daughters.
While giving her speech, Kim, Kourtney, and Kendall sent loud burp noises through the microphone. Kris then had to describe all of her works of art, including a sculpture made from pots -- one in which she was ordered to say that she "pissed in" -- and a painting titled "Selfie Goddess."
The sisters even sent in a fake art critic for the prank. The man asked "Kris Jenné" how anything she created could be considered art. Kris then was tasked with getting extremely angry and told to knock over a red sculpture nearby.
"Nobody talks to Kris Jenne that way," she said. "Hashtag Jenné."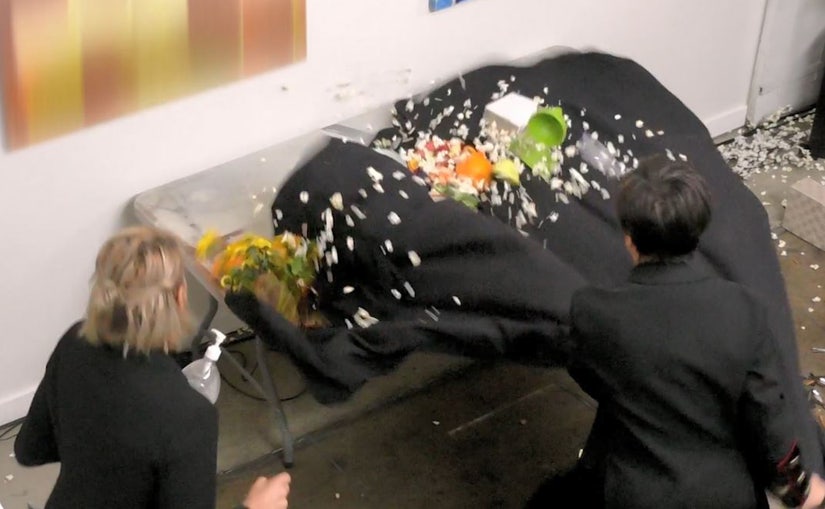 Facebook Watch
While backstage, Kris was comforted by Laura after the critic made fun of her art. She then was instructed to get angrier, throw popcorn against the wall, dump over a basket of cutlery, and pull a tablecloth out from under an entire display full of food.
"I'm so glad you're here Laura," Kris said to her, as Laura stood there in shock.
Kourtney then ordered Kris to ask Laura to sanitize her again, before saying, "now get the f--k outta here."
Kim then told Kris she could come backstage and asked how she was feeling.
"This is humiliating," Kris replied, as Kim continued to congratulate her mom for doing "really, really good" and being a "good sport."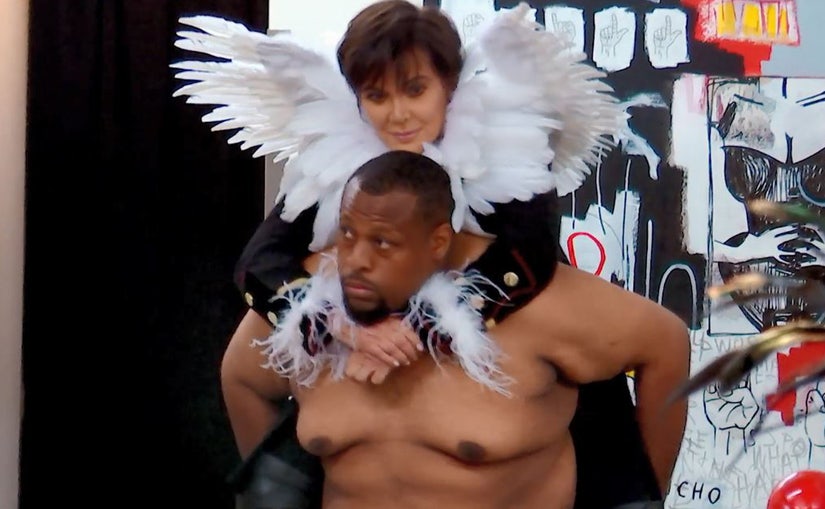 Facebook Watch
Kim and her sisters, of course, had to end with the greatest rouse. For her final prank, Kris was tasked with dressing up in a bird costume and to complete an interpretive dance in front of a crowd in character as "The Birdmother."
"Good luck, you're going to be great," Kim told Kris. "Just have fun with it."
Kris walked into a room where a shirtless actor, Ricarlo, stood in a corner. It's there that Kendall gave Kris an order, telling her, "Mom, you got to get on his back, he's gonna piggyback you in."
"Yes, do it! Do it! Do it!" Kourtney added.
Kris wasn't going to quit the game now and jumped Ricarlo's back before entering the art gallery. "Get off of him and get in the nest," Kendall ordered. Yes, there was a nest.
"I am the Birdmother!" Kris yelled.
The entire crowd continued to become more and more confused, as Kim then told Kris that it was time for her "bongo solo."
During the "solo," Kendall and Kourtney came out in costume and Kendall broke one of Kris' art pieces. That's when Kim had Kris yell "you kiddin' me?!" multiple times.
Kim then ran out and told everyone it was all a joke and that they were on a hidden camera show. Everyone was relieved, especially Laura.