Celebrity jeweler Chris Aire has Shaggy and NBA great Gary Payton in his corner when he takes on Hublot in court.
When Chris Aire coined the phrase "red gold" in the late '80s, he never could have seen it leading to this.
The boutique jeweler is preparing to take on luxury goods giant LVMH (Louis Vuitton Moet Hennessy) in court next month over a trademark infringement dispute that's been going on for years, accusing them of ripping off a brand he worked so hard to create.
Aire told TooFab he first came up with the term "red gold" in 1988, at a time when everyone referred to the tinted metal as either "pink" or "rose gold." While he was a fan, the timepieces he created just weren't working for the male demographic.
"I wondered why it was that people really didn't care for it back then," Aire explained. "So I thought about it and came up with the idea of basically branding my own version of it, of something like that, and calling it 'red gold.'"
"Rose and pink are not that attractive to men, but the idea of red, it was masculine, it was strong," he continued. "And so by '89 I thought of producing products around that brand and started marketing it that way."
Aire admitted that it took time to catch on, but when he eventually put some money behind a campaign for the product in the early 2000s, he said "it took off." It was around this time, in 2002, that he filed for a trademark on the phrase "red gold," which was approved in 2003.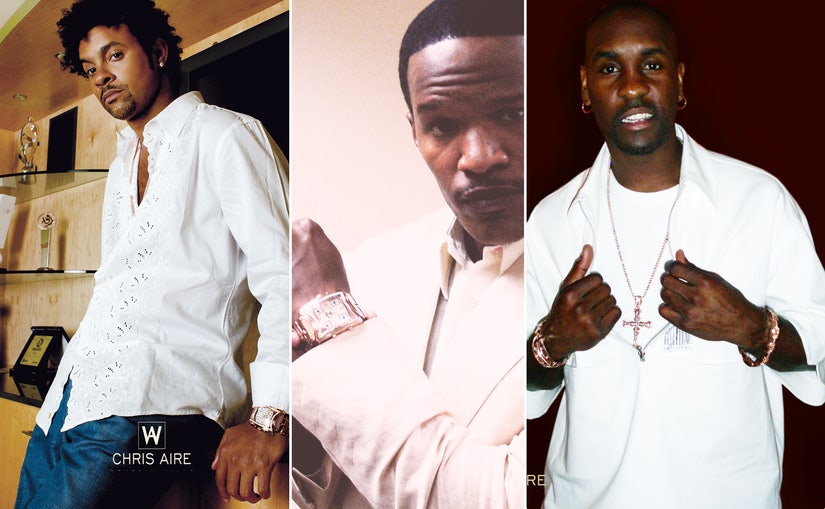 Courtesy Chris Aire
But he said they weren't the only ones who took notice.
The "King of Bling" accused other jewelry companies of infringing on his trademark when they began using the term to sell their stock as well, and his legal team began firing off cease and desist letters. When Hublot, a subsidiary of LVMH that specializes in watches, also began using the phrase in 2005 -- two years after the trademark -- Aire said "everyone else followed suit."
The jeweler sued Hublot and its parent company in 2010, arguing that Hublot has made millions off of his trademark and created confusion in the market. Hublot argued the "red gold" term was a generic descriptor.
"They're consistently suing people who infringe on their trademarks, and I think a company in their position should understand," Aired explained. "This is our biggest brand, something that we spent a lot of time and money and effort building. They are basically offering similar products using the brand name and this is the main issue. People start thinking they're supporting one brand when they're really supporting another."
After eight years of Hublot using, in Aire's mind, "every trick in the legal book to try and prolong" the battle, it's finally going to trial beginning October 23, 2018. On the witness list for Aire: Payton and Shaggy, whose support he calls "amazing."
"It's a big blessing, I'm very grateful," Aire says of the two agreeing to testify on his behalf.
"We're sure that the court will follow the law that it laid down and it will rule that our trademark is valid and that Hublot infringed," says the jeweler, "and that that we are entitled to disgorgement of profit and corrective advertising to correct all the misimpression they've created as a result of the confusion that they've created."
"We've influenced the industry in a lot of ways because we think outside the box and instead of these bigger brands thinking that they can just come and take something that belongs to us, it'll be nice if we can all cooperate and build this amazing industry," he concluded.
Reps for LVMH and Hublot of America could not be reached for comment.