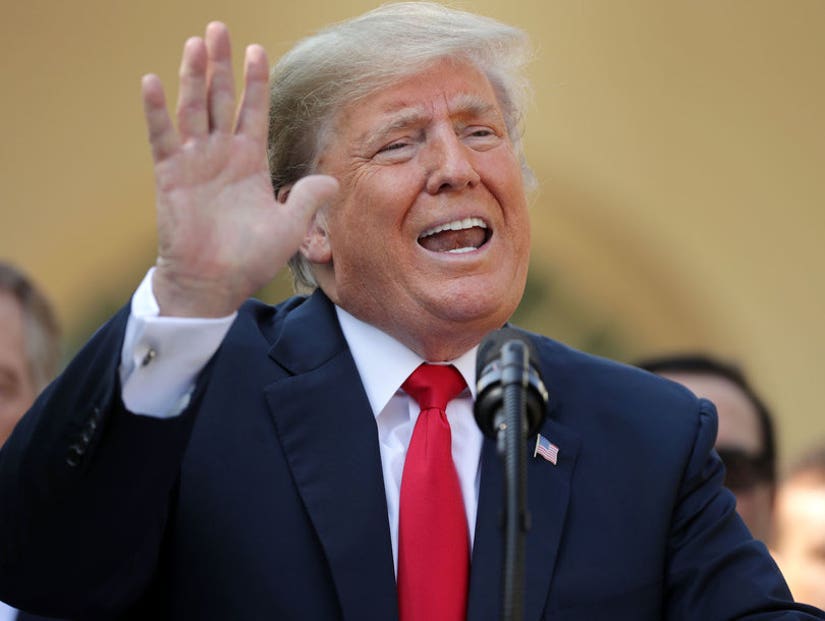 Getty
"I know you're not thinking. You never do," the president of the United States tells ABC correspondent Cecilia Vega as she prepares to ask a question about the Brett Kavanaugh scandal.
Donald Trump dragged himself Monday afternoon during a press conference at the White House, where he referred to his sobriety as one of his only "good traits."
"I can honestly say I've never had a beer in my life. It's one of my only good traits. I don't drink," he said during his answer to CNN reporter Kaitlan Collins inquiring if the president would pull Brett Kavanaugh's Supreme Court nomination if its determined the judge lied about his drinking habits in high school and college.
The self-deprecating joke (or maybe a moment of truth?) came in between shouting down female reporters who asked questions he did not approve of and straight-up belittling them from the podium. In fact, he had shouted over Collins earlier in the press conference when she tried to pivot from trade talk to Kavanaugh.
"Okay, don't do that. That's not nice. And besides, someone is before you. Excuse me, don't do that," he said while she attempted to ask her question about if he thinks the FBI should interview Julie Swetnick, the third woman to make a sexual misconduct allegation against Kavanaugh, alleging he helped drug girls at parties in high school.
When giving his thoughts on Kavanaugh's consumption of alcohol, he said he didn't think the Supreme Court nominee lied about it and rambled on about his own experience with
"I've never had alcohol for whatever reason. Can you imagine if I had? What a mess I'd be? I'd be the world's worst. But I never drank," Trump said, eliciting some laughs from the crowd. "But I can tell you I watched that hearing and I watched a man saying that he did have difficulty as a young man with drink. The one question I didn't ask was, how about the last 20 years? Have you had difficulty in the last 20 years? Because nobody said anything bad about him in many, many years. They'd go back to high school! You know, I graduated from high school and while I did not drink, I saw a lot of people drinking ... does that mean that they can't do something that they want to do with their life?"
When Collins attempted to follow up with another question, he shouted, "You know what, you've really had enough. You've had enough!"
The most stunning exchange came when he called on ABC's Cecilia Vega.
"She's shocked that I picked here. She's, like, in a state of shock," Trump said, and was met with chuckles from members of his administration standing behind him.
"I'm not, thank you Mr. President," she said.
"That's okay. I know you're not thinking. You never do," the president responded. A few groans could even be heard in the background after he casually insulted the woman.
"I'm sorry?" Vega asked, and the president simply encouraged her to "go ahead" and ask her question, which he refused to answer because it was about Kavanaugh.
Both women issued short responses on Twitter after the contentious press conference.
Watch both contentious moments in the videos below:
WHOA: Trump mockingly criticizes a female reporter who tries to ask him a question for not thinking -- "you never do," he tells her -- then refuses to answer her question about Kavanaugh pic.twitter.com/OA3AFdinq3

@atrupar
Trump dismisses sexual assaults that occur in high school.

"I graduated from high school, and while I didn't drink, I saw people drinking. They drink beer, go crazy... Does that mean that they can't do something that they want to do with their lives? It's a very tough thing." pic.twitter.com/MQP0EZgyRc

@atrupar