"I do believe he's my soulmate," Harley said.
The on-again off-again couple have had their fair share of problems in their relationship, including Harley allegedly dragging Ronnie with her car. Although Harley has recently said that she and reality star are "the best we've ever been," she took to her Instagram to slam "Jersey Shore" and said the MTV show is the cause of all of their issues.
During an Instagram Q&A, Harley answered questions about her relationship with Ronnie, with whom they share daughter Ariana Sky, 6 months.
"Honestly the show has been the route [sic] to all our problems," she said, after a fan asked if she liked being on "Jersey Shore." "I legit do not watch the show."
Another follower asked Harley if she would want baby daddy to quit the reality series in order for the couple to make their relationship "better" and "peaceful."
"Duh," Harley replied, adding a eye roll emoji.
Instagram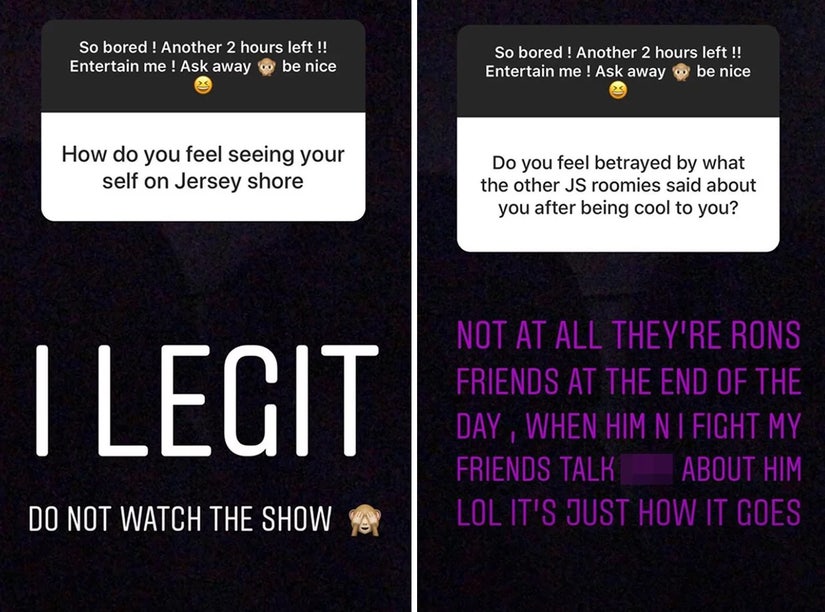 Instagram
A follower asked Harley if she only got together with the MTV star for his money.
"LOL let me be clear I had my own money owned my own house cars etc. before Ron," she wrote. "I've never been broke or needed to live off of someone ever."
"I'm with him because I love him," she added. "And we have a connection that most people do not have and it sucks you guys do not get to see it on JS but it's there and it's real and I do believe he's my soulmate."
Ronnie's co-stars have expressed they weren't a fan of the couple, especially after the pair had an explosive fight during a recent episode. After the blowout, Pauly D called their relationship "volatile."
"Do you feel betrayed by what the other JS roomies said about you after being cool to you?" a person wrote to Harley.
"Not at all they're Ron's friends at the end of the day," she replied. "When him n I fight my friends talk shit about him lol it's just how it goes."