Skin is in ... again ... for Kim's latest photoshoot.
Richardson magazine says their shoot with Kim Kardashian puts her in a "never-before-seen light," but she's also doing something we've definitely seen her do before: getting naked.
The reality star stripped down for the publication's 20th anniversary issue, dubbed A9, with a photoshoot from famed photographer Steven Klein. This isn't Klein's first time shooting Kardashian, who he also photographed for Love and Interview in the past.
According to a press release, the images were inspired by Japanese adult animated thriller "Perfect Blue," which also turns 20 this year.
On the cover, Kardashian goes topless, sporting nothing but long locks and a white thong, the issue's title preserving her modesty. In another image, she's fully nude in a bathtub, her famous derriere on full display. In a third photo, she gives off a femme fatale look while staring into a fish tank.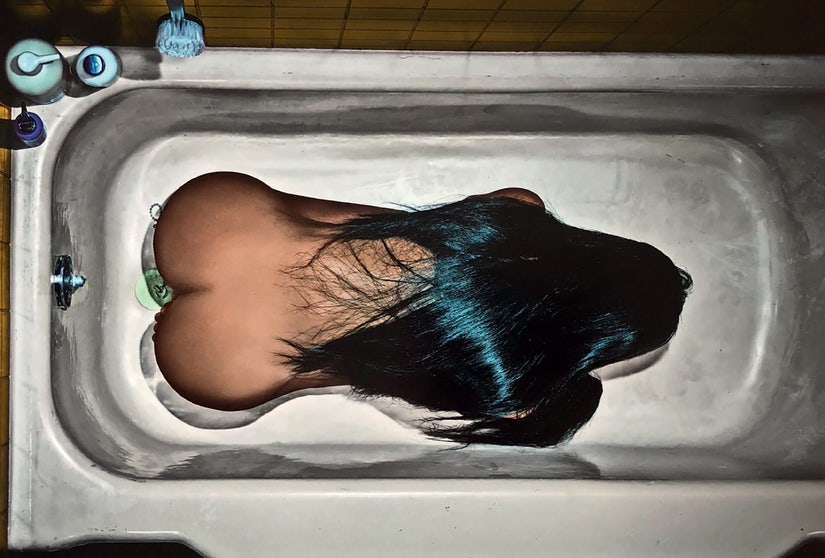 Steven Klein/Courtesy of Richardson
Kardashian was interviews by Bret Easton Ellis, author of "American Psycho," "The Rules of Attraction" and "Less Than Zero," for the accompanying article.
"We wanted to know if you thought that [Paris Hilton's sex tape] disillusioned her somehow, if the tape marked her withdrawal from public life, whereas the release of your tape made you very well known," Ellis asked. "At what point did you say, 'I'm just going to own this. It happened. And it is what it is."
"Well, I thought that for Paris it was explosive and a super lot of attention for her too, in a positive way. But once you go through it and you have those conversations with your parents and grandparents and everyone that you'd be really embarrassed about it with, I think you get to a point where you're like, 'Okay, we're dealing with this legally, and it's time to move on," Kardashian answered.
"Everyone deals with things differently, and I seem to deal with things -- whether the sex tape, the robbery, even the death of my dad, who was the most important person in my life -- I push to just overcome it," she continued. "I just don't have a victim mentality. That's never been my personality. I've always been like, the victor, I can get past this, and this will not define me."
Kardashian also revealed that President Donald Trump called her regarding Alice Johnson during the photoshoot, which was awkward timing, to say the least.
"It's always a question. I do get conflicted. Even this shoot," she said when asked whether she feels any "responsibility" as a celebrity. "I'm doing a nude shoot and my phone rings, and it's the President of the United States. And I'm like, 'Okay, hold on, does somebody have a robe?' I think he's about to give me some really exciting information about Alice Johnson. So then having to have that conversation, and then having to call her ... I think Steven Klein literally wanted to kill me because I was just so focused on my phone and it was a two-day shoot."
Trump granted Johnson clemency following a meeting with Kardashian to discuss prison reform and Johnson's possible pardon.
She added that she cried when she got the call. "I did, but we literally spent three hours in hair and makeup, and I had this crazy eye with glitter and smoke, and I'm holding my tears back, like, 'Don't cry! Don't cry!'" she explained.
Kim was also asked whether it's possible to be "both sex goddess and the mother of children" in the public eye, something Kardashian seems to have balanced throughout her career.
"I absolutely think you can. I was somebody who gained sixty or seventy pounds in my pregnancies and felt so unlike myself and so unsexy," she said. "Literally, at the end, when you can't even have sex, I thought, 'I''m never going to have sex again in my life!' I just felt so bad about myself in my soul. The internet was making fun of me, comparing me to whales! Shamu and I were in a 'Who wore it better?'-side by side."
"I didn't lose weight that quickly. But I'd say eight months later I had probably my best body ever. I felt like, 'I did this. I lost all this weight on my own. I feel better than ever,'" she continued. "I just put my body through that, and so it was empowering when I did a nude shoot."
"It's actually funny, at home I'm much more conservative than my public persona is. My public persona is wild, sexual. But I'm actually uncomfortable when I talk about sex, and I'm more conservative when it comes to that," added Kardashian. "But I'm vain like that. I can go on a set and be fully naked in front of fifty people doing a shoot, but if I'm one on one, intimate in bed, I'm like shy and insecure. I definitely have two different personalities like that. But I think motherhood has actually made me more confident about being publicly sexy."
The new issue of Richardson launches on Friday, October 19th, 2018 on RichardsonShop.com for $35.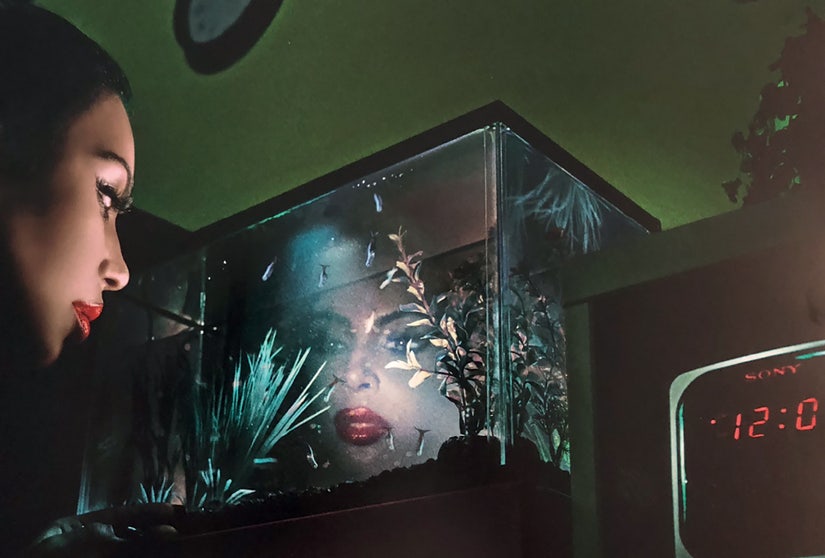 Steven Klein/Courtesy of Richardson