Did this episode include a nod to the Whisperers? And what the hell is Anne up to?!
That shiny, happy new world Rick Grimes worked so hard to create on "The Walking Dead" is starting to crumble.
The cracks in the foundation were evident from the first episode of the season, as tensions still flared between the former residents of the Sanctuary and everybody else. Last week, we learned some of the former Saviors were disappearing .. and tonight, the worst suspicions were confirmed: someone was killing them.
While Rick began the episode feeling optimistic about his community's future, by the end, it looked about as promising as that squashed tomato. And without him to lead, how quickly can it all fall apart?
The episode saved perhaps the biggest reveal for after the climactic closing moments. There are only two Rick Grimes episodes left, meaning he isn't even going to make it to midseason. Things are going to start changing in a hurry. How much longer does Maggie have?
Here's four big questions we're asking after "Warning Signs."
Will Rick's Baby Fever Last?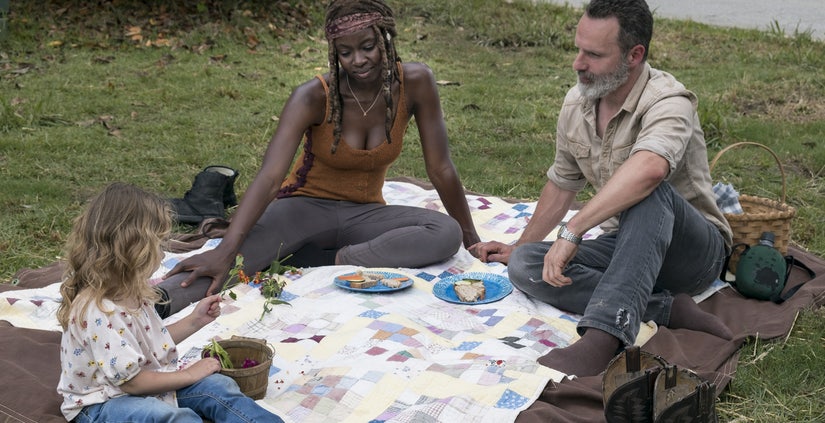 AMC
Before everything went down the toilet, Rick was having a pretty great day in Alexandria. The crops were growing, his family was happy, Carl's vision of the future was coming into fruition.
Speaking with Michonne, he was optimistic that Daryl and Maggie would all eventually get on board with her idea for a charter too, with the hope that all the communities could work together for the greater good.
He was also feelin' frisky. You see, all this positivity had Rick thinking of "another way to build for our future" as well, AKA babies. Michonne seemed on board with the idea, jumping his bones before spending the day with Judith.
But is Rick feeling the same way at the episode's end? With the Sanctuary inhabitants seemingly leaving them in the dust and Maggie and Daryl refusing to fall in line, it might not be the best time for a baby.
What Happens to Oceanside Now?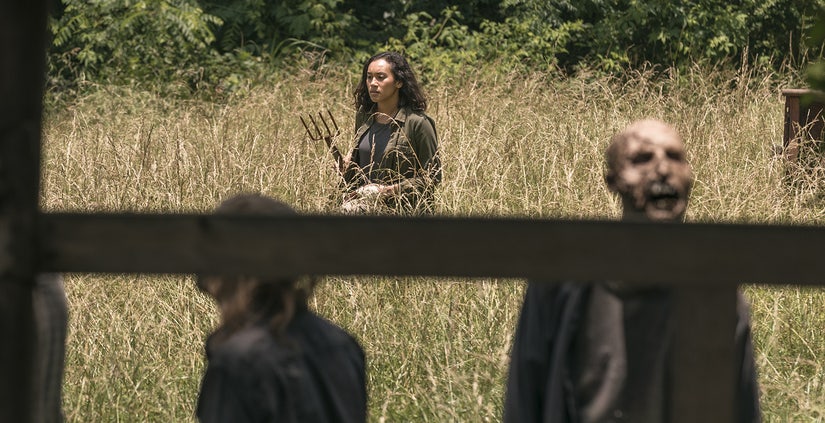 AMC
The majority of the episode showed the survivors trying to figure out who was killing the former Saviors, after Justin's reanimated corpse was discovered with a hole in its chest. Considering almost everyone who wasn't a Savior had beef with those who used to be one, the culprit could have been anyone.
Anne, Maggie and Daryl were all accused of doing the deed, but in the end Maggie and Daryl discovered that the surviving members of Oceanside were behind the disappearances.
Apparently, the community where the women of Oceanside used to live was nearby, and that's where they were killing those who had done them wrong in the past. Justin killed Beatrice's husband, while Arat was responsible for the death of Cyndie's younger brother.
Arat begged to be released, saying they were all under Simon's rule and would have been killed themselves if they didn't follow orders. But when Cyndie said they were just following's Maggie's example after she hanged Gregory -- and also pointed out how Arat seemingly relished in her brother's murder -- Daryl and Maggie simply turned their backs and walked away. RIP Arat.
Cyndie said Arat was their final target and we have a feeling neither Daryl or Maggie will be telling on them to Rick anytime soon. Plus, with the rest of the Sanctuary people leaving the bridge site to head back home, will anyone even care to investigate further? It'll be interesting to see if the truth ever comes out.
What the Hell Is Anne Up To?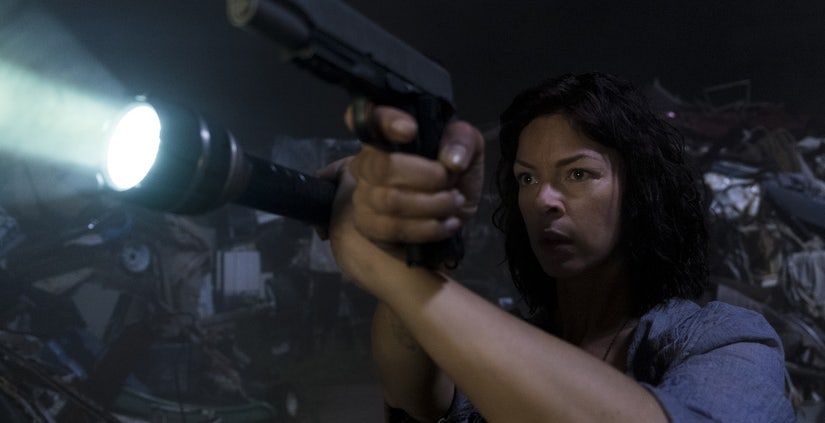 AMC
Anne, Anne, Anne. Just when we're starting to come around to the former junkyard queen, she pulls something like this.
Rick asked Gabriel to keep an eye on her after suspecting she was possibly involved in the Saviors' disappearances. Unfortunately for Gabriel, he did too good a job.
The one-eyed preacher caught her talking to someone on a walkie talkie. When she tried to win his silence by offering up a spot with her in "another place" where they can "have a life like you can't imagine," he didn't go for it and got knocked out cold.
What we're dying to know: Who's on the other end of that walkie?
Judging by their conversation, she's been tasked by someone to trade people to another group. She and the unknown man -- who also has a helicopter -- have some sort of code, dividing people up as either "an A or a B."
Could it be Alpha or Beta? We know the Whisperers from the comic books are coming this season, and that's how they refer to themselves, by rank, not name. That's the only theory we've got, but sound off with your own below.
Just How Much Danger Is Negan Really In?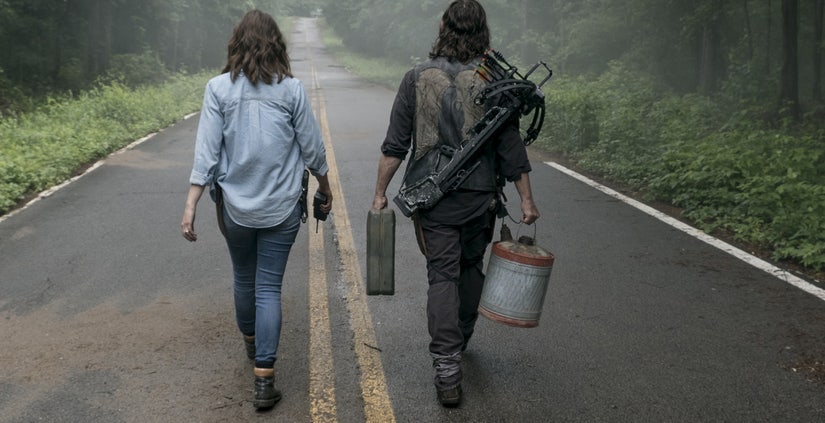 AMC
Two of Rick's closest confidants look ready to throw a coup after Sunday's episode.
First, Rick and Daryl had another contentious conversation, where the former said the future belongs to "all of us now," referring to the communities of Alexandria, Oceanside, The Sanctuary and The Hilltop.
But Daryl still wasn't having it, calling out the deaths of Glenn, Abraham, Sasha and everyone else who died thanks to the Saviors. Rick still doubled down on his convictions, saying killing each other "is not the way."
Though Maggie was somewhat on the fence, hearing that Cyndie was inspired by her actions with Gregory pushed her towards her next goal: killing the man who killed her husband.
"We gave Rick's way a chance, it's time to see Negan," she said in the show's final moments, as the two walked together toward Alexandria.
Could killing Negan send a big message to the Saviors to get in line, while also balancing the scales a bit for the other survivors? Sure. Will it happen? We doubt it.
We'd be shocked if Jeffrey Dean Morgan's big bad is going anywhere anytime soon, but tune into "The Walking Dead" every Sunday to find out!