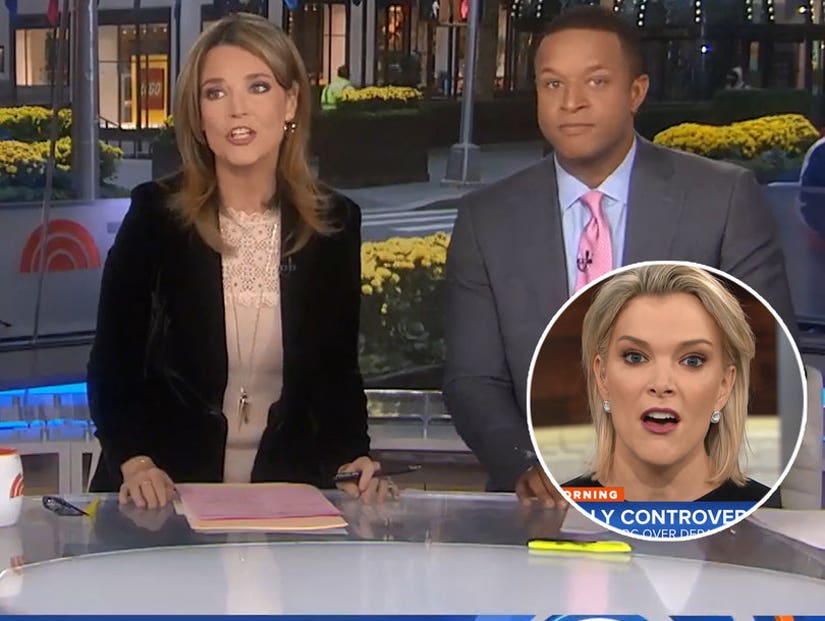 NBC
"Today" show airs a news package confirming the NBC employee is very likely leaving the network.
UPDATED 10:39 a.m. on 10/26/18:
An NBC spokesperson has finally said, "'Megyn Kelly Today' is not returning."
"Next week, the 9 a.m. hour will be hosted by other 'Today' co-anchors," the spokesperson added.
The program dedicated the time slot on Friday to coverage of the capture of a suspect that may be responsible for sending pipe bombs to outspoken critics of President Donald Trump.
In a statement obtained by Variety, Kelly's lawyer said, "Megyn remains an employee of NBC News and discussions about next steps are continuing."
UPDATED 10:25 a.m. on 10/26/18:
Fox News hasn't expressed any interest in taking Kelly back now that NBC is negotiating her exit.
"We are extremely happy with our entire line-upm" a spokesperson for Fox News told USA Today.
Unfortunately for those expecting any kind of inside scoop from the reporters who work with Kelly, the package that aired only served as a confirmation of everything that was previously reported.
"Sources familiar with the situation tell NBC News that conversations have already started about Megyn's exit," said correspondent Morgan Radford. "The exact details of which remain unclear at this point."
Well, thanks for nothing, but feel free to watch the "Today" summation of the story below.
This morning, NBC News host Megyn Kelly is in talks with the network about her imminent departure, according to a source familiar with the situation. pic.twitter.com/4Ter7kP0LT

@TODAYshow
An NBC News article published Friday cited a source not authorized to speak publicly. "Conversations have already started about Megyn's exit from the network," the individual told NBC News, which declined to offer official comment for its own report. In an earlier statement, NBC said, "Given the circumstances ''Megyn Kelly Today' will be on tape the rest of the week."
Kelly dug her professional grave on Tuesday morning during a panel discussion about some colleges discouraging students from wearing stereotypical costumes. She called the wave of political correctness on Halloween "absurd," and crossed a line for most viewers when she brought up America's bad blackface habit that the country has been trying to shake for decades.
She asked "what is racist" about painting your face as another ethnicity, and continued, "Because you do get in trouble if you are a white person who puts on blackface for Halloween or a black person who puts on whiteface for Halloween. Back when I was a kid, that was okay as long as you were dressing up as a character."
"Real Housewives of New York" star Luann de Lesseps learned that lesson the hard way last Halloween when she painted her skin to dress up as singer Diana Ross. Kelly, however, didn't understand Bravo viewers' outrage over the costume.
"People said that that was racist," Kelly marveled. "I thought, who doesn't love Diana Ross? She wants to look like Diana Ross for one day. I don't know how that got racist on Halloween."
"Wait @MegynTODAY saw #rhony and she still couldn't see its offensive??" Carole tweeted late Thursday night. "Luann blackened her face & put on an afro. Megyn defends that? She is absurd."