The actress was dating the late actor when he died at age 23 outside of Johnny Depp's Hollywood club, The Viper Room.
Samantha Mathis watched her boyfriend River Phoenix die on Sunset Boulevard nearly 25 years ago.
Now for the first time since his death the actress has opened up about that night in West Hollywood in an interview with The Guardian.
The actress, 48, has rarely spoken about Phoenix since that fateful night, with the exception of her therapist, out of respect for the late actor's family and due to the trauma of losing someone she loved at such a young age.
In fact, what inspired her to finally break her silence was watching "The Thing Called Love" -- the film she made with Phoenix and the last movie he completed before his untimely death -- for the first time since he overdosed on October 31, 1993. The experience of watching the two of them, so young, awakened old memories. Mathis felt "like the universe wanted me to talk about him."
"We met when we were both 19, and he bummed a cigarette off me in an LA club," she said, recalling the early stages of their romance. "This sounds incredibly cheesy but I knew I would be with him one day. It just felt fated between us, and there was such chemistry."
And her premonition came to fruition three years later when they were cast in "The Thing Called Love."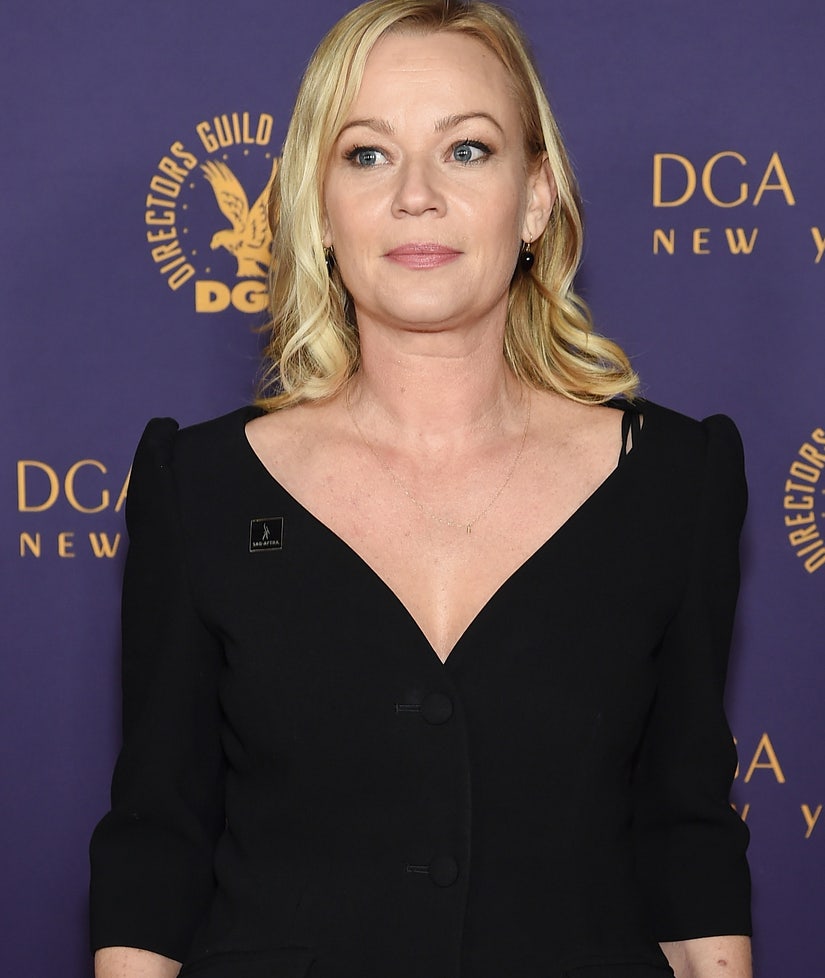 Getty
"I think we recognized something in each other," Mathis mused, who had been acting since she was a teenager (Phoenix began his career at age 8). "We came from very different families, but perhaps there were some broken parts in each other we recognized. We found safe harbor."
"We just hung out with his siblings and got to be kids," she said of her time with Phoenix. "He was so good at hanging out."
Of the night Phoenix died, Mathis vividly recalled the heartbreak and terror of watching her boyfriend OD.
"I knew he was high that night," Mathis said of Phoenix, "but the heroin that killed him didn't happen until he was in The Viper Room. I have my suspicions about what was going on, but I didn't see anything."
That night Phoenix arrived to The Viper Room with his siblings Leaf (who is now known as Joaquin) and Rain along with Mathis, who went to the restroom once they got there.
When Mathis got out of the bathroom she saw Phoenix and another man being escorted by a bouncer out of the side door of the club. When she caught up to them she saw her boyfriend drop to the concrete and begin to convulse.
"What have you done? What are you on?" Mathis recalled yelling at the other man, who responded by telling her to "leave him alone" and that she was "spoiling [Phoenix's] high."
She then tried to get back inside the club through the side door but it was locked. Mathis ran around to the front door and got Phoenix's two siblings.
Joaquin's 911 call, which was leaked soon after to media outlets at the time, remains haunting and heartbreaking: "He's having seizures! Get over here please, please, 'cause he's dying, please." His brother, River, flatlined before paramedics arrived and was later declared dead at a nearby hospital. The actor, who in many ways defined his generation, died from a heroin and cocaine overdose at the age of 23.
Mathis to this day remembers Phoenix as "sensitive and obsessive. He felt things on his heart very deeply."
She ended her recollections with a wistful thought about who River Phoenix would be if he were still alive today: "I'm looking at a photo of him now [...]. I think if River was still here, I think he'd be acting, directing, saving the environment, just living and hanging out. Oh gosh, wouldn't that be nice?"