The "Riverdale" sister series is littered with homages to classic horror properties from the original "Night of the Living Dead" to "The Exorcist" to "Harry Potter" and more!
Netflix's newly released "Chilling Adventures of Sabrina" is a splendidly spooky show to binge watch over Halloween weekend, and it's filled with treats for all kinds of horror and supernatural fans.
Not only does young "Mad Men" veteran Kiernan Shipka shines as Sabrina Spellman, Archie Comics' infamous teenage witch, but the delightfully dark Roberto Aguirre-Sacasa series rarely stops paying tribute to all the classic cult horror films, old school sci-fi movies and occult-filled books and TV shows that paved the way before it.
While some of the show's references and shout-outs are quite overt, others lingered in the shadows or appeared on screen for only the briefest of scenes.
Here are 11 "Chilling Adventures of Sabrina" homages you may have missed:
"Night of the Living Dead"
The show's first horror movie reference comes when Sabrina, her boyfriend Harvey (Ross Lynch) and their friends Roz (Jaz Sinclair) and Susie (Lachlan Watson) catch a screening of George Romero's 1968 zombie classic "Night of the Living Dead" near the beginning of Episode 1. The references to the film don't end there, either.
After leaving the theater, Harvey acts out a scene from the movie as he chases Sabrina around and yells out the oft-cited line "They're coming to get you, Barbara!" Sabrina and her friends later wind up discussing several aspects of the movie, including why slow-moving zombies make a bit of scientific sense and what politics might be at play in the film, which broke ground by building its story around a black protagonist.
There are plenty of thematic parallels between "Chilling Adventures of Sabrina" and "The Craft," a movie about a coven of four young women who set fire to the patriarchy with spells, magic, and the occult. "Sabrina" overtly invokes "The Craft" on more than one occasion, too, beginning with a slow-motion shot in Episode 2 featuring Sabrina and the Weird Sisters strutting into frame as they prepare to exact vengeance upon a group of depraved jocks from Sabrina's high school.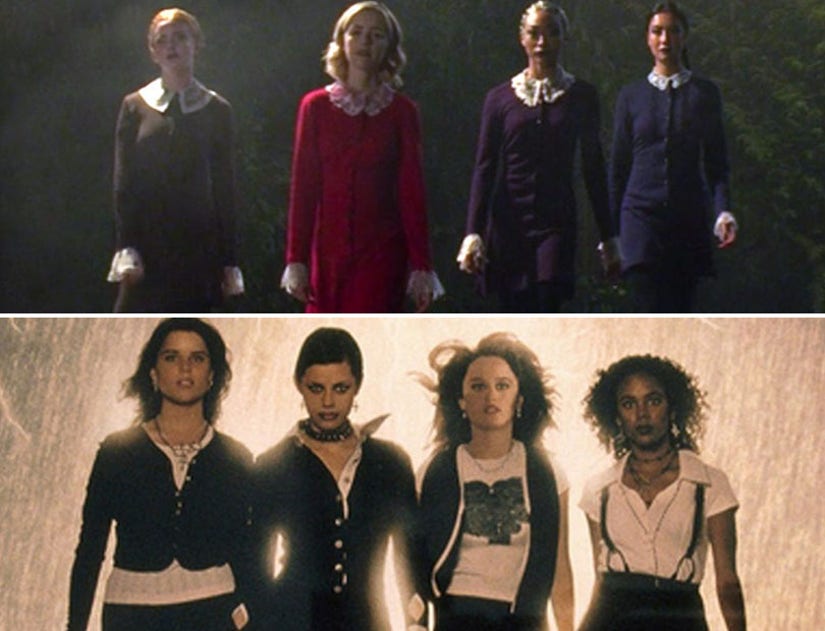 Netflix/Columbia Pictures
It's highly reminiscent of "The Craft's" memorable movie poster, which features stars Neve Campbell, Fairuza Balk, Robin Tunney, and Rachel True striking a similar fashionable-yet-menacing pose. In Episode 4, while studying it up at her new school for witches, Sabrina and some newly acquired ghost friends cast a spell on the aforementioned Weird Sisters by using the exact same "light as a feather, stiff as a board" chant used by the witches in "The Craft."
Halloween holds a special significance in the first few episodes, as October 31st serves not only Sabrina's 16th birthday but also the day she might finally decide to choose the Path of Night and pledge herself to the Dark Lord during a wild ritual set in the woods. Leading up to the big day, the show tracks the passage of time by superimposing the date and day of the week in white on the screen.
Once Halloween finally arrives, however, the word appears on the screen along with a note about Sabrina's birthday in orange. The look and font eerily reminiscent of the title cards from John Carpenter's legendary 1978 film "Halloween," which also happens to feature a similarly tough female protagonist in Jamie Lee Curtis.
There's an additional "Halloween" shout-out later on in the series when a minor character appears named Steve Loomis, a reference to Dr. Sam Loomis, the "Halloween" franchise's primary male protagonist throughout many of the films.
A Dark Baptism is complicated party to plan. Not only do you need a virginal witch wiling to sign her soul away to Satan, but it also helps to secure a secluded spot in the woods, plan the event during a blood moon eclipse, and bust out all sorts of party favors, like sacrificial animals. In Episode 2 of "Sabrina," as the titular teenage witch prepares for her unholiest of days, her aunts Hilda (Lucy Davis) and Zelda (Miranda Otto) acquire a goat named Black Narcissus for the big baptism with Beelzebub.
While the goat doesn't wind up playing a huge part in the ceremony, it's a clear nod to one of baddest goats in recent memory, Black Phillip from the acclaimed 2015 horror flick "The Witch." In that film, which revolves around a 17th Century family on the edge of a foreboding woods, the goat winds up being the Devil itself. Probably not-so-coincidentally, "Sabrina's" version of Satan has goat-like features as well.
After much deliberation, Sabrina decides to attend her Dark Baptism. She even wears her dead mother's wedding dress to the swanky event which is attended by everyone in her coven. As the High Priest walks her through her unholy vows, she's instructed to strip down before the Dark Lord and her aunts help her out of her dress, so she can perform the rest of her ceremony in a white slip. When the vows take a turn Sabrina doesn't like, however, Sabrina reconsiders her pledge to Satan and eventually runs off into the woods.
The High Priest and her magic-wielding coven pursue her and cast a spell which causes the trees to come alive and temporarily ensnare Sabrina with their roots, branches, and vines. It's a clear homage to Sam Raimi's 1981 horror film "Evil Dead" and its brutal scene in which a woman in white attempts to escape evil by running through the woods, but the trees around her come to life, tangle her up with their vines, and then brutally assault her. Thankfully for Sabrina, she does not suffer the same fate.
Unlike many of the films, shows, novels, and comics referenced on "Chilling Adventures of Sabrina," "Harry Potter" isn't mentioned specifically by any of the characters and no one has a Dumbledore poster hanging up in their room. But the parallels in theme, story, world building, structure, and even production design are impossible to deny. For instance, Sabrina--who looks an awful lot like Emma Watson's Hermione Granger--is a half-mortal (a.k.a. "Muggle"), half-witch whose parents died suspiciously when she was very young. She attends an elite school for magic users and many of the other students constantly ridicule her for being half-human, or make vague references to her infamous father or tell her she may be the chosen one. Sound familiar yet?
As the New York Times puts it in their review, "After a while, determined women shouting Latin incantations while scowling at the camera starts to feel like 'Harry Potter' runoff."
"The Devil and Daniel Webster"
An early episode takes a peculiar turn after Sabrina is forced to defend herself and her family name in court. Not a run-of-the-mill court of law, mind you, but a court convened by the Church of Night to see whether the teenage witch should be condemned to burn for a few centuries in hell for turning her back on the Dark Lord during her unholy baptism.
Sabrina hires a mortal defense attorney named Daniel Webster (John Rubinstein). He's a clever old lawyer with deep knowledge of witches and rumor has it he once outsmarted the devil himself. The character and his name are a clear homage to "The Devil and Daniel Webster," an 80-year-old Stephen Vincent Benét story about a lawyer who comes to the defense of a farmer who sold his soul to the devil.
Sabrina and her friends open one episode in a coffee shop debating the subtextual meaning of "The Fly," an oft-remade classic horror film about a scientist whose botched experiment turns him into an oversized housefly. Susie argues the '50s original is a metaphor for body dysmorphia, while Sabrina suggests David Cronenberg's 1980s remake is actually a cautionary tale about sexually transmitted diseases. Harvey, meanwhile, thinks it's just a movie about a dude who becomes a fly.
Shortly after enrolling in her school for witches, Sabrina's vaguely sinister headmaster, Father Blackwood (Richard Coyle), tests her mettle by giving her a puzzle designed by her father called an Acheron Configuration. The puzzle is a clear nod to a similar-looking puzzle box appearing in Clive Barker's "Hellraiser" series.
After solving the puzzle box in "Hellraiser," the user is torn limb from limbs by hooks and a portal opens up bringing with it demons form a hell dimension. Likewise, when Sabrina finally solves the Acheron Configuration a hideous demon appears at her door--also, she's allowed to enroll advanced conjuring class!
Look at a side-by-side comparison of the Acheron Configuration and "Hellraiser's" Lament configuration (below).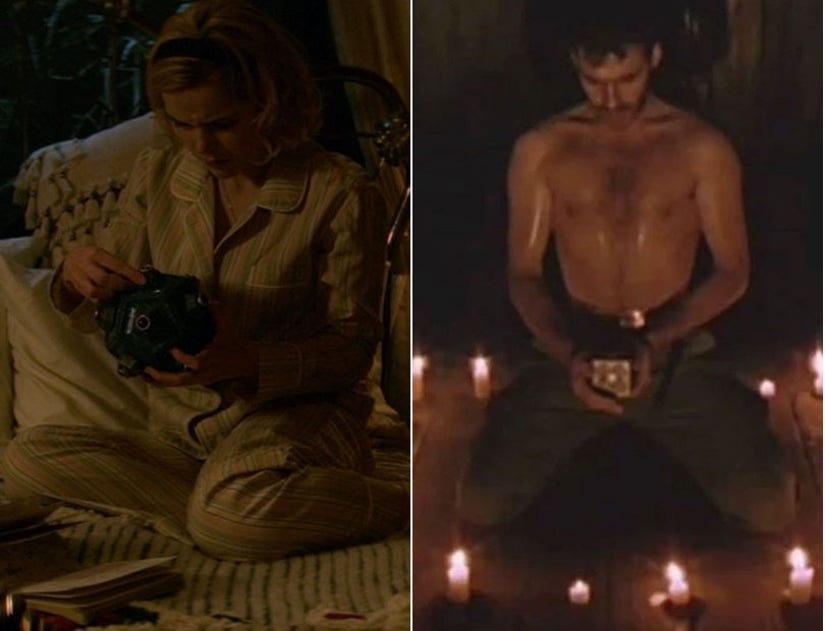 Netflix/Dimension Films
The show pays homage to William Friedkin's 1973 horror classic "The Exorcist" throughout an entire episode called "An Exorcism in Greendale" which centers around Sabrina's attempts to perform an unauthorized exorcism on a possessed man (Jesse Putnam). The similarities are numerous, from a possessed person foaming at the mouth and weirdly moving their head while being tied up to a bed, to the exorcism itself taking a great toll on the person performing it. All the episode is missing, really, is a cameo from "Exorcist" star Linda Blair.
"Riverdale" and Archie Comics
Not every reference in "Chilling Adventures of Sabrina" points to a horror film, of course. The show also pays plenty of homage to its sister series "Riverdale" (also created by Roberto Aguirre-Sacasa) as well as Archie Comics, which inspired the characters of both shows. Sabrina drinks from a throwback Archie thermos in one episode and in several other posters for Archie Mad House comic books can be seen. There's also an implied rivalry between the town of Greendale, where Sabrina and her friends live, and neighboring Riverdale.
In one early episode, a student from Sabrina's Baxter High School hangs a poster advertising an upcoming bowling match--yes, bowling match--between the Baxter Ravens and the Riverdale Bulldogs.
There's even a surprise character crossover toward the end of the season when "Riverdale's" Ben Button (Moses Thiessen) makes a special delivery to Mrs. Wardell (Michelle Gomez). Ben's appearance on "Chilling Adventures" is unexpected for several reasons, not the least of which is the fact he had just been killed off on a recent "Riverdale" episode.
And we're sure that's not all of them as eagle-eyed fans continue combing through the first season for more. Let us know in the comments which ones we missed as we all anxiously await Season 2 (which is already filming).
Season 1 "Chilling Adventures of Sabrina" is streaming now on Netflix.