Hello, witches of Greendale! If you haven't yet finished Season 1 of "Chilling Adventures of Sabrina" on Netflix then we highly recommend to stop reading now. If you have watched, which by the way, you should, then let's dive right in.
After a magical, intense and wicked first season, TooFab spoke to Tati Gabrielle to spill on what's to come in Season 2 and answer some of the many, many questions we have. Do the Walker women have real powers? Are Sabrina's parents not actually dead? Is Harvey going to become a witch hunter like his family? And, the most important question is, how much did that spell in the finale impact Sabrina? Is she now...dark?
If you recall in the finale, Sabrina Spellman (Kiernan Shipka) signed the Book of the Beast, joined the Church of Night and dedicated herself to the Dark Lord in order to cast a dark spell -- bringing up hellfire from the pit and burning the Greendale 13. The finale marked a large shift from the Sabrina who wanted to make all of her own choices to choosing the dark path to save her mortal town. Although it's obvious she still cares about her friends, Sabrina isn't the same girl who ran away from her Dark Baptism. Tati explained that Sabrina hasn't completely lost her humanity, but said she now just has more of an "edge."
"She's definitely taking a walk closer down the path of night...but it definitely changed her, but I don't think that she's fully feeling the dark side yet," Tati said. "I think it's beautiful that she kind of in a way sacrifices herself to save her friends and to save the people that she loves. So I thought it was a beautiful kind of turnover then that she'd be willing to give that up and give up a lot of her moral nature to do that."
"I couldn't see it happening any other way," she continued. "Like when I read it, I was like,'Yeah that had to have been the reason,' because otherwise I don't think that she would have willingly [...] signed the Book of the Beast just for herself because Sabrina is so unselfish in that way, so I was like, that's the perfect reason."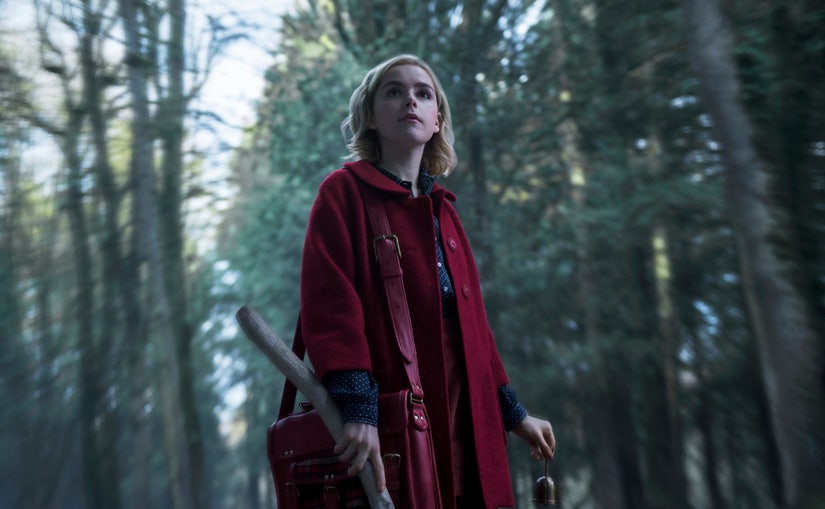 Netflix
On the outside, Sabrina's change was present in the form of a new white, platinum colored hair and newfound fondness for a darker lipstick (like the Weird Sisters). However, she seems to have changed greatly on the inside because of the dark spell.
"It took the season for her to realize her own power, what she could do with it, how she could change things," Shipka told The Hollywood Reporter. "I think that's the major difference from the second episode to the 10th. It's the fact that now she's more herself than ever, and she knows that in this moment the only thing that she can do is make this decision because she's going to use it get her way and what she thinks is right."
"She's becoming one with her witchiness."
Read on for 5 "Sabrina" questions we need answered ASAP.
Edward and Diana Spellman... Dead Or Alive?
Throughout the season, there have been multiple references to death of Sabrina's parents, Edward and Diana Spellman. Aunt Zelda (Miranda Otto) and Aunt Hilda (Lucy Davis) told their niece that her parents died in a plane crash on their way to Italy. However, multiple characters, such as Prudence, have insinuated otherwise.
In the comics, Edward Spellman mysteriously comes back to life in the form Harvey Kinkle's body, after Kinkle dies. Although we don't want the latter to be true, we do hope that Sabrina's father comes back in some way, shape or form to answer all of her questions.
Similarly, Diana is alive in the comics as well, however, she is in a psychiatric facility because she was turned insane after Edward gave Sabrina to his sisters.
Like all adaptations, if something occurs in the source material it doesn't necessarily mean it will occur in the show. But we should note that the show's EP and creator, Roberto Aguirre-Sacasa also penned the comic book series, as well as spearheading "Riverdale."
Unfortunately, Tati told us her lips were sealed when it came to the topic of Sabrina's parents, but we have a weird feeling we haven't heard the last about that yet.
Throughout the season, Sabrina's BFF Rosalind "Roz" Walker learned about her family's "curse," where all the Walker women eventually go blind, but develop a more amplified sense of knowing or "cunning." If you recall, Roz had multiple visions or sparks in her "cunning" that showed her real events or alluded to something that was actually happening. Roz' grandmother had told her that the "cunning" began generations ago when a group of witches cursed the Walker women.
The question is, does Roz have real powers? Is there something supernatural going on here?
"She definitely has the Walker family 'cunning,' but it seems to stay just within that realm," Tati explained. "And less of witchy, witchcraft world, I think that's all I can say."
Throughout most of the season, Sabrina was in a serious relationship with Harvey Kinkle (Ross Lynch) but in Episode 6 we were introduced to Nicholas Scratch (played by Gavin Leatherwood), who obviously has a thing for Sabrina. Nicholas and Sabrina definitely have a connection, but for right now it's strictly platonic...or is it?
After they broke up because she told Harvey she was a witch, Sabrina was heartbroken. However, after Sabrina casted the dark spell in the finale and visited Harvey, he suggested they should get back together and "start over," but Sabrina replied that she didn't think it was a "good idea" because it might not be "safe" for her to be around him or her friends, Roz and Susie.
"I had to do something tonight that scares me, Harvey," Sabrina said in the finale. "I touched something dark inside me. I love you too much to risk anything bad happening to you."
Sabrina essentially said bye to Harvey, in order to protect him, but that doesn't mean they are over for good. Tati expressed that she's on Team Harvey.
"I personally like Sabrina better with Harvey," she said. "Only because I think that it does keep her moral nature very strong and then I know that that's something that Sabrina, because of her mother keeps very close to her own heart."
On the other hand, Tati said it would be "interesting" to see Sabrina and Nicholas together, because of how it could possibly "change her," or "see the witch world in a different way."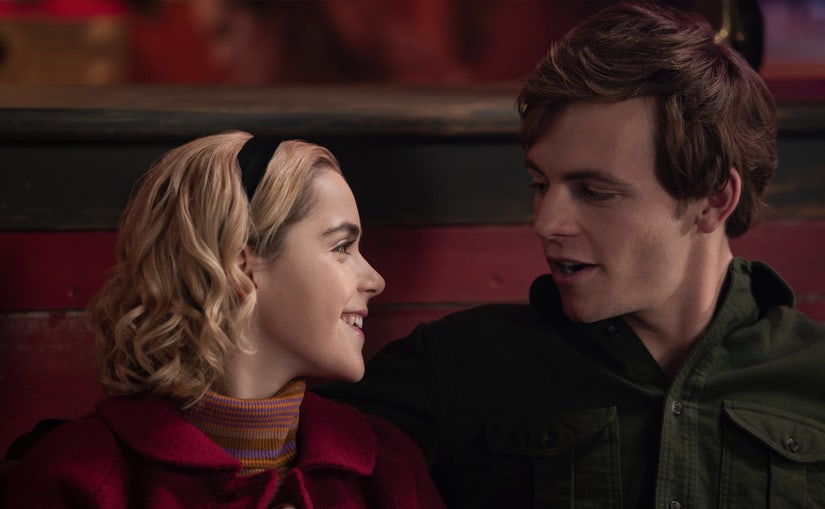 Netflix
During Episode 9, Roz heard a baby crying in her "cunning" vision, but Tati expressed that this infant is strictly symbolic.
"I think that's more of a representation of Sabrina as a baby, that kind of image carried out, from even the first episode when you see Sabrina in her own dreams find the two babes," Tati said.
Tati added there could "possibly" be more to come with that.
Kinkle Family Witch Hunters
In Episode 7, Sabrina and Harvey discovered that he is a descendant from a long-line of witch hunters. The Kinkle family descended from the Von Kunkles, who took over the land of Greendale and killed many witches. Harvey said that this was all "messed up."
Later in the season, Dorkus and Agatha killed some miners, including Harvey's brother Tommy. Sabrina brought him back to life, but there were severe consequences in that Tommy's soul didn't come over when Sabrina resurrected him. Sabrina then was forced to tell Harvey that she was a witch and what she had done. In the end, Harvey wanted to do the deed himself and ended up shooting his brother. It seemed to all be over, but we think Harvey might be out for some revenge.
Tati's lips were sealed when it came to talking about Harvey possibly becoming a witch hunter like his ancestors. But, since Sabrina is starting to touch into her dark side, maybe Harvey will be too.
"Chilling Adventures of Sabrina" is streaming now on Netflix.