The "Havana" singer also gushed over her boyfriend Matthew Hussey.
"I think that we're all good now," Cabello told Marie Claire for their Holiday Issue. "I saw Normani [Kordei] at the Billboard Awards, and we kind of mutually came up to each other."
"She'd performed that night," she recalled. "And so I was like, 'Oh, how was it?' She said, 'Oh, I was so nervous.' And I was like, 'By next year you'll be totally fine. You're killing it. I'm so happy for you. I'm so excited to see what you do with your music.' I told her, 'I just want you to know, I really hope we can all move on from everything, and I'm genuinely happy for the other girls, and I hope you tell them I wish you the best.' And she was like, 'I'm so proud of you.' It felt like everything is totally fine."
The "Never Be The Same" singer, who left the girl group back in December 2016, spoke about how she felt pressured while in the band.
"I would try to kind of rebel in my own way and wear turtlenecks or pants -- which was allowed," she said. "Nobody ever put a gun to my head and was like, 'You have to do this.' But it was definitely moving in a certain direction and there was a group mentality, so you have to do it."
Fifth Harmony continued on without Cabello and recorded another album, but eventually the band broke up and announced an "indefinite hiatus" back in March. Like Cabello, Kordei, Jauregui, Jane and Brooke all went on to pursue solo careers.
Cabello's hit "Havana" is Spotify's most-streamed song by a solo female artist in its history. The pop song won Video of the Year at the MTV Video Music Awards. Cabello took home a VMA for Artist of the Year, as well as four American Music Awards in October.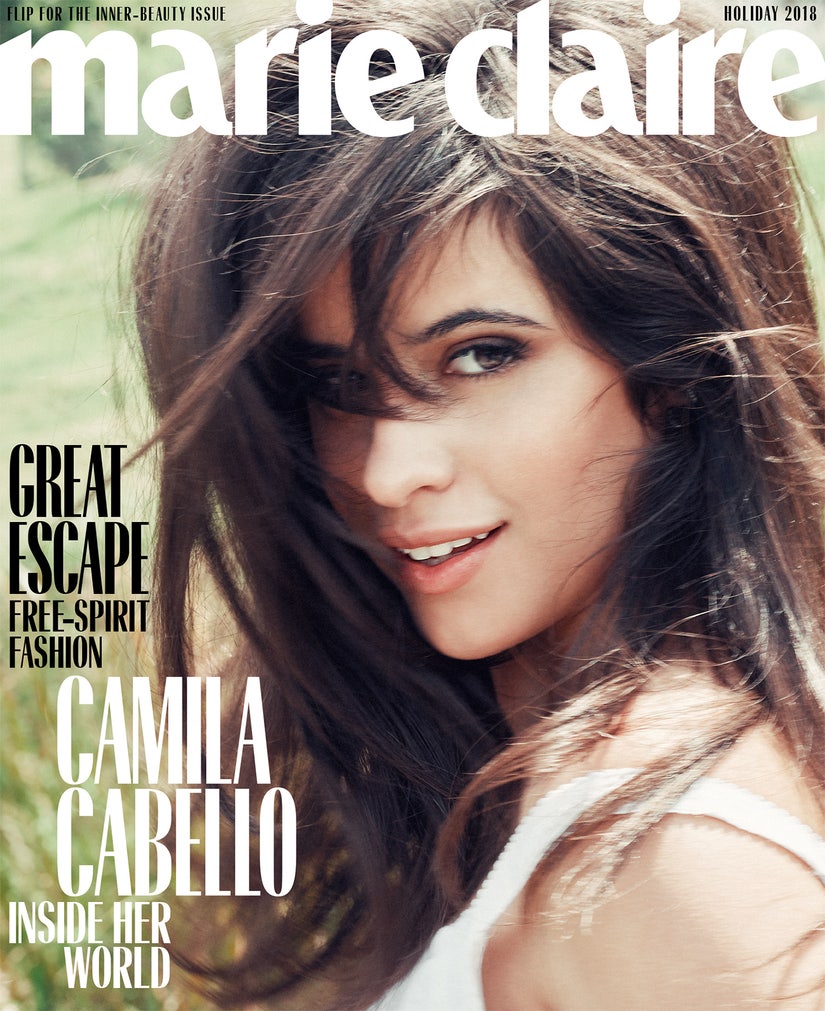 Sofia Sanchez and Mauro Mongiello/Marie Claire
The singer also addressed the rumors of her possibly starring as Maria in Steven Spielberg's upcoming adaptation of "West Side Story." For now, Cabello said she's focused on her music.
"I don't think so," she said of the role. "I feel like this has been the first year and a half of me getting to know myself. I have this confidence now that I haven't had before, of listening to myself and not really doing brain damage on 'Should I release this song?' 'Should I do this this way, or should I do it that way?' 'Am I the way this person sees me, or am I the way I see myself?'"
"I know exactly who I am, and I know what I want to do," she added. "I'm just not ready to give up that voice for something else right now."
Cabello went on speak about her relationship with British love expert Matthew Hussey for the first time.
"It's annoying, because we've been together for kind of like a long time now, but every time, I'm like, 'Oh my God, I have to talk now,'" she said. "He's so similar to me. In person, we're just weird and silly and stupid together. He makes me the happiest I've ever been in my life."
The December/January holiday issue of Marie Claire hits newsstands November 22.