In the latest episode of "Jersey Shore: Family Vacation," Ronnie followed a familiar bad pattern when he invited Angelina's friend Lindsay to hang in the hot tub.
If there's one thing you can count on from Ronnie Ortiz-Magro, it's that he'll do something stupid and then apologize for it later.
He's currently at the apology stage after his hot tub antics with Angelina Pivarnick's friend Lindsay aired in the latest episode of "Jersey Shore: Family Vacation." Casting some of the blame on the edit, Ronnie mostly took ownership of his actions in a series of posts to his Instagram Stories apologizing.
In his first lengthy post, he wrote, "Obviously the last episode has made it seem like I was into Jewish rag doll, it's edited to make it look worse." Lindsay refers to herself as "Jewish Barbie," so clearly by denigrating her nickname, Ronnie is making it perfectly clear that he never had any interest at all, right? Are we buying this?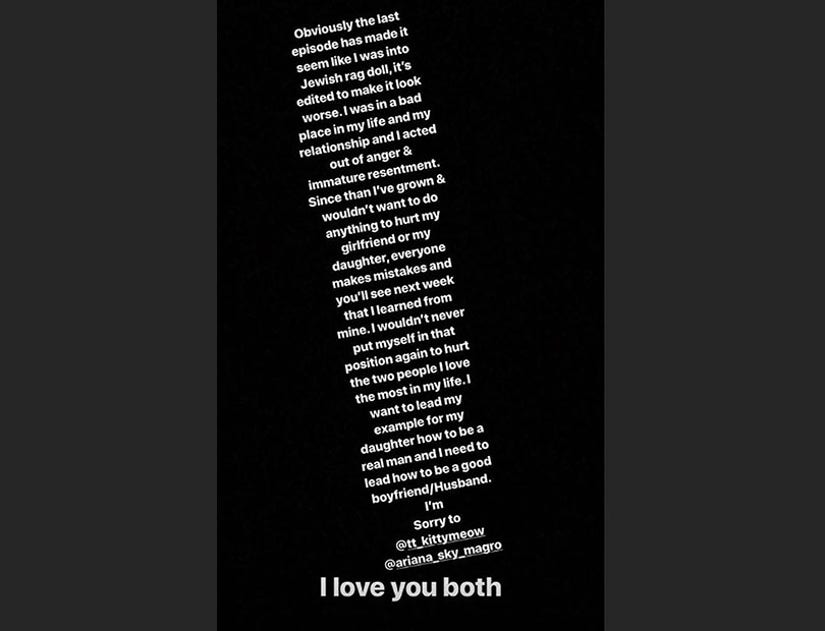 Instagram
He then said he "acted out of anger and immature resentment," before saying that he'd already learned and grown from this experience, as we'll see in the next episode. Ronnie and Jen Harley had been fighting through much of this past week's episode, which apparently put him in the mood to reciprocate some of Lindsay's not-the-least-bit subtle interest.
Ronnie wrapped up the post by directly apologizing to Jen and their daughter, Ariana Sky. "I [woudl] never put myself in that position to hurt the two people I love the most in my life," he wrote. "I want to lead [by] example for my daughter how to be a real man and I need to lead [sic] how to be a good boyfriend/husband."
Instagram
In a follow-up post, Ronnie shortened his message, but didn't change the content of it, including the blame placed on the edit. He did, however, add a picture of Jen and their daughter, Ariana Sky.
This wasn't Ronnie's first time in trouble, nor was it the first to involve a hot tub. If you recall the group's trip to Miami, Ronnie got himself in trouble with a then-pregnant Jen for bringing home a random girl from the club. He took her on a "tour" of the house, which ended with the two of them half-naked in the hot tub.
In this latest episode, Ron found Lindsay and suggested they go for a swim. While she was putting on her bathing suit, he looked at one of the camera people and whispered, "I think I should go to bed," then laughed hysterically because he knew he wasn't going to bed.
"Women in hot tubs are Ronnie's Kryptonite?" Mike "The Situation" Sorrentino told the camera. "When Jewish Barbie comes out in her bathing suit, he will be left powerless."
It certainly seemed as if that was the case as the episode ended with Ronnie inviting Lindsay to sleep in his bed. Clearly whatever happened was enough that Ronnie felt the need to apologize publicly for what went down.
He also wrote that we'll see that he learned from his mistake in this week's episode, but Ronnie, there doesn't appear to be a new episode this week.
In fact, there isn't a new episode on the schedule at all right now, so when is this joyride going to come crashing down to the earth? Doesn't everyone want to see what this trainwreck looks like when it finally gets dragged into the station?