The "Aquaman" star opens up about her mission to stick up for assault survivors years after she claimed her ex-husband, Johnny Depp, physically abused her.
Amber Heard doesn't want to talk about Johnny Depp, but she won't shy away from talking about abuse, something she allegedly suffered while married to the "Fantastic Beasts: Crimes of Grindelwald" star.
In a new Glamour profile, the "Aquaman" star opens up about her recent journey into activism, which included traveling to Washington, D.C., to represent survivors of sexual assault during the contentious Supreme Court confirmation hearings for Brett Kavanaugh, a man Dr. Christine Blasey Ford accused of assaulting her decades ago in high school.
"When a woman comes forward, she will be met with skepticism, hostility, and shame," Heard said. "All a man has to do is point to an incentive. He will. Or society will."
Despite the uproar, Kavanaugh was confirmed and is now a Supreme Court Justice. Heard compared watching Ford's testimony last September in front of the Senate Judiciary Committee to a "punch to the gut."
"I was in my hotel room in New York, and I was immediately nailed to the floor in a puddle of tears," she said. "We as women took a collective punch to the gut."
In addition to trying to shape the national narrative around survivors of abuse, she said she joined social media just two years ago because she was tired of being the only person "not weighing in on the narrative of my life."
"My job provides me with a platform," she said of her duty to speak out on issues she cares about. "Silence is complacency."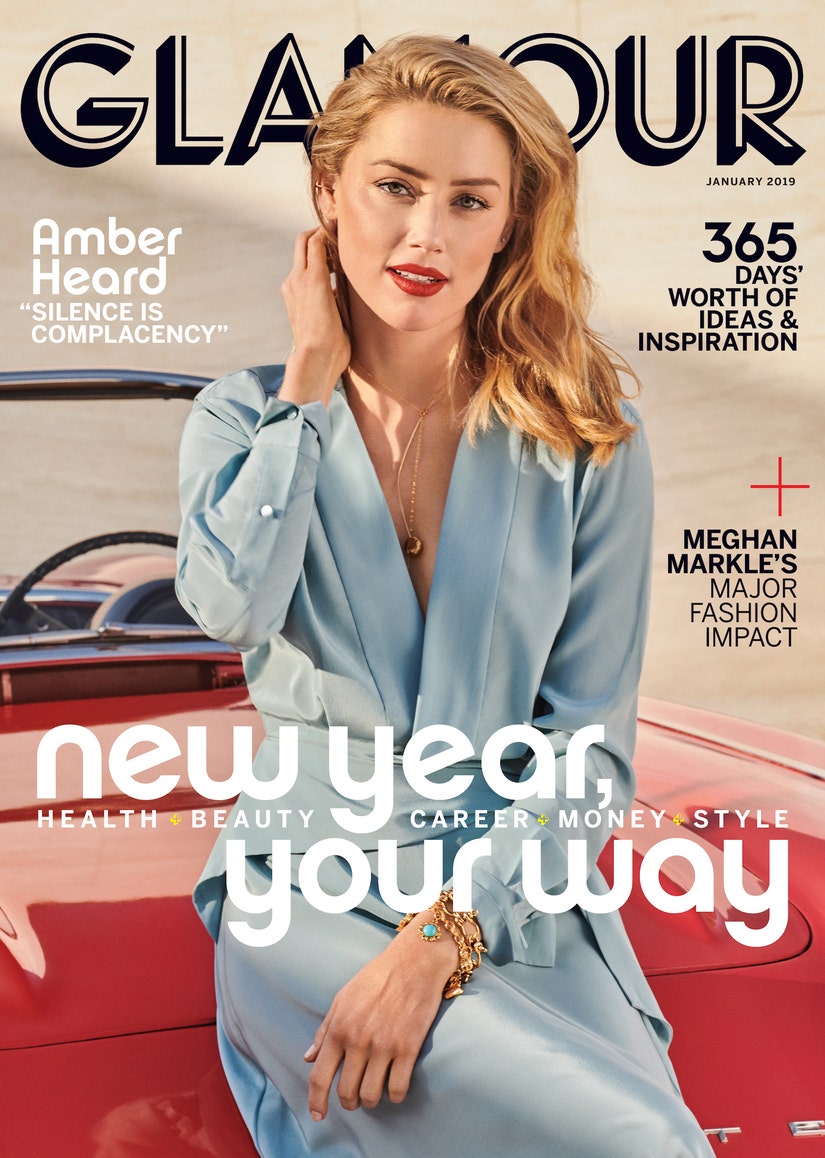 Jason Kibbler
"I've had support from strong women who were there for me when I wanted to give up and at moments when I thought I couldn't endure more abuse from the world," Heard told Self. "Sometimes you can feel as if you're standing up for something all alone -- on behalf of your physical safety, against an institution that is inherently flawed, or because you don't believe that loving a certain person is wrong."
"I needed people I could rely on to shore me up," she added. "Strong women can help me get through anything."
One of those women, 2019 Nobel Peace Prize nominee and Rise founder Amanda Nguyen, confirmed Heard's commitment to activism.
"I've never seen someone as fired up as Amber," she said, noting that their initial dinner meeting to talk about activism several months ago was supposed to last an hour but stretched into six.
"We discussed at length the process of how bills become law, how a coalition builds, how to shape your narrative to persuade people from different aisles," she explained. "It really does go beyond showing up at events. Amber has a true desire to learn how to change the laws and change the world."
While Heard is out trying to change the world, her ex-husband has been busy defending his shattered reputation. In several recent interviews, Depp has insisted he was "falsely accused" of striking the actress, who stars alongside Jason Momoa in Dec. 21 release "Aquaman" as the titular DC superhero's equally heroic love interest, Mera.
"So, initially, I just kept my mouth shut, you know?" he continued. "I knew it was going to stick on me and it would get weirder. Keep going, you know? Go nuts. I ain't going to get into a pissing contest with someone about it. Spit out what you need to spit out and, you know, my attorneys will take care of the rest. I never went out and spoke about the shit."
While responding to a statement from Heard's lawyer condemning the interview, Depp's lawyer said his client was "simply defending himself against Ms. Heard's lingering false abuse accusations," and stated, "Johnny Depp is the abuse victim."
The statement continued, "The only 'shameful psychological abuse' stems from Ms. Heard's continuing cynical manipulation of the important #MeToo movement and its real victims, that she has used to pursue her own ends."
"The fact remains I was falsely accused, which is why I'm suing the Sun newspaper for defamation for repeating false accusations," he said. "J.K. has seen the evidence and therefore knows I was falsely accused, and that's why she has publicly supported me. She doesn't take things lightly. She would not stand up if she didn't know the truth. So that's really it."