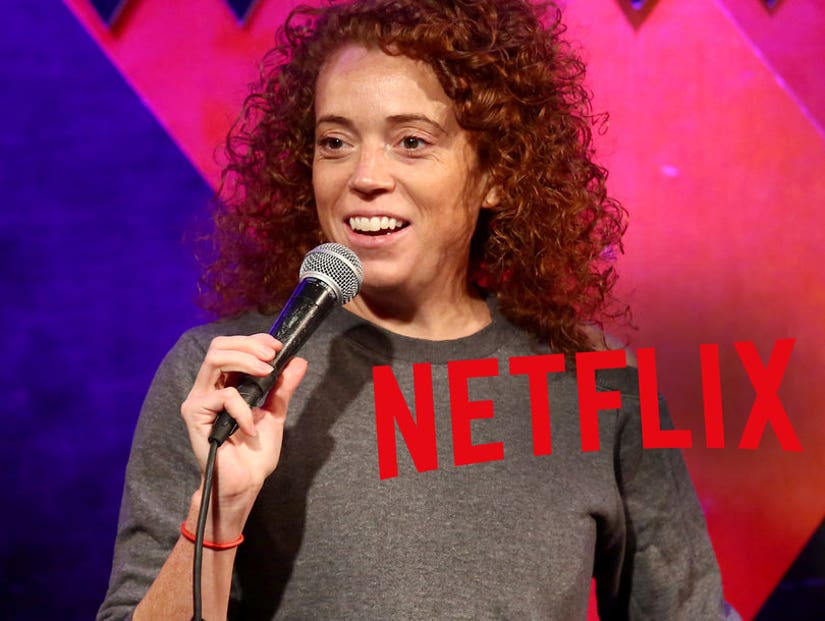 Getty
The comedian reflects on what went wrong with her Netflix show and calls the backlash to her White House Correspondents' Dinner jokes "un-American."
Watch out creators: Netflix is "a tomb," according to Michelle Wolf, the star of the streaming service's short-lived late-night-style show "The Break."
While catching up with GQ about what her life is like after the cancellation of the show (which TooFab enjoyed and recommends going back to watch some of her best bits), the comedian said the Netflix algorithm of how it distributes content to users was a major factor in the company's decision to end Wolf's show after just 10 episodes.
"There's so much on Netflix right now that it's like it's almost become a tomb," she said. And when she pointed out that the show may be too hard to find for most users, she was puzzled by the response. "They were like, 'What's your e-mail? We'll just make sure it shows up.' And I was like, 'No! That's not what I want! I can't give you a million e-mails!'"
Wolf said she had a feeling the show was doomed from the start, because in her experience, 10 episodes "wasn't going to be enough" to break in "The Break." And she knows a thing or two about launching late-night shows, considering she in the writers room for the launches of both "Late Night with Seth Meyers" and "The Daily Show with Trevor Noah."
"At Seth Meyers, it took us a year and a half to two years to kind of figure it out. When Trevor took over 'The Daily Show,' it took at least two years to figure that one out," she explained. "The original 'Daily Show with Jon Stewart,' it took him at least a year and a half."
Before taking a stab at hosting a TV show, she rose to fame as the comedian that infuriated both sides of the political aisle by roasting the Trump administration and the media that covers that circus at the White House Correspondents' Dinner. She famously joked that Press Secretary Sarah Huckabee Sanders "burns facts, and she uses that ash to create a perfect smoky eye."
Somehow that was interpreted as insulting her appearance, sparking all sorts of backlash, even from some of Sanders' biggest critics in the media. Well, going forward, Wolf told GQ she is done with that type of political comedy. "I'm never going to do a single Trump joke."
Looking back on the event, though, she's proud of her work.
"I just think of it as a job I was hired to do, one I did a really good job at, and then people got mad because I did my job. Which seems very un-American," she said. "You know, like, if you don't want that dinner to be a roast, then don't hire a comedian to roast people. Especially not in this environment where things are so tense. Don't get a comedian, because we'll go for the jugular."
She added she cut a lot of jokes that "people could have legitimately got mad at" while preparing for it.
These days, Wolf is busy preparing a set for her next special, and offered her guidelines on tackling taboo material, like racism.
"I feel like you should always try to make jokes that are the height of your ability. In all fairness, every human is a little bit racist. And I think it's fine to talk about that and to have discussions rather than being like, 'No, no, we're not supposed to be racists.' No, let's talk about it," she said. "Let's talk about how sometimes you judge people immediately."
"That being said: Don't go after an easy, bad racist joke, you know? It's one of those things again—if it's a racist joke, it better be good enough that people are like, 'Yeah, it works,'" she added. "I think good comedians hold themselves to a high standard. If it is a racist joke, it's normally aimed at the person telling it being like, 'This is how I was racist the other day,' or like, 'This is how my mom is racist.' I feel like that's more what's happening right now. I don't think anyone's going after bad, easy targets."