In Vogue's January cover story, the two recall how they met, what they felt and that awkward "back pat" Nick gave Priyanka on their first date.
The first time Nick Jonas met Priyanka Chopra, he got down on one knee -- but he was not proposing. It was the first time Nick had seen his future fiancée in person, and that magical moment happened at last year's Vanity Fair after-party following the Oscars.
In Vogue's January cover story, the two recall the night like it was yesterday -- and it kind of was.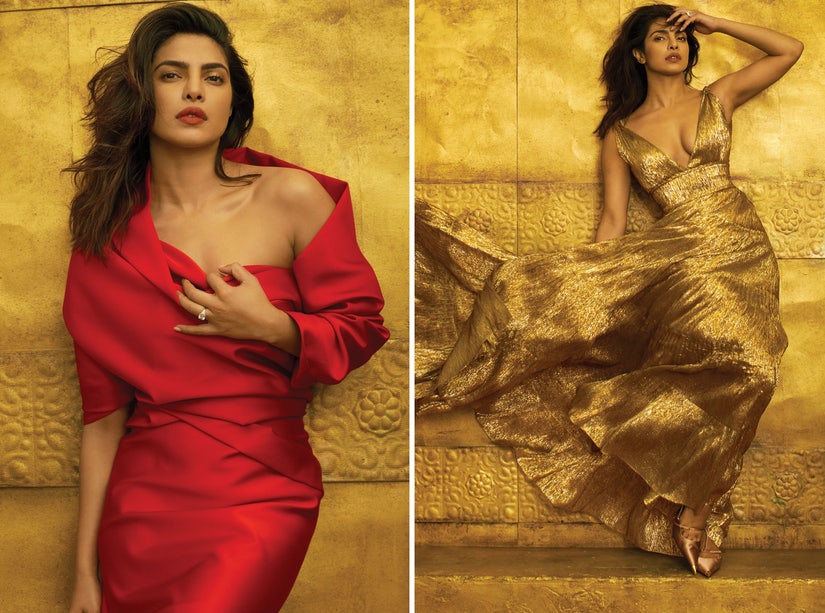 Annie Leibovitz/Vogue
Nick said he was hanging out at the bar when he saw Priyanka walk by. "And I put my drink down, get on one knee -- this is in front of a bunch of people -- and I say, 'You're real. Where have you been all my life?' Like, loud," Nick told the publication during their joint interview.
Most people first remember seeing the soon-to-be husband and wife at the 2017 Met Gala, when they were paired to wear Ralph Lauren and walk the red carpet together. Dating rumors circulated, but they didn't go very far, and we eventually dropped the idea that they could actually be together. Little did we know, the two had been flirting via text for months.
And this is how that all went down: Nick told Vogue he sent a text to Graham Rogers, Priyanka's "Quantico" co-star, in 2016. He said, "'Priyanka. Is. Wow.'" Just like that. He told the mag, "That's not the way I talk."
He then slid into her Twitter DMs. "'I'm hearing from a few mutual friends that we should meet.' I ask for the date. 'September 8, 2016.' We checked this morning," he explained.
"She responded day of with a message that said, 'My team can read this. Why don't you just text me,'" Nick added before Priyanka shouted, "Boy got the number!"
The two sent each other text messages that Nick said were "friendly with an eye toward flirtation." Fast-forward to February 2017, when Nick met Priyanka at the Vanity Fair party. That night, she ended up inviting him to her apartment, even though her mother was home watching TV in her nightgown.
"We hung out for a couple of hours," Priyanka explained. "He patted my back before he left."
"There was no kiss. There was nothing," Nick confirmed.
"There was a back pat," Priyanka said with "a look of pure incredulity on her face."
Nick added, "She's still upset about that."
The Vogue interviewer called Nick's brother, Joe Jonas, who just so happened to be at that fateful Met Gala, which took place in May 2017.
"I think she kind of knocked him off his feet," Joe said. "He was just this little puppy dog." Joe said he still has a photo he took of his brother at the end of that night. "He's sitting on the floor. And Sophie [Turner] and I were just laughing at him. We're like, 'Look at this little smitten, drunk kid right now.'"
Oddly enough, Nick and Priyanka did not see each other again in person until the following Met Gala, which took place in May of this year. Later that month, Nick asked her out. They met at the Chateau Marmont in Los Angeles.
"She walks into the Chateau, and I feel an overwhelming sense of peace and understanding about this next chapter of my life," he said.
The next night, the two went to a Dodgers game. The following morning, Nick called his mother and informed her he was going to marry Priyanka.
As Priyanka pointed out, "This is date three."
In July of this year, Nick proposed in Crete, but Priyanka didn't see it coming. As far as she knew, it was her birthday trip. Nick said he waited until after midnight so that the special moment wouldn't take away from her future birthday celebrations.
"I got down on one knee, again, and I said, 'Will you make me the happiest man in the world and marry me?'" Nick recalled. "No joke, she took about 45 seconds. Forty-five seconds of silence." Nick said that after waiting in silence, he eventually said to her, "I'm going to put this ring on your finger now unless you have any objections." Priyanka told Vogue she didn't say anything because she was speechless.
Looking back, Priyanka said she can pinpoint the moment she knew Nick would be her husband. It was the moment he said to her, "I love the way you look at the world. I love the drive you have."
"As a girl, I've never had a guy tell me, 'I like your ambition,'" Priyanka explained to the mag. "It's always been the opposite."
Another interesting nugget the former Miss India revealed during the interview: She never allowed herself to be photographed with a boyfriend -- until Nick. "I've had that rule my whole life," she said. "Never publicly acknowledge a relationship. Ever."
But when Nick came around, she thought, "What is happening? I've not known myself like this. This guy turned me into such a girl! If I could blush, I'd be tomato red right now."