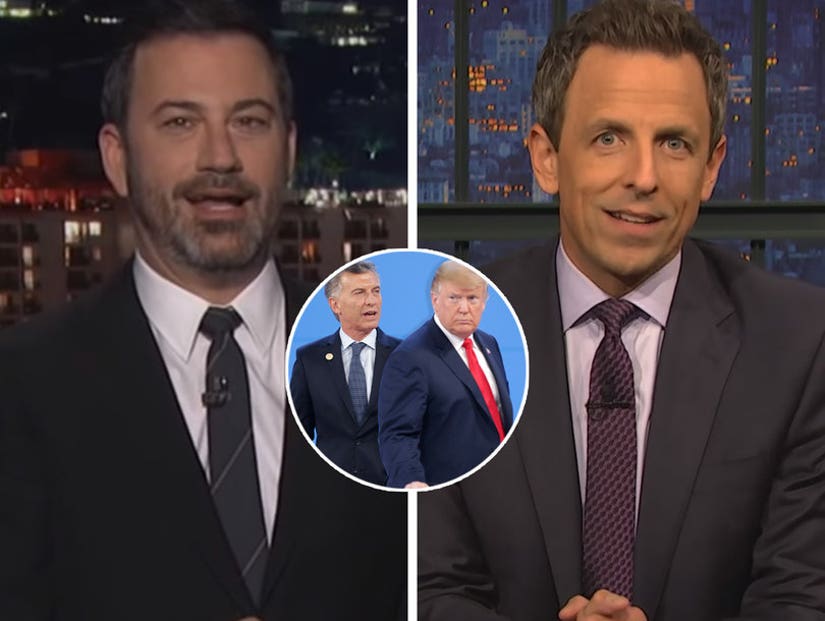 ABC/NBC/Getty
The late-night stars laugh at the President of the United States for looking uncomfortable throughout the event in Argentina, where Trump was caught on a hot mic saying, "Get me out of here."
"The president was in South America, which is the America he hasn't ruined yet," Kimmel joked at the top of his monologue, and then went in hard on Trump for his strange behavior alongside other foreign leaders.
The ABC late-night host chastised the president for keeping Mexico's former President Enrique Peña Nieto and Canadian Prime Minister Justin Trudeau waiting while taking his sweet old time to sign their trade deal. The footage is truly uncomfortable to watch, and Kimmel gave an entertaining play-by-play while rolling it. "It's like he's coloring it in or something," he marveled. "I think this may be why it took him two months to answer Robert Mueller's questions."
Next up was President Trump abruptly bailing on a staged photo opp with Argentina's President Mauricio Macri. After shaking hands briefly, he stunned the foreign leader by just walking off, waving "bye" to the cameras and then saying on a hot mic, "Get me out of here."
"I guess he got word that the McRib was back and he had to go," Kimmel joked. "Trump has a habit of doing that. He carries himself like a demented grandfather who accidentally walked into a wedding ceremony."
Kimmel proceeded to play a hilarious montage of Trump pulling the same move at other public events and that "grandfather" observation holds up.
Meyers, meanwhile, responded to Trump muttering "get me out of here" with, "First of all, we're trying. Second, why can't you stand still for like 10 seconds? I've had better luck trying to get my dog to take a Christmas photo in her Santa hat."
Meyers used his "Closer Look" segment to take a deep dive into the summit being held in Buenos Aires, Argentina, and poked fun at everything from Trump's signature stage stance and interaction with other leaders.
"He looks like a dad who was standing on the wrong end of a see-saw," Meyers joked. "And you can see how lonely Trump was throughout the G-20 Summit. On Friday, for example, world leaders gathered for the traditional group photo and after the photo was done, Trump just sort of milled around by himself for a while. Look at him. He looks like he's at a house party and the only other person he knows is in the bathroom. I'm surprised he didn't do that move where you pretend to respond to texts but in reality you're just playing Words with Friends."
A graphic from the popular mobile game then flashed on the screen with the words "guilty" and "collusion" spelled out.
Enjoy that, plus Meyers LOLing at Trudeau's priceless facial expression when Trump announced they're "friends" during a press conference at the summit.