P!nk goes in on a "perfect f--king stranger" for questioning the way her husband -- professional motocross competitor Carey Hart -- parents their children.
Lesson learned: Don't mess with P!nk, her husband or her kids.
On Wednesday evening, the pop star uploaded to Instagram a precious photo of her almost-2-year-old son, Jameson Moon Hart, completely covered in chocolate. She captioned the silly shot, "Chocolate is good for babies, right? Help me, Instagram, we can't possibly parent without you."
P!nk was very obviously mocking the various social media critics who attack her and her husband -- professional motocross competitor Carey Hart -- every time she posts a photo of their kids on dirt bikes, riding in go-karts or even swimming in their pool.
But one Instagram user didn't catch onto the sarcasm and let P!nk know she felt Carey was not a fitting father.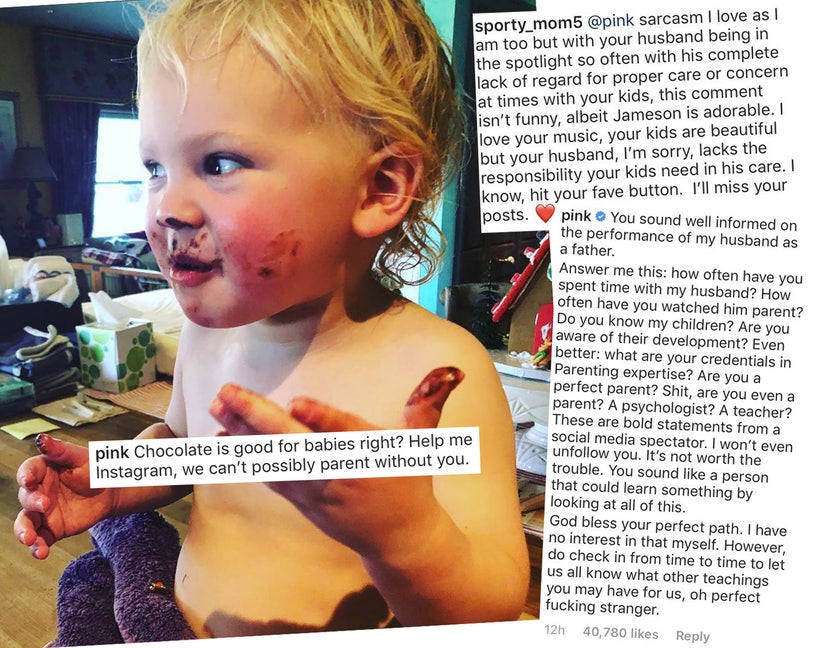 Instagram
"With your husband being in the spotlight so often with his complete lack of regard for proper care or concern at times with your kids, this comment isn't funny," she replied to P!nk's photo. "I love your music, your kids are beautiful, but your husband, I'm sorry, lacks the responsibility your kids need in his care."
"I know, hit your [favorite] button. I'll miss seeing your posts," she added, referring to Instagram's "block" option.
Pink saw the response and pretty much ripped the "perfect f--king stranger" a new one.
"You sound well informed on the performance of my husband as a father. Answer me this: How often have you spent time with my husband? How often have you watched him parent? Do you know my children? Are you aware of their development?" P!nk replied. "Even better: What are your credentials in parenting expertise? Are you a perfect parent? Shit, are you even a parent? A psychologist? A teacher? These are bold statements from a social media spectator."
"I won't even [block] you. It's not worth the trouble," she continued. "You sound like a person that could learn something by looking at all of this. God bless your perfect path. I have no interest in that myself. However, do check in from time to time to let us all know what other teachings you may have for us, oh perfect f--king stranger."