Jax was ready to spiral back into hard drugs after his dad died, but he got a medical marijuana card instead.
When "Vanderpump Rules" star Jax Taylor lost his father to esophageal cancer in December of last year, his entire world came crashing down. As he told Men's Health magazine in a new interview published Monday, "My best friend died."
Not unfamiliar with all the sex, drugs and rock 'n' roll that come with being a Los Angeles bartender-turned-reality star, Jax immediately began to spiral. If it weren't for marijuana and his fiancée, Brittany Cartwright, he said he might not be here today.
"I was in a deep rut. I was literally going to lock myself in a room and do enough drugs to hurt myself," Jax told the mag. He said he got the dreaded phone call from his mother one day before he and Brittany were supposed to fly to Florida to spend Christmas with his family.
"I get a phone call over speaker, and it was my mom bawling her eyes out," he explained. "She's like, 'Your father is dead.' I pulled the car over. I collapsed. I didn't know how to deal. I was on the way to see him the next day. I fell on the ground in the middle of the highway. I threw my phone on the highway. I was convulsing and everything. I was freaking out. I didn't know what to do. My life flashed. My best friend died."
Jax says he expressed interest in just saying the ol' f--k it and letting the loss of his father take over his life, but Brittany stepped in and offered both support and an alternative to hard drugs.
"Brittany was, like, 'I understand where you're coming from. I can't imagine what you're going through, but can you try something?'" Jax said, explaining that she encouraged him to get a medical marijuana card in the hope that smoking weed would help him relax.
"I tried it, and it changed my life," he said. "I said, 'You know what? I'm not going to hurt myself. I'm not going to drink. I'm going to flip this around and make my dad proud. I'm going to go to the gym. We're going to start some businesses. We're going to move up.'"
Below are four more nuggets from Jax's Men's Health profile, which you can read in its entirety here.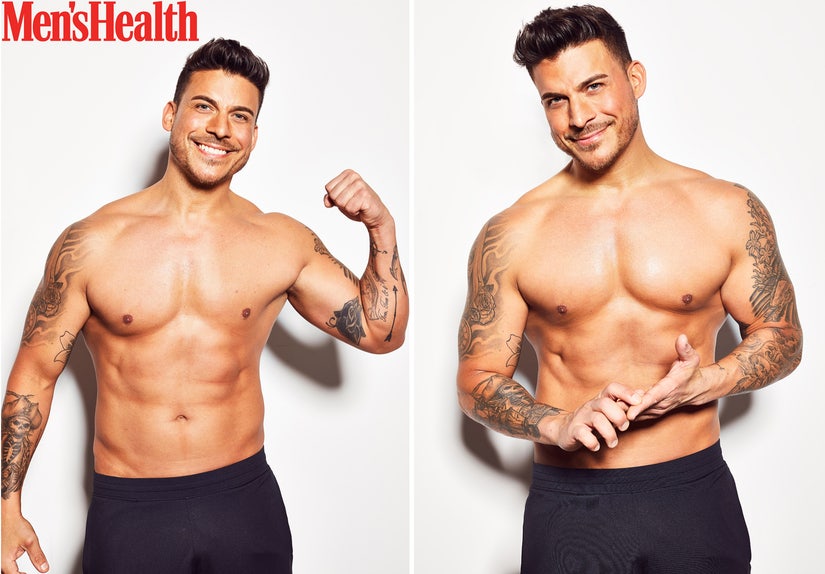 MensHealth.com
On Gaining 100 Pounds in Four Years
I was eating more crap than I was working out. Postmates came out. I can order Doritos from my couch? 'Making a Murderer' marathon is on? I'm not getting off of this couch. I'm going to eat everything in sight. Then you wake up and you're like, 'What is that?' That's my belly.
On Using Viewers' Fat-Shaming Comments as Motivation
I thought, 'Why didn't my friends tell me? Why didn't my own girlfriend tell me this?' I looked disgusting. I was like a butterball. I was not lean. I didn't have the chiseled look that I used to have. I was like, this has got to stop.
On Wanting to Start a Family with Brittany
I'm so determined to be the best father that I can possibly be -- because I really want to be at every PTA meeting, every soccer practice, every ballerina class. My dad was there. I've done everything I've wanted to do, partied my brains out, traveled the world. It's time to start the next stage in my life.
Did you know that Jax lived with Channing Tatum and three other male models in New York City sometime from 2002 to 2010 when he was working as a model and traveling back and forth between Europe and New York? Apparently, this isn't new information, but we had no idea. Jax said Channing's body was "shredded" at the time, however, he added that the "Magic Mike" movie star did not achieve the look in a healthy way. Unfortunately, he didn't elaborate further.
Jax and Brittany are set to marry in the summer of 2019 at The Kentucky Castle in Versailles, Kentucky. Co-stars Tom Sandoval and Tom Schwartz will be groomsmen.
"Vanderpump Rules" airs Mondays at 9 p.m. on Bravo.