Did Brit Brit's BF just reignite the pop star feud?! Probably not, but here's what he just said about X-Tina.
While the two pop stars themselves have spoken out about making peace, Britney's boyfriend just chose sides with some subtle shade.
During a Q&A on his Instagram stories Wednesday night, Sam Asghari was asked, "Britney or Christina?" It should come as no surprise who he picked, but he did it in a very Mariah Carey/"I don't know her" way.
His response: "Christina who?" Sam later deleted the post.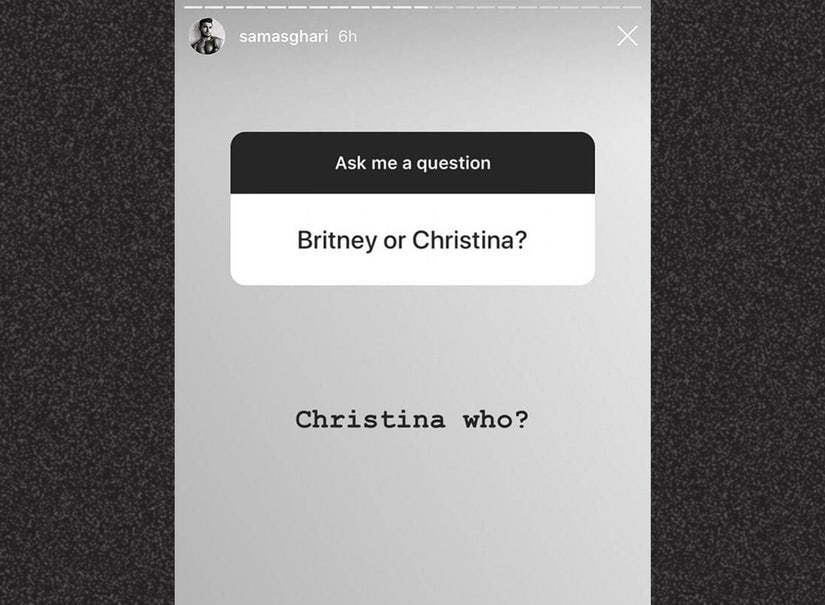 Instagram
Speaking with Jimmy Kimmel earlier this year, Aguilera said, "When I was coming up, it was very obvious, you know, me and Britney were definitely ... there was the Britney/Christina considered rivalry thing," She added, "If we had social media back then, we would have probably done a song together and just squashed it."
When Kimmel pressed them on doing something together now -- adding "I would like to be a part of it" -- she said, "It's probably not too late, Britney. I am down. If her reps say okay."
Other tidbits gleaned from Sam's Q&A: "Sam" is short for Hesam, he majored in criminal justice and studied physiology in college, said he still has "things to prove" professionally, supports the LGBTQ community and may appear in a movie soon.
When asked about his film prospects, he replied, ""Hold tight. We have great things coming for you :)"
Britney and Sam first met on the music video set for "Slumber Party" back in 2016.'