The indie movie producer gives TooFab an inside look into the making of the dark comedy.
"The Favourite" producer Ed Guiney credits the "brilliant" mind of director Yorgos Lanthimos as the reason behind the incredible sexual chemistry between Olivia Colman, Rachel Weisz and Emma Stone portrayed in the film's love scenes.
The dark comedy concentrates on a forbidden love triangle between a frail Queen Anne (Colman), her close friend Lady Sarah (Weisz) and Sarah's cousin Abigail (Stone). Abigail gets employed at the castle as a maid, but is determined to reclaim the Lady status she held in the past. The film offers a wry look into early 18th century England's royal court, filled with extravagant feasts, duck racing and recreational pigeon shooting.
Guiney, who has collaborated with Lanthimos multiple times in the past, opened up to TooFab in an interview where he spoke about the director's unique rehearsal techniques that created a comfortable setting for the actresses to participate in the on-screen sex scenes. The balance between the intimate moments and dark humor is one of the particularly impressive aspects of the film.
"It's one thing that I think Yorgos is really good at," Guiney said. "I mean he's sort of a master of tone and I think you've seen that with other movies. But one of the things he can really do, he can kind of turn from high comedy to deep tragedy all within a scene, he's really brilliant at that."
"We had a kind of very extensive rehearsal period, a three week period," he continued. "He and the actors really got to know each other through a process of playing lots of theater games and saying other people's lines, saying lines backwards. I think part of that meant that they all came out of the rehearsal group feeling very comfortable with each other and having tried all sorts of ways of saying the lines [to give] them different meaning."
As a result of the rehearsal period and utilizing Lanthimos' methods, the film, according to Guiney, was able to find the "tonal difference" between certain scenes to create a story that reflected the natural rhythms and cadences of life.
Guiney told TooFab that for this year's awards season, distributor Fox Searchlight is campaigning for the Academy to consider Colman in the Best Actress category and pushing the other two stars as Best Supporting Actress contenders. A couple weeks ago, "The Favourite" dominated the British Independent Film Awards (BIFAs) and won a record-breaking 10 awards, including Best British Independent Film and Best Actress for Colman.
The 18th century period drama is loosely based on what actually went on between Queen Anne, her royal court and the country at the time. While making the dark comedy, Guiney explained that they played it "fast and loose with the history" and wanted to make the film an "unconventional" period drama that is "different" from its counterparts.
"The comedy really comes from Tony McNamara's script," Guiney pointed out. "He rewrote Deborah Davis' script and he just brought so much comedy to it and a lot of kind of contemporary idioms and all of that, so that was sort of his great contribution."
One part of the film (spoiler alert) that TooFab had to ask Guiney about was when Stone's character Abigail, whose competitive nature to win over Anne's heart and reclaim her Lady status goes to darkly comical lengths, steps on one of the Queen's bunnies with her heeled shoe. Each of Anne's bunnies represents her 18 lost children, whether dying at infancy, during childbirth or as a miscarriage. When Abigail steps on the furry animal, Anne, understandably, is livid. But did Stone really step on a real bunny? Surprisingly, yes.
"She did [step on it], but did not harm it in any way," Guiney said. "Yeah, that was part of the scene, but she didn't do the bunny any damage...It was trained and managed by the animal handlers on set that came after to make sure all was well."
He added, "Obviously Emma [Stone] is a huge animal lover so would not have wanted to do anything to damage the bunny."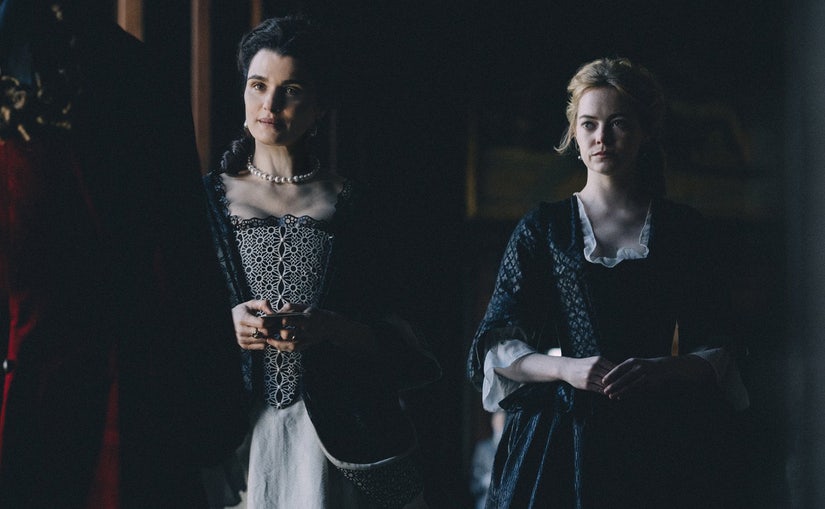 Atsushi Nishijima/Fox Searchlight
However, that wasn't the hardest scene to film for the actress. Stone told The Hollywood Reporter last month that as an American, some of the vulgar language in the film, particularly the c-word, was a little difficult to get used to. For native Brits Colman and Weisz, it wasn't a problem at all.
Guiney, who is from Ireland, said that he hadn't heard about Stone's shock over using the curse word, but said he understands because it's "more of a thing in America" than in the U.K. or Ireland.
"I don't think it's quite as frowned upon as it is in America," he said. "We've noticed that with the way it plays with audiences."
It's likely that most people who have seen "The Favourite" all took away something different. In Guiney's view, the overall message of the quirky satire is entirely subjective.
"I think in all [Lanthimos] films, he puts characters in very extreme circumstances in order to explore human nature, our different dimensions of human nature," Guiney said. "So I think there's a huge amount of humanity in the film. But I suppose it's ultimately about how people -- love, jealously, whatever it is -- can destroy both themselves and other people, that comes through in the film."
"I think he said that to explore different facets of the human condition and then let people take from it what they will," he continued. "So I don't think there's any right message or right answer to take from this."
"The Favourite" is in theaters now.