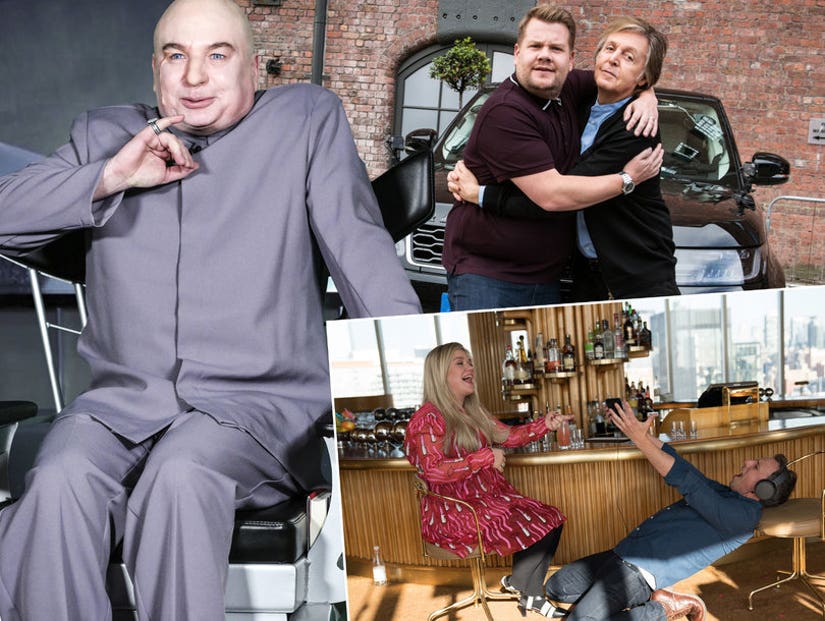 CBS/NBC
"Shaqnado" stormed through "The Late Late Show," Jimmy Kimmel beefed with Sean Hannity for a whole week and Jennifer Lawrence took over "WWHL." What. A. Year.
2018 was bonkers, and that's probably why late-night television delivered one of the funniest years in recent memory.
Between James Corden, Stephen Colbert, Jimmy Kimmel, Seth Meyers, Jimmy Fallon, Conan O'Brien, Samantha Bee, Andy Cohen and Trevor Noah, there were no shortage of laughs awaiting us every morning when we came to work. While not every one of those comedians made TooFab's compilation of the greatest moments of the year, most of them did, and you can enjoy our staff's favorite bits below.
We begin with the return of one of our favorite evil masterminds of all time, and end on a rare team-up that was basically the "Avengers" of late-night comedy. Enjoy!
Out of nowhere, he came back into our lives after so many years away and we were complete. In today's wacky political landscape, who better to provide proper scathing commentary than our would-be world dictator Dr. Evil, portrayed as if no time at all had passed since Mike Meyers introduced us to the timeless character in "Austin Powers."
Always the highlight of the "Austin Powers" films, Dr. Evil has lost none of his charm over the years. And in this day and age, his brand of evil is just so darned quaint. We'd mount the lasers on his sharks ourselves if it meant we could get his unique perspective on a more regular basis. Perhaps he'd do it for one million dollars! It just seems like he really gets it, you know?
And we thought "Sharknado" was an absolutely ridiculous premise. James Corden managed to make it that much stupider and that much more awesome at the same time. Who needs a swirling vortex of sharks when you can have a swirling vortex of Shaqs?
What made it so magical was that Shaquille O'Neal was both game to portray the titular terror, while acting at a level that could get him fired from his own one-man show. Not to be outdone, Victoria Beckham was equally awful as James' sidekick. Eat your heart out, Tori Spelling!
And if you doubt the genius in execution, consider this line by Jame Corden: "The only way to defeat a Shaqnado is to make it shoot a free throw." Truly Shaq was the muse for this sure-to-be-nominated-for-an-Emmy production as that, too, was his greatest weakness.
Jimmy Kimmel v Sean Hannity
President Donald Trump's favorite Fox News star sparked this verbal sparring match when he called the ABC late-night star an "ass clown" for mocking Melania Trump's accent last April. The beef proceeded to escalate on both TV stars' networks and on Twitter, resulting in one of the most entertaining celebrity feuds of 2018.
"This is the guy who defended multiply alleged pedophile Roy Moore, and I'm the despicable disgrace? I'm the ass clown?" Kimmel marveled in his on-air response. "If I'm an ass clown, and I might very well be, you, Sean, are the whole ass circus."
Thanks for the memories, boys.
Watch Kimmel's initial clapback above, and click the links to relive the entire saga.
Jennifer Lawrence Takes Over 'Watch What Happens Live'
It's no secret Jennifer Lawrence is a massive reality TV fan and her appearance on "Watch What Happens Live" back in March not only brought her face to face with some of her favorite stars, but also thrust her into a fight with one of them.
While on the show, she ranked the Kardashians (Kris came out on top), begged Andy Cohen to let Brandi Glanville back on "RHOBH," threw back some wine with Luann De Lesseps and Bethenny Frankel, before eventually calling Lala Kent (who was not present) a See You Next Tuesday. Kent then did what any good reality TV star would do and seized the moment, making her feud with an A-lister like Lawrence an interview talking point for the rest of the year.
Kelly Clarkson Gets Drunk with Seth Meyers
Kelly Clarkson and Seth Meyers went day drinking, and it was every bit as wonderful as we would've hoped. The two threw back cocktails themed to her illustrious career, including a bitter "Simon Cowell" and a B-A-N-A-N-A-S-filled "Blake Shelton." (Because he's dating Gwen Stefani, get it?).
As the shots kept flowing, Meyers eventually sang "Since U Been Gone" -- and it sounded just as good as it does when we try to sing it, too.
Editor's Note: Steer clear of TooFab karaoke nights!
Paul McCartney's 'Carpool Karaoke'
James Corden brought all the feels with this one. The heartfelt memory Corden shared of his grandfather introducing him to the Beatles left us in tears. But even non-Beatles fans can appreciate the legend that is Paul McCartney. We guarantee you'll find yourself watching the 23-minute video over and over. Arguably, it's the best "Carpool Karaoke" to date. Only time will tell if it goes down in history as the best "Carpool Karaoke" sesh ever.
We don't just love Jeff Goldblum, we LOOOOOVE Jeff Goldblum, so when James Corden released this parody of Ariana Grande's 'thank u, next' music video, we were obviously sold. As if melding these two pop culture staples together wasn't amazing enough, the song highlights Goldblum's entire career, his striking good looks and overall cool guy vibes, which totally solidifies our love for the big-screen legend.
'The Real White House Wives of D.C.'
One of our favorite reality TV franchises collided with current events when Jimmy Kimmel noticed President Trump's recent Oval Office meeting with Democratic rivals Nancy Pelosi and Chuck Schumer looked a lot like a scene out of Bravo's "The Real Housewives." Kimmel inserted reaction shots from some of our favorite 'Wives as the three politicians threw shade at each other in front of cameras, and the short-and-sweet parody locked its place in our heart forever.
Andy Cohen's bestie Anderson Cooper also noticed similarities between their behavior and the "Real Housewives," which made the whole thing feel even more real. Trump is basically just the executive producer of his own reality show we're all forced to watch daily. It's been a real drag, so far, but Season 3 is promising some juicy drama as Robert Mueller's investigation into Trump's 2016 campaign heats up.
Ariana Grande and James Corden Turn 'Titanic' Into a Musical
In one of her many great late-night appearances of 2018, Grande teamed up with Corden to perfectly execute a live performance of 13 different songs in front of nine different sets -- all done in one, five-and-a-half-minute take.
Not only did Grande and Corden harmonize surprisingly well, but the song choices were absolutely hilarious and perfectly tied in to certain scenes from the movie. Although the segment featured pop hits -- including N'SYNC's "Bye Bye Bye," Lady Gaga's "Just Dance," and Ke$ha's "Timber" -- the greatest highlight of the video was Grande killing it in her rendition of Celine Dion's "My Heart Will Go On," the one song that actually was on the movie's soundtrack.
Late-Night Hosts Unite Against Trump
Conan, Colbert and Fallon united to hilariously respond to President Trump railing on the "no talent, lowlife, lost souls" of late-night television, and it was basically the "Avengers" of comedy and easily Colbert's greatest "Late Show" cold open to date. Please do this again, fellas, but rope Kimmel, Meyers and Corden in, too.