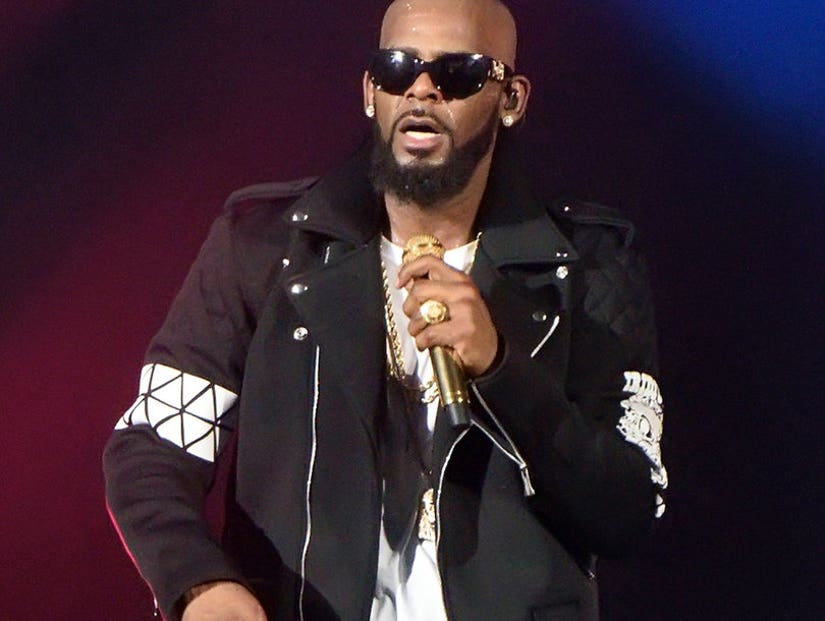 Getty
"You can deny all you want to and for that, you can go to hell," says the singer's ex-wife.
Lifetime's "Surviving R. Kelly" docuseries continued on Friday night, this time devoting two hours to the now infamous video allegedly showing the singer engaged in sexual activities with a minor, and the fallout from his arrest and trial.
While allegations of sexual misconduct and abuse with women and underage girls have plagued Kelly for years, he has continued to deny everything and has never been convicted of any wrongdoing. The singer threatened to sue Lifetime if they aired the series, according to TMZ, but the network did not back down.
The first two hours on Thursday night covered Kelly's upbringing through the mid-'90s, offering unsettling stories from women speaking out about their alleged experiences with the "Pied Piper of R&B." On Friday, it was all about the video tapes.
Lisa Van Allen claimed she was 17 -- the age of consent in Illinois -- when she began a sexual relationship with Robert. She said they began having sex with a third party, a girl Kelly supposedly told her was 16.
"When I found out I had had sex with a 14 year old, it made me feel betrayed because he told me she was 16, which would have been close to my age," claimed Allen. "The fact that he lied about her age to me told me that he obviously knew that wasn't okay for her to be younger. It made me feel sick to my stomach."
Van Allen said Robert would often film them having sex and, while he never asked permission, he never hid the cameras. One day, she said he left his bag full of tapes in a room with her and she saw one that shocked her. "I came across the one of me, him and the 14 year old," she said. "I saw other scenes of him and her, without me. Her face, her chest, wherever it was going, it was as if she was a toilet, he was just peeing. I thought it was gross and weird and belittling. When I saw it, it upset me."
She said she took the tape and gave it to another artist to hold onto it for her. When reports started to come out alleging these tapes existed, Van Allen said she contacted Robert again and told her what she had done. According to Lisa, the singer dropped $250k to get the footage back. Choking back tears, she added, "I just didn't know there it a point in time where they were talking about killing me."
Recording artist Stephanie "Sparkle" Edwards found out about the tapes when the Chicago Sun-Times got hold of them, asking her to come to their offices to see if she could identify who was on them.
"On the tape, my niece has the same hairstyle she had when she turned 14. That was her. For sure. And that was him, definitely," Sparkle recalled, though both R. Kelly and her niece denied it was them. "To see it visually and for her to be so young, that f--ked me up. It's over with, but it still haunts me," she continued. "I was pissed. Not only was I pissed at Robert for filming this shit, I was pissed at the person who put this out. This is a little girl on the tape, why would y'all do that?"
A friend of Sparkle's niece, as well as the girl's former basketball coach both appeared on the special and said they also believed the 14-year-old was the one on the tape. According to both of them, Robert would often come to the high school and watch their games, something the coach called "strange."
"It was obvious she was young, it was on tape," said John Legend. "Everybody saw it. It shows you how rich and powerful men can get away with a lot of things, but it also shows the power imbalance between the abuser and victim as well. A lot of people saw that pee tape, it was circulating in the streets, it was like a bootleg that went around. I don't remember what I was thinking at that time but I'm like, how did he get away with this?"
Wendy Williams even remembered seeing it for the first time, saying, "That tape was rushed to me from Chicago. I'm looking at this tape, Robert has a problem."
R. Kelly's Ex-Wife Reacts
Andrea "Drea" Kelly was married to the musician, but she said she never knew any of this was allegedly going on. "I think that he strategically did what he did with me, he kept it away from me as a reason," she explained. "It would have saved me years and years of pain, it would have saved me years of abuse, it would have saved me years of being alienated from my family if I just would have known upfront what the hell I'm dealing with."
When accusations started coming out about her then-husband, she remembered being shocked he would even "have time" to do everything he was being accused of. "The reason why you don't know is because he has people helping him," she then said. "He's not doing it on his own!"
Right before his arrest, as allegations were being published in the Chicago Sun-Times, Drea said Robert "shipped me off" to Florida in the middle of the night. "I was in so much stress that it put my unborn child's life in jeopardy," she recalled, saying doctors had to induce labor after they couldn't find a heartbeat. Drea gave birth to son Rob Jr. and the baby's father was arrested shortly after on charges of child pornography.
In an emotional confessional to the camera, Drea teared up as she explained what the family went through after his arrest and how she almost committed suicide. "I had small children, they were already dealing with their father in the news in a court case that deals with pedophilia and children and I remember going out on the balcony and climbing up on the ledge like, Lord, I can't take another day," she recalled. "He had taken me to a place that I was willing to leave my babies."
She said she left him after that, leaving with their children in the middle of the night with $2,500 to her name and "nothing else." Addressing Kelly directly, she looked into the camera and said, "Robert, you know what you did, you know the turmoil you brought into my kids life, you destroyed christmases, birthdays, graduations. It's because of you Robert that my children were told they can't sit at the lunch tape because your daddy rapes little girls. You can deny all you want to and for that, you can go to hell."
In 2002, Kelly was arrested and indicted on 21 counts of child pornography in Chicago. He was later accused of another 12 counts in Florida, but those charges were dropped after a judge ruled there was a lack of probable cause for search warrants.
The Chicago case sat in limbo for years, however, and Kelly kept on churning out music as he waited for the trial. The special made sure to point out that one of his biggest hits, "Ignition," came out after he had been arrested. It's clear he still had a lot of support from the general public.
One place he didn't have support was his own brother, Carey, who Kelly's lawyer once claimed could actually be the person on the tape. Carey Kelly attempted to clear his name in a Wendy Williams interview, making second-hand accusations against his brother. "I was saying that because that's what I heard," he clarified last night, "I never saw it." Robert's other brother, Bruce, claimed R. Kelly's legal team offered Carey $100k and a one-album deal to go on record saying the things he previously said were not true. Carey allegedly turned it down. Robert's spokesman, however, called Bruce's story about a payout "ridiculous."
Sparkle claimed Robert's legal team also tried to silence her with a deal as well before the trial. "They offered me upwards of six figures, high in the six figures, for me and Robert to have a sit-down with all media around us to say that Sparkle and I are okay," she said. "I didn't take the money because I can't be bought. I'm gonna stand up for my family."
The trial finally began in 2007, with Sparkle, her niece's friend and basketball coach and Lisa Van Allen all testifying against Kelly. "I recognized the 14 year old's body because I had sex with her," Allen said. "We'd done oral on each other, I touched her breasts, I looked at those parts, there was no doubt in my mind it was her."
The verdict came back not guilty on all counts. "I said one word, 'Wow,' that was it," said Sparkle. "I think Robert wasn't convicted because my niece, sister and brother-in-law didn't come forward. I really don't know if my family was paid off. I know the family was still hanging out with him, my brother-in-law was still playing guitar on a lot of his songs and that's what it is."
The end of the special focused on Jerhonda Pace, a young woman who said she started supporting Kelly at his trial when she was just 14. One year after the trial, Pace said she was invited to a party at his home, as he said he remembered her from outside the courthouse. "I was shocked," she said, "I felt like I was on top of the world."
Pace said she lied about her age at first and said she was 19, when she was really 16. "He said don't let anyone know where you're going and from now on, when you talk to me, you're gonna call me 'Daddy,'" she said of Robert. According to Pace, the two made a "connection" over being molested in the past when she went to his home.
She then said he asked her to change into a bathing suit, before telling her to "walk" for him. He allegedly told her to remove her swimsuit, before they started making out. "I stopped him and said I'm a virgin," she claimed. "He said that's perfect, I get to train you and I get to take your virginity. That's when he proceeded to do oral sex on me."
When they were done, she claimed Robert then asked to see her ID, which showed she was really 16. "He said to continue telling everybody you were 19 and to act 21," she claimed.
Jerhonda said Kelly "took her virginity" -- saying it "wasn't extravagant" or entirely memorable -- before the "rules" started. "He saw me on my phone and he explained that I can't be on my cell phone," she alleged, saying she also had to put her head down or face a wall when other men were around and was once physically abused for disagreeing with Robert over the best basketball team in the NBA.
"Rob slapped me in my face and he told me, well you're not eating," she said. "The no-eat list is somebody who 'disobeys daddy,' that's when he'll decide to starve you." She said she once went three days without food.
The episode ended with Pace claiming she recruited another girl, Dominique Gardner, to join them. On Saturday's final episodes, viewers will see where the twisted saga goes from there.
"Surviving R. Kelly" airs on Lifetime.