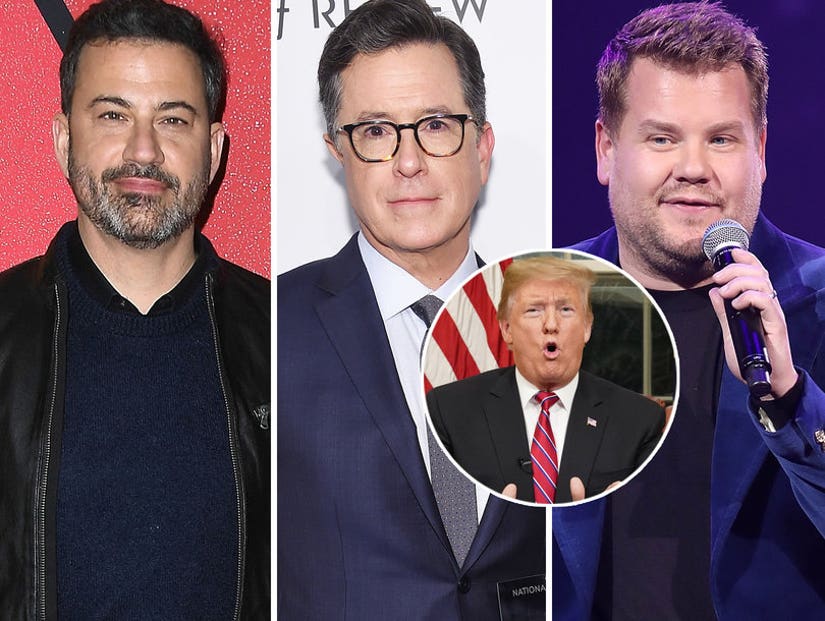 Getty
"It was historic," Jimmy Kimmel says. "Rarely does the president of the United States interrupt prime-time television to warn us about a completely made up thing."
Here's the gist of how comedians responded. Spoiler alert: They all hated it!
'Late Show with Stephen Colbert'
"Let's hear it for my warm-up act tonight, Donald Trump, America's favorite funnyman," Colbert said at the top of his monologue dedicated to tearing into his favorite political target.
"By the time this is broadcast, we're either in a brand new state of emergency, or the same one we've been in since November 2016," he joked.
He theorized "Trump gave that speech because he misses being on prime-time television."
"Next it's going to be, 'Hello 'Shark Tank,' I am asking for $5.7 billion for my border wall. So far I have sold zero units,'" the CBS star joked.
Although Colbert was seemingly responding directly to the president's speech, the comedian admitted he was taping the show before the Oval Office address even aired.
"We tape the show at 5:30, so I don't know what my reaction to the speech will have been tonight, so I'm just going to cover all of my bases," he explained.
"It's either: 'Congratulations Mr. President, I'm glad you interrupted our lives so you could read your tweets out loud,'" Colbert said. "Or, 'My God! He just confessed to everything: Russia, obstruction, his dad shot [former president] Warren G. Harding! I can't believe he handed the presidency over to Michelle Obama, and they got dragged into the back of a paddy wagon screaming, 'I'm the real Christmas queen!'"
And since CBS was one of the networks that aired the speech, Colbert joked, "CBS has obtained an advance copy of the speech. 1) Mexicans bad. 2) Wall good. 3) LIE!"
You can head over to the New York Times for a full transcript of the president's remarks to see if Colbert's prediction was accurate.
The ABC host was one of the few late-night stars who taped his show after Trump's speech aired.
"This was his first address from the Oval Office. Up until now, he'd been using it exclusively for Kardashian meet-and-greets," he joked. "It was historic. Rarely does the president of the United States interrupt prime-time television to warn us about a completely made up thing."
He explained that there was a debate "centered around whether or not it's appropriate to give the president a forum to lie to us on television," and then joked that the networks decided to air the following disclaimer before cutting to the live feed from the White House.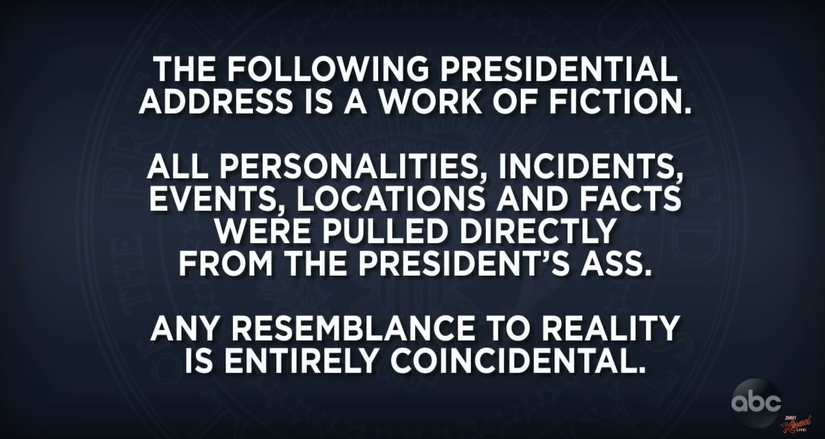 ABC
We want to stress networks did not actually air that disclaimer. Still, Kimmel proceeded to go in on Trump for lying to the public about that alleged immigrant caravan invasion, and even offered him advice on how to properly create a national panic.
"If you really want to come up with a fake border crisis, make it a scary border crisis," he said. "Go on TV and don't say there are illegal immigrants, say there is an army of chupacabras crawling in through Tijuana."
Kimmel added, "You can tell the president cares about this,because he addressed by doing his least favorite thing, which is reading," and then made sure to point out, "The truth of the matter is, illegal border crossings are at their lowest level in many years."
'The Late Late Show with James Corden'
Corden described the address as "very bleak" and "dark," joking at that it was "punctuated by more than a few sniffles."
"To be honest, they could have aired a rerun of 'American Ninja Warrior' and it would have been more nuanced, patriotic and reassuring than that," he continued.
He played a clip of Trump arguing that the situation at the border is "a humanitarian crisis -- a crisis of the heart and of the soul," and then the CBS star joked, "And we have a president who's completely ill-equipped to handle this crisis because he has neither."
In regards to Trump arguing "the border wall will very quickly pay for itself," Corden said, "Yeah, because when he's not using it, he's going to Airbnb it to Canada."
The funniest jab was yet another at the president's relationship with his wife, Melania. Corden brought up Trump's plans to visit the border this week, and joked, "On the trip Melania will be accompanying Donald for support, as well as ideas for the wall she plans to build on her side of the bedroom."
'The Daily Show with Trevor Noah'
The Comedy Central star devoted his time on Trump Tuesday to analyzing the president's claim that he "may" declare a national emergency to secure enough money for the wall.
"I haven't done it, I may do it I may do it," Trump has said, prompting Noah to joke, "Isn't it comforting to have a president who always sounds like a guy on a ledge?"
But can the president declare illegal immigration a national emergency?
"The Supreme Court ruled the situation must be urgent, infrequent and unexpected," Noah explained. "Basically America should have a urinary tract infection. And if you think about it, none of these things apply to illegal immigration, which has been more like a steady, constant drip. Still needs to be checked out, but it's not an emergency."
Noah said it's not uncommon for presidents to declare national emergencies, but argued, "What they don't do is declare an emergency just to win a policy fight with congress."
He added, "Congress can't say what every emergency situation might be in the future so they leave it vague. Because what counts as an emergency is different for different people. For some people, an emergency is black people barbecuing. For other people, waiting for those three dots in a text messages is an emergency."
And then came the jab at Trump: "So Congress left it open to interpretation because they assumed the president would be somebody responsible and trustworthy and potty-trained. They didn't think there'd be a President Trump."