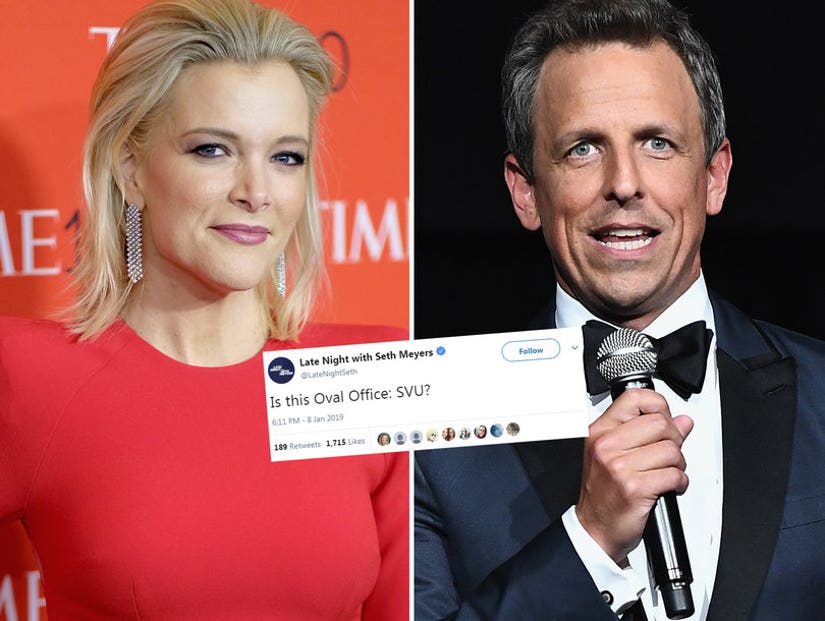 Getty/Twitter
Current Fox News star Greg Gutfeld also hops on the outrage bandwagon as thousands bash the joke.
"Is this Oval Office: SVU?" the account tweeted, in response to President Donald Trump's prime time Oval Office address to the nation on Tuesday.
When the former NBC News and Fox News star saw the joke, she retweeted to her 2.41 million followers with her own commentary.
"Law & Order: Special Victims Unit," starring Mariska Hargitay and Ice-T, follows detectives solving sex crimes. The joke was likely inspired by Trump's lead up to his argument that illegal immigrants entering the country from the U.S.-Mexico border is "a humanitarian crisis."
"In the last two years, ICE officers made 266,000 arrests of aliens with criminal records including those charged or convicted of 100,000 assaults, 30,000 sex crimes, and 4,000 violent killings," the president said. "Over the years, thousands of Americans have been brutally killed by those who illegally entered our country and thousands more lives will be lost if we don't act right now. This is a humanitarian crisis. A crisis of the heart, and a crisis of the soul."
The president also stated, "1 in 3 women are sexually assaulted on the dangerous trek up through Mexico." CNN found the latter statement to be true in their fact check, but found the crime statistics he dropped to be more complicated.
"Trump is using these statistics to paint the picture of dangerous criminals coming across the border. On balance the stats he cites are largely accurate, yet the fact is more than half of those crimes are non-violent in nature," CNN wrote.
Either way, Kelly seemed to be offended by the "Late Night" tweet, which hasn't been deleted, despite thousands of negative comments.
The backlash seems to have been sparked by Kelly's retweet. The "Late Night" account only has about 433,000 followers, compared to the millions who follow the famous conservative TV personality. Most of the "Late Night" tweets only see minor engagement, with none of this month's tweets attracting more than 100 comments -- nowhere near the 4,900 thousand that this tweet has racked up since Kelly shared it Tuesday evening.
Current Fox News star Greg Gutfeld also caught wind of the tweet and hopped on the outrage bandwagon, which you can see a sampling of below.
Just go ahead and post your apology... Your agent will request it tomorrow anyhow.......

@Jennife90691693
Why are you mocking the victims and their families? Illegal aliens murdering Americans isn't funny, scum.

@MarkDice
With attempted "jokes" like that, I see why you are 15th in the ratings. Reruns of the bowflex commercial rate higher than you.

@Susie_Maxie
Pretty disrespectful of you to say when there are families hurting from the death of their loved ones.

@BCNap1er