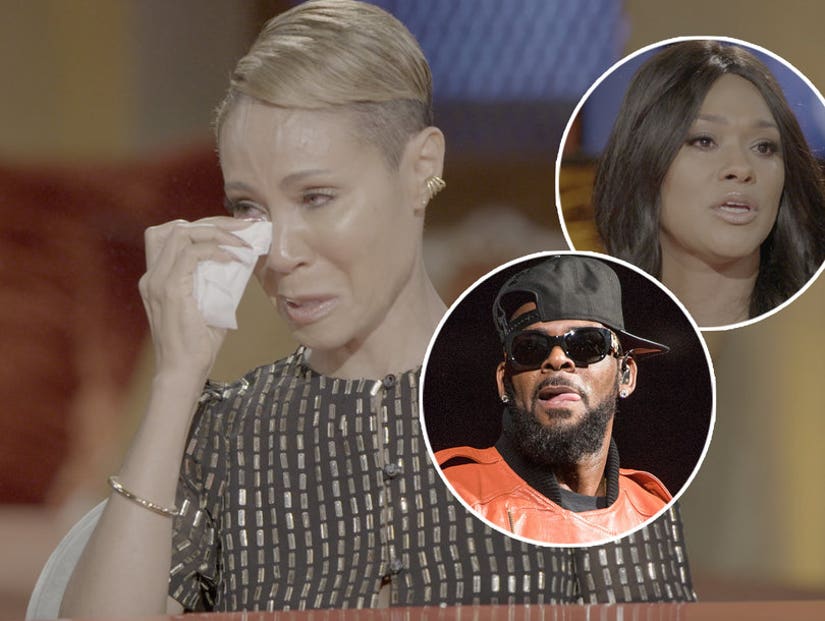 Facebook Watch/Getty
R&B singer's former girlfriend tells the Smith family about when she "started noticing that he was a liar and manipulator."
Today's "Red Table Talk" devoted to R. Kelly promises more details about his alleged interest in teenage girls, as well as tears.
In one of the clips TooFab obtained from the special episode, Jada Pinkett Smith breaks down crying while talking to the R&B star's ex, Lisa Van Allen, who elaborates on previous claims she had threesomes with the singer when she was 17 -- and the other girl involved was allegedly even younger.
While allegations of sexual misconduct and abuse with women and underage girls have plagued Kelly for years, he has continued to deny all allegations and has never been convicted of any wrongdoing.
Allen, who was among the women speaking out in Lifetime's "Surviving R. Kelly" and testified against him in his 2008 child pornography trial, said the "uh-oh" moment in her relationship with Kelly came after threesomes with another young woman started to become a regular activity. Allen said she met Kelly in Chicago when she was 17, which is the legal age of consent in Illinois.
"People don't understand. I was 17. When I started noticing that he was a liar and manipulator was when I started putting things together that didn't add up," she says of her experience, going on to assert. "Like when I found out the girl was younger. Like, 'Why would he do that?' Things like that are when I started really, really questioning him."
"I have a thing that I say to young girls now, or girls in general: love yourself first," Allen says, with clear approval from the "Red Table" panel. "Because that was the problem, because I was putting his feelings before mine. I didn't care that it bothered me. I didn't care that I cried and I was upset, and that I needed to share somebody I loved with other women. I wanted him to be happy."
Since we've only seen clips from the episode airing later today on Facebook Watch, we don't know what prompted Jada's tear, but she does tell her guest, "I'm sorry you didn't get it sooner."
Waiting for your permission to load the Facebook Video.
Allen spoke about the supposed threesomes on camera before this on the first episode of "Surviving R. Kelly."
She told the documentary filmmakers that the threesomes were videotaped at the direction of Kelly, who told her their partner was 16. Allen alleged she eventually discovered she was really only 14 during a car ride when she stole a quick conversation with the girl that Kelly had instructed her not to speak to outside of sex. A year into their shared (alleged) sexual relationship with Kelly, the girl told Allen the singer promised to buy her a car on her 16th birthday.
She also said she recalled watching Kelly lie to the other girl's parents about his relationship with her. "I knew that he was having sex with her but he would put up this front for her parents," she said. "He knows that he's sleeping with this young girl. Him and I both were actually having sex with her. But I didn't know at the time that she was actually 14."
In another "Red Table Talk" preview available online, Allen addressed those wondering why she didn't report Kelly's sexual relationship with a child at the time.
"People say,'Once they found out she was 14 why didn't you turn him in?' Because I loved him. I wanted to help him get better first because that's how we work as far as love goes," Van Allen says referencing disturbing allegations against the R&B star -- Kelly has vehemently denied these claims and he has so far not been convicted of any crimes related to these allegations.
"I'm not going to call the cops on someone I love," she continues. "I'm going to try to figure out how to help you and what I can do to save you."
The turning point, however, came later: "Once I realized he couldn't be saved -- he didn't want to be saved -- he would tell me things like: 'My mama told me if you love a man, you don't try to change him.' The older I got it was like, 'Boy, that's some bull.'"
Watch the video below, followed by our extensive recaps of "Surviving R. Kelly."
Waiting for your permission to load the Facebook Video.