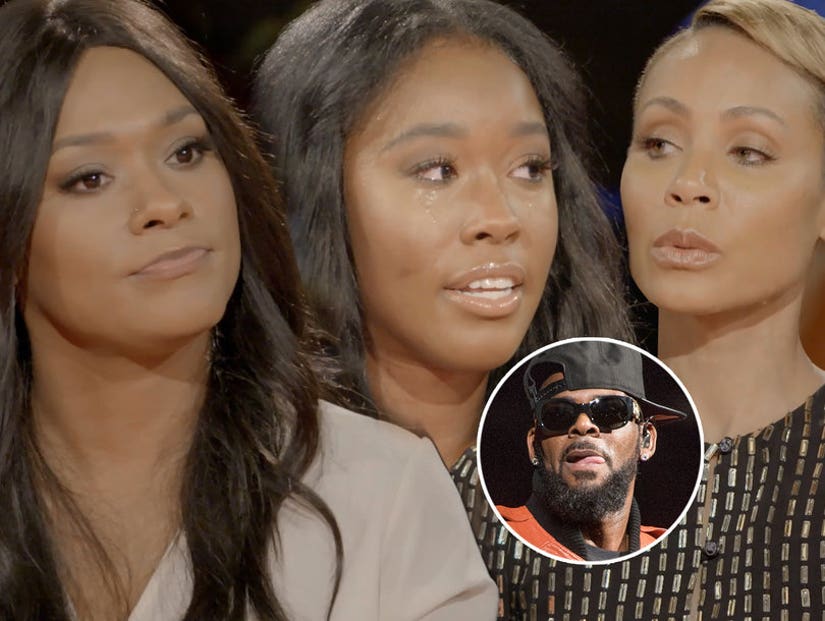 Facebook Watch
Jada reflects on her own "overprotective" behavior as a mom, as one of R. Kelly's accusers continues to speak out.
On a special edition of "Red Table Talk," titled "Surviving R. Kelly: An Accuser's Daughter Speaks Out," Jada Pinkett Smith, her daughter Willow Smith and her mother Adrienne Banfield-Jones were joined by one of the accusers from the disturbing Lifetime documentary as well as the woman's daughter, who addressed her mother's allegations for the first time.
While allegations of sexual misconduct and abuse with women and underage girls have plagued R. Kelly for years, he has continued to deny all allegations and has never been convicted of any wrongdoing. He threatened to sue Lifetime if they aired the documentary, but the network didn't back down, and now the allegations are being discussed and debated across the country.
After speaking to accuser Lisa Van Allen in Part 1 of the "Red Table Talk" discussion about Kelly on Saturday, Allen's teenage daughter Akeyla sat down with the women on Monday for another frank conversation.
Lisa Van Allen's Daughter Reacts
Van Allen was 17 when she allegedly began dating R. Kelly, who she called a "master manipulator." According to Van Allen, who testified against him in his 2008 child pornography trial, he also orchestrated threesomes with her and an underage girl while lying about the other party's age.
Lisa said she and her daughter Akeyla watched the entire special together. "It was hard and it hurt me. It's changed my perspective on a lot of stuff," the teenager said, choking back tears as she spoke. "People are really judgmental nowadays and when you hear someone's story and it's like, you don't know, anyone can be going through anything. It'll make you realize that's why they act the way they act."
"I used to always question that about my mom, why is she so overprotective and I understand now that it's scary out there, people are crazy," Akeyla added.
The young girl also said she's been getting harassed since her mother spoke out, saying one person contacted her on Instagram asking whether the R&B artist sends them money. "Why would you say that? Why would he send us money, for what? So I just blocked that person," she explained.
The teenager said watching the special and speaking to her mother has made her "more cautious" around men, before Lisa brought up a recent example of how her daughter has been "more vigilant."
"She just had a little situation like that, cut that short," Lisa said of her daughter. "She was telling me he was overpowering, she'd want space and he'd be like you're ignoring me."
"I blocked his number, he DMed me on Instagram I said I just need space right now," added Akeyla. "The next day, text me, text me, call, call, call, I saw it as a red flag from her experience. And then when he started getting aggressive, like, 'Why are you ignoring me?' Bye."
Waiting for your permission to load the Facebook Video.
Willow then spoke about her her mother was -- and continues to be -- "super overprotective" with her. "It was such a mystery to me," said Willow, but now she understands.
"There have been so many times I've had to have very real conversations with Willow in regards to, I don't care if you look at this person as your older brother and you trust them, you're not to be alone anywhere," explained Jada. "And me having to tell her, it's not you I don't trust."
"Here's the thing about girls, when they get to those ages of 17, 18 years old, you think you're grown and as a parent you only have but so much control," she added, saying her mother was always "on my ass" too when she was growing up.
Talking about how Robert would allegedly manipulate her when they were together, Lisa recalled one specific fight they had and how he would smooth things over after.
"We had a really big argument one time. We were talking about breaking up and it only was an argument because I got drunk that night and I wasn't supposed to because I didn't speak up much," she alleged.
"I got drunk that night, the next day I was afraid, I didn't know what was going to happen," she continued. "He calls me down he plays a song called 'I Don't Mean It,' he would do things like that, write songs and you're thinking this is great and you done forgot he just threw water in your face and says you're outta here."
"You feel special again," Willow chimed in.
Van Allen also got emotional when she was asked if she ever felt like someone would "save" her and whether R. Kelly filled a "void" left by her parents.
"At that time, yeah," she replied. "It was misguided but I thought that, that that's what it was, I did. To not have any male role models, how would you know what the love of a male is supposed to be like? I was really pushing for it."
The two-part conversation ended with Jada thanking her guest and all those in the "Surviving R. Kelly" docuseries for speaking out.
"Every last one of you that had the courage, it taught me so much, it made me have to look at myself," she said.
"Willow and I had some real conversations, everybody's having real conversations because of the courage you guys have had," Pinkett Smith added. "I do believe culturally in our community, we have some things to handle."
For More R. Kelly Coverage, Click the Links Below: