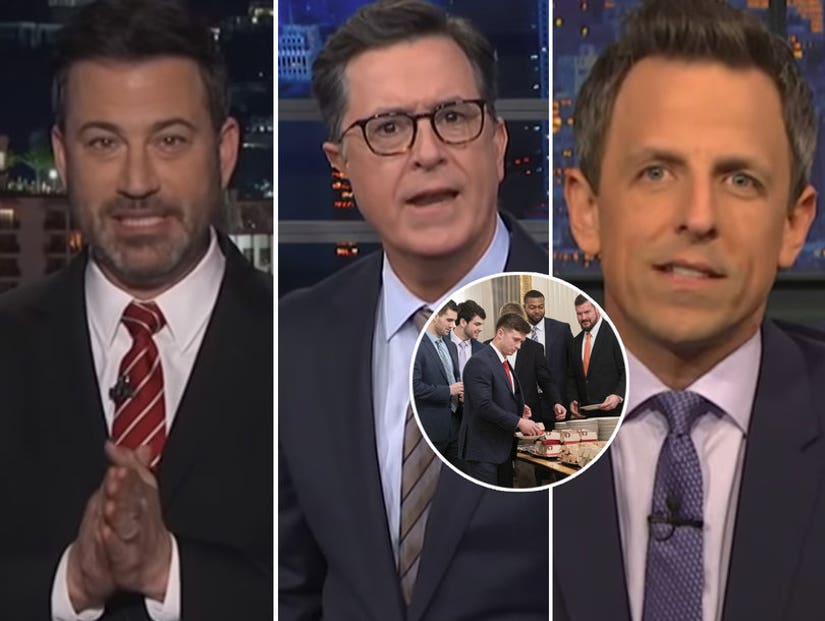 Getty
"And you know he's taking whatever they don't eat back to his bedroom," Jimmy Kimmel jokes.
UPDATED 1/15/19 at 9:19 a.m.:
Even Burger King is making fun of President Trump. Tuesday morning, he once again made sure the American people understood he paid for the fast food he served the Clemson Tigers during the government shutdown, except this time he misspelled burgers in a tweet.
"Great being with the National Champion Clemson Tigers last night at the White House," he tweeted. "Because of the Shutdown I served them massive amounts of Fast Food (I paid), over 1000 hamberders etc. Within one hour, it was all gone. Great guys and big eaters!"
Trump has since retweeted the statement with "hamburgers," but the fast food chain's Twitter account pounced on the opportunity to shade the president.
due to a large order placed yesterday, we're all out of hamberders.
just serving hamburgers today.

@BurgerKing
President Donald Trump proudly boasted that he would be personally paying for college football champions to feast on fast food at the White House on Monday, and late-night comedians were not impressed.
Jimmy Kimmel, Stephen Colbert and Seth Meyers all poked fun at Trump for serving up the cheapest hot food money could buy when the Clemson Tigers visited 1600 Pennsylvania Avenue last night to celebrate the team rolling over the Alabama Crimson Tide 44-16 in the national championship earlier this month. Collectively, they presented two theories as to why Trump settled on a menu he described as "American."
"I think we're going to serve McDonald's, Wendy's and Burger Kings [sic] with some pizza. I really mean it," Trump told reporters outside the White House Monday morning. "It will be interesting, and I would think that's their favorite food."
"No, dude, I think that's _your_favorite food," Meyers fired back. "He thinks he's being so sly: 'Normally I would have a salad for dinner on Monday, but they told me they only eat every fast food.'"
If the menu wasn't peculiar enough, Meyers also another oddity about the president's presentation: "Why does he say Burger Kings plural?"
"Does he think there's more than one? 'We will be having all of the Burger Kings over to the White House for a summit on trade,'" Meyers joked. "I think it's safe to say that had he lost his election 'The Burger Kings' would have been the name of the food show Trump hosted with Guy Fieri."
Colbert's audience groaned at the president's assumption that the athletes' favorite food was of the cheap and fast variety, and then he made the same assumption as Meyers did.
"Mr. President, is it possible you're just projecting your favorite foods onto them?" he asked, and then went into Trump impression mode. "'We're going to eat all of their favorite foods: burgers, KFC, taco bowls, two scoops of ice cream. We're going to watch their favorite movie -- the 2016 election results -- then I will spank them all with a rolled-up Forbes.'"
Kimmel described the president's dinner menu as the "craziest" of "all the crazy things" Trump said or did over the weekend.
He laughed out loud after playing the clip of Trump assuming that fast food was the Clemson players' "favorite," and was pretty confident in his theory as to why the president would make such a claim.
"What would possibly make you think that? I'll tell you what made him think that," Kimmel explained. "So Sarah Sanders' office, after he made that statement, said because of the shutdown, much of the resident staff of the White House is furloughed, so the president is personally paying for the event to be catered ... In other words, he's paying the check, so he had to get the cheapest food they could get."
"And you know he's taking whatever they don't eat back to his bedroom," Kimmel added. "Tonight he'll be like the rat in Charlotte's Web rolling around in Quarter Pounders with cheese."
Watch all of the monologues below: