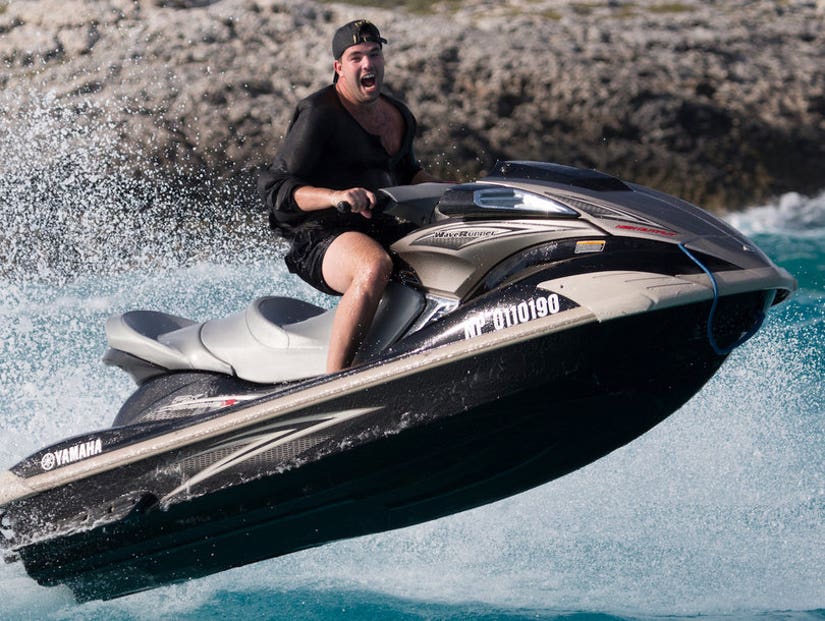 Netflix
"This won't go that far, I'm sure," says FYRE Festival producer Andy King before telling an insane story that is now available to Netflix's 139 million subscribers.
FYRE Festival organizers were so desperate to pull off the doomed event, that one man was even asked to perform fellatio on a Bahamas customs official to retrieve shipping containers full of drinking water without paying the hefty import fee.
It's one of the many wild behind-the-scenes stories spilled in Netflix's new documentary, "FYRE: The Greatest Party That Never Happened," and it came directly from the mouth that was asked to perform the sexual act.
Event producer Andy King made our jaw drop about 50 minutes into the movie when he reluctantly told the documentary film crew about the time Billy McFarland -- the "visionary" entrepreneur/conman behind the wannabe luxury music festival -- asked him to "suck dick" to save FYRE Festival days before launch.
The festival had been falling apart for weeks leading up to the start date (April 27, 2017), but McFarland refused to cancel it because he owed millions to investors and he never obtained festival insurance. Problem after problem plagued the FYRE team, and a particularly pricey one popped up when customs officials demanded $175,000 to release four 18-wheeler trucks filled with Evian water.
"Billy called and said, 'Andy, we need you to take one big thing for the team.' And I said, 'Oh my gosh, I've been taking something for the team every day,'" King explained. "And he said, 'Well, you're our wonderful gay leader and we need you to go down -- will you suck dick to fix this water problem?'"
King continued, "And I said, 'Billy, what?' He said, 'Andy if you will go down and suck Cunningham's dick, who's the head of customs, and get him to clear all of the containers with water, you will save this festival.'"
Then the story gets even crazier, because King agreed to bribe the customs official with the sexual favor. "I literally drove home, took a shower, I drank some mouthwash, and I got into my car to drive across the island to take one for the team. And I got to his office fully prepared to suck his dick."
Fortunately for King, he didn't need to bend the knee in the name of FYRE, which we all know now was beyond saving, anyway. "But he couldn't have been nicer," King said of the customs official. "And he's like, 'Andy listen, I will release all the water, I will let you service, but I want to be one of the first people to be paid this import field.' Can you imagine, in my 30-year career, that this is what I was going to do? I was going to do that, honestly, to save the festival."
King teed up his story by telling the documentary camera crew seven words he may already be regretting: "This won't go that far, I'm sure."
Well, maybe no one will read this article. But Netflix has been marketing the hell out of this movie to compete with recently released Hulu documentary, "FYRE Fraud," and now the streaming service has 139 million subscribers globally.
The story is so taboo that when another event producer was asked about the incident, he simply said, "It was, like, f--king crazy. I'm not gonna talk about that."
King said earlier in the film that he knew and trusted McFarland as a brilliant entrepreneur, and had produced events for him in the past, so he was committed to making FYRE a success. Before agreeing to blow a customs official for water, he had pulled off a miracle by finding a new food caterer two weeks before the festival's disappointing launch, because McFarland fired the initial vendor over the phone. The budget for food was slashed from $6 million to $1 million.
Music festival consultant Marc Weinstein was one of the more insightful interview subjects reflecting on the man-made disaster in the documentary.
"Had we not pulled off these kind of crazy things ... then there would have been no festival," he said. "It's possible by solving problems, we were just enabling them to create this monster."
Weinstein was initially skeptical of FYRE Festival when McFarland announced it with co-visionary Ja Rule at a Las Vegas conference, but the massively successful social media campaign, driven by hundreds of influencers posting about it, convinced him otherwise, so he joined the team. He was among the staff advising McFarland to cancel, and even sent emails to the head honchos painting an accurate picture of what was in store for attendees if organizers didn't act responsibly. He was ignored.
"So I'm imploring them to cancel paying guests at this point. You know they're not going to have a place to stay, and the response from Billy was, 'We're not a problem-focused group, we're a solutions oriented group, we need to have a positive attitude about this. We need to have a good attitude,'" Weinstein explained. "And he was unflappable, but he was also so entirely delusional."
"So it was this constant battle in my mind between, 'Is this guy a genius? Or is he a mad man?'" he continued. "Because he would not take no for an answer, and he would not take advice."
When asked where he stands on McFarland now, Weinstein replied, "He's a liar."
At 26, McFarland is now serving a six-year prison sentence for defrauding FYRE investors and ticket holders, in addition to selling $100,000 worth of fake tickets to exclusive events, including the Met Gala and Grammys.