While Kylie's home features condom art and a whole lotta pink, Kris' is a tranquil oasis.
Kylie and Kris Jenner give two extremely different home tours in the new issue of Architectural Digest.
The mother-daughter duo let the magazine inside their two Hidden Hills houses for the March 2019 issue, each getting their own cover for the publication. Kylie's is exactly what you'd expect from a 21-year-old with an $800 million empire, while Kris' is slightly more sophisticated.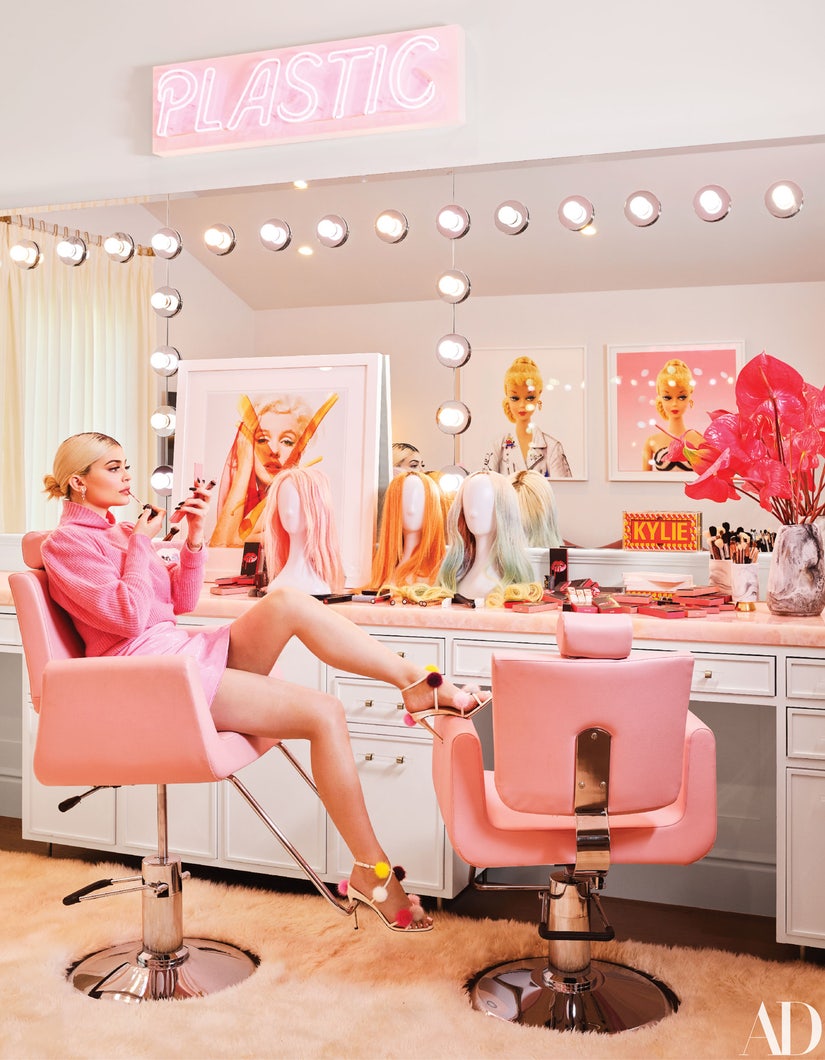 Douglas Friedman
Let's start with Kylie's.
Speaking to the magazine, Jenner said she was looking for a "fresh, fun vibe to match the way I was feeling" when she approached Martyn Lawrence Bullard to design her house. He tackled the project as Kylie learned she and Travis Scott were expecting, meaning a nursery and playroom entered the mix late in the game.
"My closets and glam room are very personal to me, even down to the size of each drawer, so they fit my specific products and clothes," said Kylie. "I spend a lot of time in those rooms, so we had to make sure they were perfect."
The result was an extremely colorful space, filled with pops of pink throughout and custom-dyed chairs that match her Kylie Cosmetics lipstick collection.
The house comes equipped with a bar whose walls are adorned with a portrait of Jenner herself, as well as oversized condom wrappers and a Saint Laurent surfboard. Other noteworthy items scattered throughout the home include a $48,600 hammock in the living room, $13,850 chandelier in the kitchen and vintage photographs of mom Kris in the guest bedroom. There are also Andy Warhol prints everywhere.
"Kylie feels a deep connection to Marilyn Monroe, so we placed a series of Warhol screen prints of Marilyn along the main stairway," explained Bullard. "In general, we selected artworks that felt appropriate for a young collector with feminine tastes."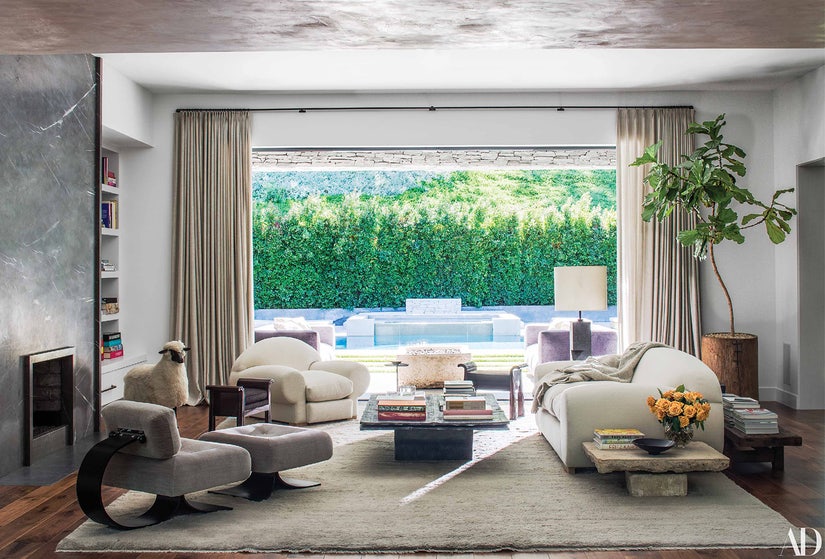 William Abranowicz
Kris' home got its own feature in the publication, as she showed it off for the first time. Jenner still uses her old house for filming "Keeping Up with the Kardashians."
Jenner's tranquil space reflects her new out look on life, giving her a place to get away from the hubbub of the world. "I don't enjoy going out as much as I used to," she explained. "My job is so hectic and chaotic. I'm always running a million miles an hour. I wanted my home to feel like a sanctuary, perfectly calm and peaceful."
With a living room that opens up to a gorgeous pool, neutral colors throughout and a cozy screening room, it's certainly a more adult space compared to her daughter's bright abode. Also impressive: her massive master closet, which is bigger than some (read: our own) homes.
"I had complete faith in the designers. When it was time for the big reveal, I walked into the house and cried," said Kris. "Every single space gives me pleasure. Every time you turn a corner, you find something beautiful, something delicious. I truly can't wait to come home every day."