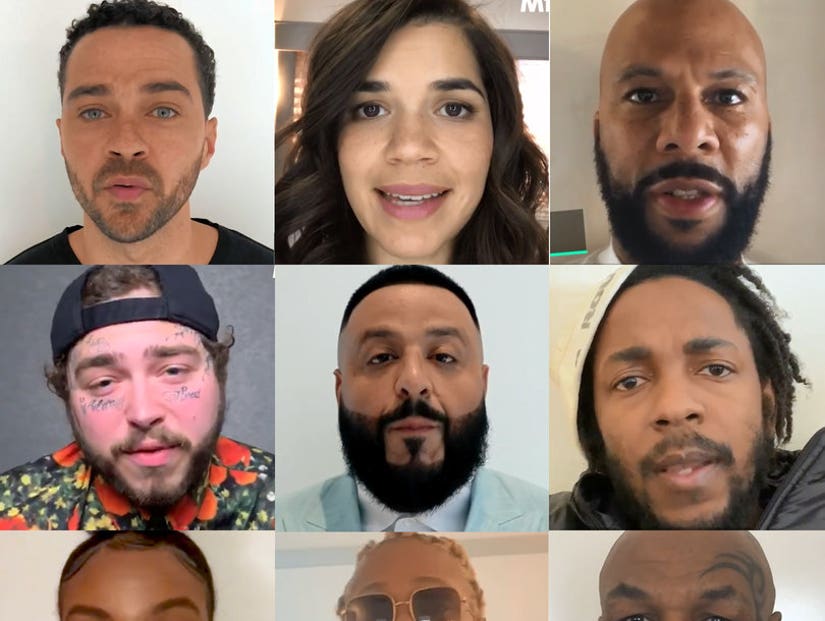 Mic/YouTube
More than a dozen celebrities and activists united for a powerful video demanding Savage's release, posted on Tuesday. That same day, the demands were met.
21 Savage was finally released on Tuesday after his mysteriously long detention by ICE.
Literally minutes before the news broke on TMZ, many of the rapper's friends, peers and supporters joined together to release a powerful video titled: "21 Ways You Could Be Detained If You're Undocumented in America."
Kendrick Lamar, Post Malone, SZA, DJ Khaled, Common, Jesse Williams, T.I., America Ferrera, Future, Mike Tyson, and almost a dozen other famous faces united with Mic, listing the day-to-day things undocumented people must look over their shoulder while doing, highlighting the names of real people who have been arrested doing the same.
The video also includes several leading activists, including Patrisse Cullors, co-founder of the Black Lives Matter Global Network; Jose Antonio Vargas, founder of Define American; and Jonathan Jayes-Green, co-founder of UndocuBlack Network.
"Getting falsely accused of being a criminal,' Lamar offers. "Getting your morning coffee," Williams says. "Leaving the grocery store,' Ferrera adds. "Attending a scheduled immigration check-in,' Common points out.
"Driving with your tail light out,' T.I. throws in. "Simply waking up," Lamar adds. "While Jogging," Tyson contributes. "Getting ready for work in the morning," Williams returns.
Riding the train, serving meals to the homeless, taking your pregnant wife to the hospital, heading to prom, visiting your son in the Army, hailing a cab, seeking asylum while trying to escape violence in your home country, leaving the hospital after surgery, accused of having a gang tattoo, dropping your child off at school, and seeking asylum after being attacked for being gay, are all among the other reasons people have been detained, or as SZA puts it: "Standing up for what you believe in."
It falls to Post Malone to deliver the final instance, and one most people are now very familiar with: "Getting detained one week before the Grammys."
"In other words: living in America," Lamar summarizes at the end.
As a collaborator on Malone's smash hit "Rockstar," Savage was nominated for two Grammys: Record Of The Year, and Best Rap/Sung Performance.
Malone even performed the song during the ceremony, alas without Savage's help, as the 26-year-old had been detained by Immigration and Customs Enforcement officers exactly a week prior, alleging he had been born in the UK and living in the United States illegally after his visa ran out in 2006.
"These instances can happen to anyone, especially if you're a person of color," SZA concludes in the video. "No person in this world deserves to be treated like this," DJ Khaled adds. "The time for change is now."
Jidenna then demands: "Free 21 and free any immigrant family that's been unfairly targeted," before a petition is presented to free Savage.
Just over half an hour after the video was posted, news broke that Savage had been released on bond pending a deportation hearing.
His lawyers, Charles H. Kuck, Dina LaPolt and Alex Spiro told TMZ, "21 Savage asked us to send a special message to his fans and supporters -- he says that while he wasn't present at the Grammy Awards, he was there in spirit and is grateful for the support from around the world and is more than ever, ready to be with his loved ones and continue making music that brings people together."
The statement from Savage's legal team ends with, "He will not forget this ordeal or any of the other fathers, sons, family members, and faceless people, he was locked up with or that remain unjustly incarcerated across the country. And he asks for your hearts and minds to be with them."
It is unclear why ICE held 21 Savage for so long, as one would normally be allowed to bond out the day he was arrested, assuming they were neither a flight risk nor a danger to their community.