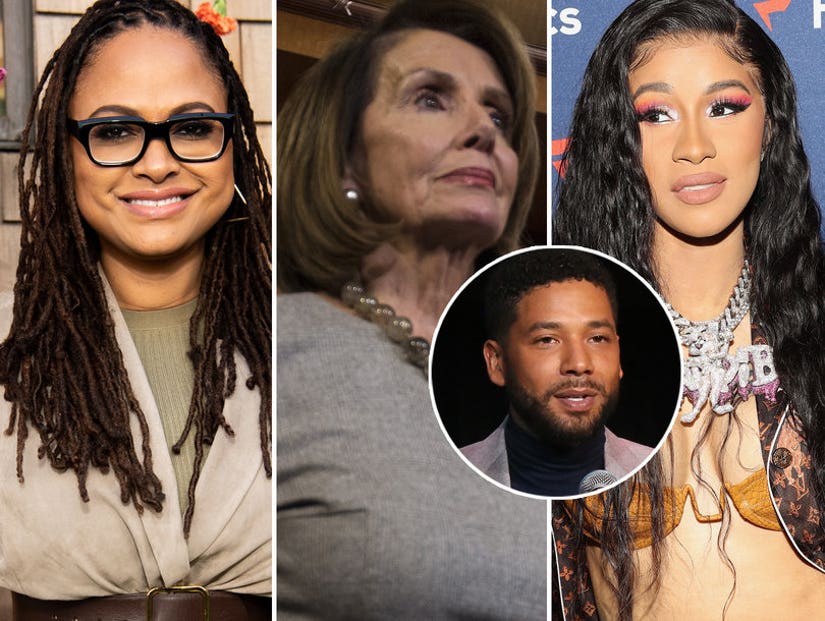 Getty
Cardi B says she thinks Smollett is "really f--ked up" if it turns out he was lying.
Celebrities and politicians are reacting to new developments regarding Jussie Smollett's alleged attack last month.
Chicago police released a statement on Saturday confirming a pivot in the direction of their investigation due to interviewing two Nigerian brothers, who were once suspects. "We can confirm that the information received from the individuals questioned by police earlier in the Empire case has in fact shifted the trajectory of the investigation," spokesman Anthony Guglielmi said in a statement to the press.
The two brothers were released on Friday without charges, and were said to no longer be suspects. Chicago PD have not officially clarified what that new direction for the case will be.
Two law enforcement sources told CNN that CPD are now operating under the belief that Smollett paid the two brothers, who he knew from "Empire," to orchestrate an assault on him, however this has not been confirmed by law enforcement.
Attorneys for Smollett claimed that the actor felt "victimized" by the various media reports claiming he may have been involved in orchestrating his own attack. "As a victim of a hate crime who has cooperated with the police investigation, Jussie Smollett is angered and devastated by recent reports that the perpetrators are individuals he is familiar with," a widely circulated statement to the press read. "He has now been further victimized by claims attributed to these alleged perpetrators that Jussie played a role in his own attack. Nothing is further from the truth and anyone claiming otherwise is lying."
Last month, Smollett claimed he had been attacked by two masked men who shouted racist and anti-gay slurs -- in addition to yelling "this is MAGA country" -- before he was viciously beaten and had a chemical poured on him.
When the alleged attack was widely reported, politicians and celebrities voiced outrage over the apparent hate crime.
Since the new developments in the case most celebrities have remained silent. However, Cardi B spoke out about it during an Instagram Live Sunday night. The hip-hop star said Smollett is "really f--ked up" if it turns out he was lying.
"I don't want to completely blame him because somebody I was talking to, they said like you know police in Chicago are racist, so they might probably try to frame him and make him look like he's a liar. But if he's not then bro you f--ked up for real like why would you did that? Like you don't have to do that. Then you give f--king Donald Trump immunity to f--kng laugh at n----s and shit and make motherf---kers look bad."
"So I don't want to -- you know -- call Jussie Smollett a complete lie, but they do claim that they have evidence from both the brothers that they spoke [out]," she added. "So I don't know, I want to see what else. I want to see, I want to know because if he did that he really f--ked up bro. This February, you had so many people standing for you. Like why would you do that bro? Is attention that necessary for y'all now days?"
Meanwhile, Speaker of the House Nancy Pelosi quietly deleted a tweet she sent out on January 29th, according to Business Insider, stating: "The racist, homophobic attack on [Smollett] is an affront to our humanity. No one should be attacked for who they are or whom they love. I pray that Jussie has a speedy recovery [and] that justice is served. May we all commit to ending this hate once [and] for all."
While Senator Cory Booker, who had called Smollett's alleged attack "an attempted modern-day lynching," told reporters over the weekend that he will decline to comment on the case developments for the time being. "I'm going to withhold until all the information actually comes out from on the record sources," the New Jersey Senator told reporters, according to CNN.
"The Ellen Show's" EP Andy Lassner tweeted, "Seems like Jussie Smollett has lots and lots and lots and lots and lots and lots and lots of explaining to do."
Similarly, Rev. Al Sharpton said on MSNBC Sunday night that Smollett should face "accountability to the maximum" if it's discovered he orchestrated the attack.
"I, among many others when hearing of the report, said that the reports were horrific and that we should come with all that we can come within law enforcement to find out what happened and the guilty should suffer the maximum," Sharpton said on his show "PoliticsNation." "I still maintain that and if it is that Smollett and these gentlemen did in some way perpetuate something that is not true, they ought to face accountability to the maximum."
However, blockbuster director Ava DuVernay made it clear she remained skeptical about law enforcement.
"Despite the inconsistencies, I can't blindly believe Chicago PD," DuVernay tweeted. "The department that covered up shooting Laquan McDonald over a dozen times? That operated an off-site torture facility? That one? I'll wait. Whatever the outcome, this won't stop me from believing others. It can't."
In response, a person replied that although they "respect" DuVernay, they believe Smollett's entire case was "fishy from the start." "What famous person goes out in sub zero weather at 2am for subway, alone? Then, he wore the rope around his neck back to the hotel and walked past the guard at hotel."
"Yessir. I hear you. And agree," DuVernay said back to the user. "I wrote that there are inconsistencies. He might have lied. He might be [sic] not have. I don't know. But what I do know? I never believe police on general principle just 'cause they say so. My experience, our history, makes it impossible for me to do so."
Despite the inconsistencies, I can't blindly believe Chicago PD. The department that covered up shooting Laquan McDonald over a dozen times? That operated an off-site torture facility? That one? I'll wait. Whatever the outcome, this won't stop me from believing others. It can't.

@ava
Yessir. I hear you. And agree. I wrote thatthere are inconsistencies. He might have lied. He might be not have. I don't know. But what I do know? I never believe police on general principle just 'cause they say so. My experience, our history, makes it impossible for me to do so.

@ava